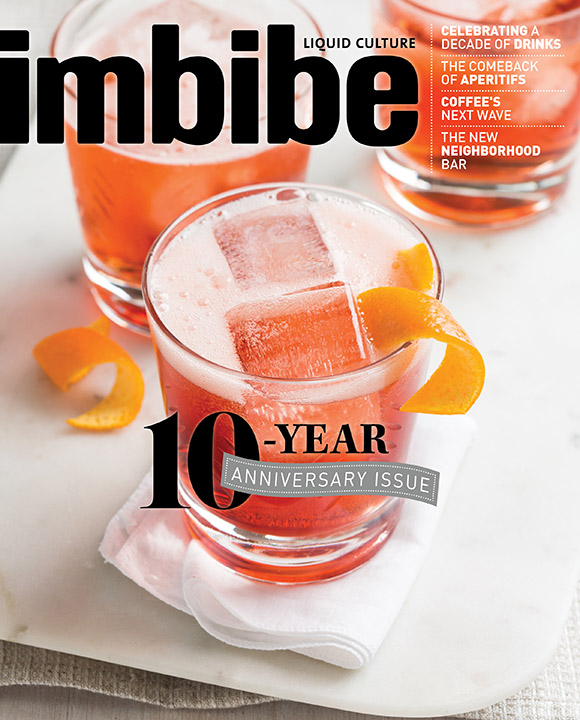 Recipes

Cocktails

Peroni, Hackalope, Classic Shakerato, Matcha Shakerato, Shakerbumbum, Mighty Mauser, AllIn, Pack My Suitcase, Herb Alpert, The Starry Night, Road to Tralee, Pan-American Clipper

Food
Features

The Big Ten

Celebrating a decade of imbibing. Read More »

Old News

From gose to grisette, history informs beer's past and future. Read More »

Velvet Revolution

Aperitif wines are waging a quiet comeback in American bars. Read More »

Next in Line

After an eventful decade, coffee prepares for the next wave.

Meet the Neighbors

Newcomers are picking up the neighborhood-bar mantle. Read More »
Departments

Uncorked

Five fizzy pét nat wines, the shakerato three ways, jicama cocktails and behind the scenes with Facture Goods.

Behind the Bar

The Sazerac House's link to a classic cocktail. Read More »

Taste Test

Overproof gin swings for the fences. Read More »

Gear

Technology for the 21st-century drinker.

Elements

Crème de cacao is ready for its comeback.

Characters

Alexandre Gabriel is making waves by doing things a little differently.

Mix It Up

Chamomile cordial brings some flower power to the glass. Read More »

Scene Scout

Bartender Chris Milligan on where to drink in Santa Fe, New Mexico. Read More »

Cravings

A traditional Spanish cooking method gets a fresh twist.

Quench

In a changing Brooklyn, one neighborhood bar sticks around.
Bonus Articles

Aperitif Cocktails for Spring

A roundup of our favorite cocktails featuring aperitif wines. Read More »

Jim Meehan on Cocktail Trends for the Next Decade

PDT's Jim Meehan talks about the democratization of the cocktail, how climate change will challenge bartenders, and more predictions for the future. Read More »

Sam Calagione on the Future of Craft Beer

From growth to changing definitions and the importance of creative freedom, founder and president Sam Calagione shares his thoughts on where craft beer goes from here. Read More »

Trish Rothgeb on the State of Specialty Coffee

The owner of San Francisco's Wrecking Ball coffee draws on her three decades of work in the industry to explore what comes next in coffee's third-wave. Read More »

10 years of Imbibe: Paul Clarke's Favorite Stories

Executive Editor Paul Clarke recalls some the articles he most enjoyed writing. Read More »

10 Years of Imbibe: Staff Favorites

Josh Bernstein, Wayne Curtis, Jenny Adams and more of Imbibe's best writers chime in on their favorite stories from the past decade. Read More »

Neighborhood Bars: A Center For Comminity Politics

A political meeting in a Park Slope bar reminds executive editor Paul Clarke of the neighborhood bar's enduring importance in community affairs. Read More »

Dave Pickerell on Rye Whiskey and Craft Distilling

The whiskey industry vet talks about the rise of rye, how millennials helped boost craft distilling, and where the things are headed from here. Read More »

5 to Try: New-School Gose

From watermelon to floral hibiscus, below are five great examples of new-school gose that are widely available around the country right now. Read More »

Sean Kenyon on the Birth of the Neighborhood Bar

Occidental and Williams & Graham owner Sean Kenyon weighs in on what makes his bars appeal to the locals. Read More »

Marianne Barnes Shakes Up Kentucky's Distilling Scene

Catching up with Kentucky's first female master distiller. Read More »