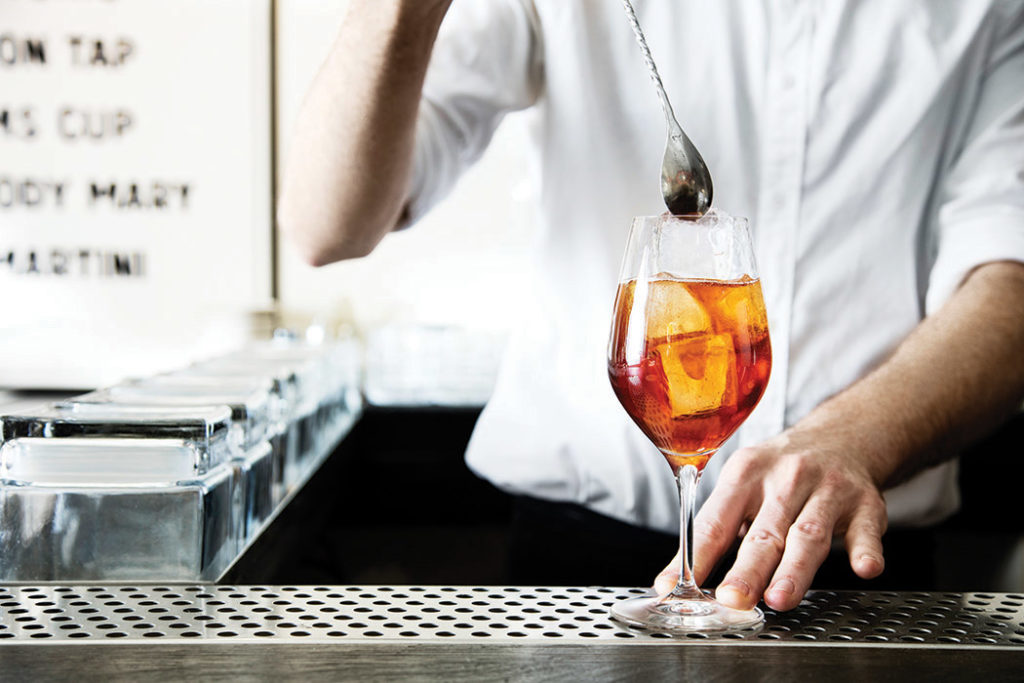 Mickey Mantle was one baseball's most effective switch-hitters, running up his batting average as a leftie but also regularly knocking home-runs over Yankee Stadium's fence with his right. Manny Pacquiao won 10 boxing titles as a cross-dominant fighter, Evgenia Kulikovskaya switched her racquet from hand to hand while playing at Wimbledon, Akshay Karnewar earned cricket stardom in India while bowling with either hand, and in the barroom-friendly sport of snooker, Ronnie O'Sullivan became one of the top players in the game's history by sinking left-handed and right-handed shots with equal ease.
Aperitif wines are the most ambidextrous drinks in the bar. With a soft touch of alcohol and a light brush of fruit, they wear a wine glass easily—but mildly fortified and enhanced with flowers, spices, roots, barks and herbs, they're full-flavored enough to hold their own in a cocktail coupe. "I feel like aperitifs are kind of the best of both worlds—like spirits and wine combined," says Kate Bolton, bar manager of the recently opened Americano in Portland, Oregon. "And what's really exciting is there's so much diversity in the category—there's so much more to explore."
Ten years ago, few people devoted much attention to aperitif wines—but bartenders, sommeliers and pretty much everyone interested in good drinks has changed their tune when it comes to vermouth, quinquinas and other styles of aperitif wines.
Long a mystery to most American drinkers, these wines have seen a dramatic boom in recent years, as bartenders became more familiar with the roles these wines play in cocktails, and producers and importers have brought in ever-more-engaging bottles.
Today, while such wines have become cast regulars in the cocktail glass, some are increasingly willing to let aperitifs be the stars of the show.
"We were inspired by the grand cafés in Spain, Italy and France, and we wanted to highlight the aperitifs that come from those regions," says Naren Young, co-owner of Dante in New York City. Last year, Young and his partners rescued Greenwich Village's historic Caffé Dante, which had recently closed and was threatened with redevelopment. Drawing inspiration from European cafés, the partners brushed up the menus with bright flavors that fit perfectly with the Old World aperitif experience. "Dante already looks and feels like a European café, so it just made sense to put together a thoughtful selection of aperitif wines, and think of interesting ways we can serve them."
But introducing the aperitif experience into the U.S. is still an uphill battle. Bartenders often feel more within their comfort zones when shaking Daiquiris or stirring dark and bitter cocktails—and customers accustomed to bang for the buck may take convincing to switch to the lighter side. But by bridging the line between wine and spirits, aperitifs still deliver on the flavor and complexity front, and on a level made for repeat enjoyment. "People are gravitating to healthier eating, and to lighter alcohol drinks," Young says. "We're starting to understand as a culture that we don't have to be drinking these high-octane cocktails all the time, and bartenders are changing their attitude. Hopefully this will become a way of drinking that we start to appreciate more—the aperitif hour. It's there for enjoyment, because they're delicious, and you can have more than one and still feel good."
Working Up an Appetite
As the name implies, aperitifs are traditionally administered to spark the appetite, their combination of acidity, bitterness and botanical magic signaling the palate and the stomach that a meal is about to begin. While many European aperitifs have their roots as medicinal tonics—wormwood-laced vermouth as a vermifuge, quinine-infused quinquinas (in France) and chinati (Italy) as anti-malarials, and gentian-bittered Americanos as a gastrointestinal aid—their role evolved over time. By the mid-to late 19th century, aperitif wines had been adopted as a sort of nutritional supplement, believed to ease digestion and maximize the absorption of nutrients. European immigrants introduced aperitifs into the U.S., but it took the company of whiskey or gin in the cocktail glass to make them a part of the American drinking landscape, beginning in the 1880s.
But just as aperitif 's fortunes rose in the early 20th century—in Europe, as a pre-prandial drink, and in America, as a cocktail component—their popularity began a steady decline in the last half of the century, due to changing tastes, the restriction of health-related claims on alcohol labels, and the rising costs of ingredients such as cinchona bark (which gives quinquinas their distinctive bitterness) as cheaper synthetics entered the market. Some brands, such as Lillet, reformulated to satisfy a changing public; others added updated versions such as the vermouths Cinzano Orancio and Martini Rosé, designed for the same reason. But by the turn of the 21st century, a global culinary movement had begun to click—and eventually, the pendulum of taste swung back in aperitif 's direction. This turn-around became clear as bartenders took a closer look at the mixer in their Manhattans—and, starting around 2006, began coveting a long-obscure Italian brand, boosting the long-sleepy vermouth category into the limelight.
"The successful reintroduction of Carpano Antica Formula [vermouth] got a lot of people very excited," says Martin Doudoroff, an aperitif aficionado and publisher of Vermouth101.com. Carpano Antica—technically a vermouth alla vaniglia, a style of sweet vermouth with added vanilla and sugar—brought a bold, luscious character to cocktails, working particularly well with the rugged notes of bourbon or rye whiskey. "That was a watershed moment, because it opened up a whole sense of possibility that wasn't there before. Every bar that wanted to have a cocktail program was using that vermouth—that sent a very clear message that somebody could make a premium vermouth, and be successful."
Bartenders started looking for other stellar expressions and styles—and importers and winemakers answered the call. In 2008, Minnesota-based Haus Alpenz—headed by Eric Seed—introduced a trio of vermouths from Dolin, a French producer in Chambéry making wines aromatized with airy, alpine botanicals; Dolin Blanc, an AOC-designated wine that's mildly sweet and vividly herbaceous, became a particular favorite. Seed also sought out Italian winemaker Giulio Cocchi Spumanti, and in addition to importing two of the winery's Americanos (more on those in a minute), in 2011 revived their production of a classic Turin-style sweet rosso vermouth, Cocchi Vermouth di Torino.
Meanwhile, domestic producers were at work. California winemaker Andrew Quady rode the resurgence of interest in vermouth with his Vya line of vermouths, adding a New World spin to classic Old World dry and sweet styles. Other producers ventured in more paradigm-shifting directions: San Francisco winemaker Carl Sutton created a spice-rich California vermouth for Sutton Cellars, Oregon-based Imbue Cellars added botanicals including chamomile, orange peel and elderflower to a Pinot Gris base for their Bittersweet Vermouth and Petal & Thorn aperitif wine, while in New York, Atsby and Uncouth Vermouth pioneered new aperitif styles, adding everything from anise to lavender to serrano chiles, pushing the tradition-bound vermouth category into new and unexplored terrain.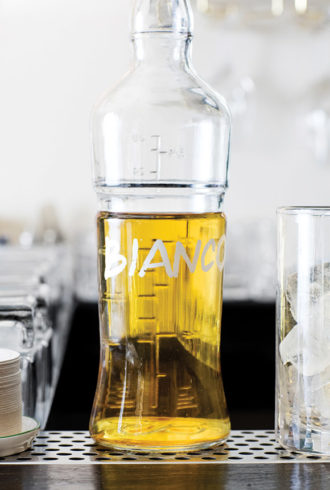 Seeing the surge in vermouth's popularity, some European producers have reached deep into their historical recipe catalogs, while others are upscaling their brands for a suddenly vermouth-curious audience. In 2014, Tempus Fugit—a producer of historically driven spirits and liqueurs—introduced Alessio, a range of wines developed using 19th-century recipes, including the classic Turin-style Vermouth di Torino Rosso, as well as a boldly bitter Vermouth Chinato, with an added ration of cinchona bark joining the wormwood as a bittering agent. That same year, Carpano followed on the success of its Antica Formula by introducing a dry vermouth to the U.S., and in 2015, French producer La Quintinye introduced a range of classic-style vermouths made with an aromatic base of Pineau des Charentes (a mistelle that's a close cousin to Cognac).
Even the biggest player in vermouth got into the revival game: following the release of Martini Gran Lusso in 2013, to celebrate the brand's sesqui-centennial, Italian producer Martini took inspiration from their own 19th-century archives to introduce two premium Riserva Speciale styles in 2015: Rubino, made with a base of Nebbiolo and flavored with plants including holy thistle and red sandlewood; and Ambrato, with Moscato d'Asti, cinchona bark and Chinese rhubarb. "I find these fascinating, in that they've gotten so good at producing reasonably consistent, reasonable-quality products, and sell them around the world at low prices," Doudoroff says. "They've only just started exploring the middle-and high-end ranges—and that's an interesting phenomenon."
Digging Deep
Around the same time he started importing Dolin's vermouths, Eric Seed was seeing interest from bartenders in other aperitif wines long-absent from the American bar. Chief among these were quinquinas—wines flavored with a blend of plants including the brusquely bitter cinchona bark, and exemplified by familiar brands such as Dubonnet and Lillet. Although these brands still had significant presence in the U.S., bartenders were curious to probe the full range. "Quinquina as a category was historically quite large, but there was nothing available stateside that had that pronounced bitter backbone from quinine," Seed says. "Our curiosity was, what were true quinquinas really like? And the two we came across were vastly different from anything on the market."
Seed found two classic quinquinas that delivered bold punches of flavor: Bonal Gentiane-Quina, which stacked both gentian and cinchona atop a mistelle base, resulting in a flavor that's simultaneously fruity and juicy, with brisk claps of bitterness; and Byrrh Grand Quinquina, a 19th-century king of the French quinquina category that had fallen out of widespread distribution. Based on a mixture of mistelle and finished wine, Byrrh delivers a flavor that's lush and fruit-rich, with a choreographed balance of gentian-laced herbal bitterness. (And while Seed has played a big role in re-introducing quinquinas to American glasses, he's not alone: Tempus Fugit's Kina L'Aéro d'Or layers cinchona, wormwood and citrus atop a fruit-rich base of Piedmont Cortese.)
Seed says bartenders were also eager for Americanos, a wine typically from Italy (the name a derivative of amaricante, an Italian term for "bitter" and related to the more familiar amaro), with an earthiness from gentian root, a citrusy brightness and a light, crisp bite from cinchona. In response, he sought out an Americano from Cocchi, based on Moscato d'Asti, along with the winery's softer, sweeter Americano Rosa, based on Brachetto d'Acqui. He then fleshed out this category with wine-based aperitifs including Cappelletti Aperitivo Americano Rosso. Based largely on the plush character of Trebbiano, Cappelletti has a garnet-red color and a distinct citrusy snap to its bitterness, making it useful as an ingredient in Negroni variations, especially in restaurants that are licensed only for beer and wine.
Leading Role
The aperitif tradition gradually faded in France, Italy and Spain, but a turn-around is underway. In the Catalan city of Reus, Spain's historical center of vermouth production, guides lead walking tours of the city's vermouth heritage, and a vermouth museum—part restaurant, part bar, part true museum—showcases the wine's rich history. Spanish vermouth brands including Yzaguirre, Lacuesta and Miró are increasingly spotted in American wine shops, and Miró is a particular pick in Barcelona's burgeoning vermouth bars, which serve a tap-dispensed rojo (akin to an Italian rosso) over ice with olives and a slice of orange, alongside a small tray of potato chips and another of green olives, all for around five Euros.
And in European cities, where aperitif wines had largely languished for decades, cocktail-oriented bartenders are dusting off these homegrown wines, and introducing them to a new generation of drinkers. "This rebirth of interest in the United States is mirrored by a rebirth of interest in Europe, where these things were traditionally made," Seed says. "It was maybe in just as bad a condition there as it was here. I think what we're learning, and what the Europeans are rediscovering, is what they had going in a prior era."
Brands such as Byrrh have freshened up their packaging, and wineries like Cocchi have resumed production of once-defunct products. Seed says this may only be the start.
"I think we're going to see more stuff bubbling up—I can't predict what that'll be, but there still seems to be quite a bit of potential there," he says. "Hopefully, some of them will be keepers."
Whether or not such new arrivals gain traction in the U.S. will initially be dependent on their utility in the mixing glass. While bartenders like Dante's Young and Americano's Bolton have plenty of ideas for mixing aperitifs in cocktails, there's also a desire that these wines gain attention for their own merits. A mainstay of Dante's menu is a simple vermouth service, in which chilled dry vermouth is served with sparkling water along with a few frozen green grapes. Young says he thinks American drinkers are ready to try aperitifs on such close and basic terms. "There's no shame in serving something simple," he says. "For the vermouth service, I packaged it in a way that would make people curious. People see it go through the dining room, and ask, 'What's that?' It's like a white-wine spritzer, but better."
At Americano, Bolton is aiming for a similar response with several preparations of aperitif wines with herbs, fruits and spices (like A Field Near Arles); the ingredients are added to a French-press carafe to steep, and are served like coffee. "Part of the menu is dedicated to allowing these aperitifs to really sing, and be the star," she says. "I may add something to accent a particular flavor, or to bump up the backbone if needed, but I don't want to cover up what's already there."
Such preparations maneuver aperitif wines into a leading role—and some day, the aperitif may be fully ambidextrous for American audiences, equally welcome in the company of gin or whiskey, or when served solo. When this happens, Doudoroff says, we'll be able to appreciate aperitifs in all their simple elegance. "You've got to make that leap from mixology to drinking aperitifs on their own to really take advantage of their diversity," he says. "The best thing that could happen is if more restaurants would plunk down a small glass of aperitif wine in front of guests when they sit down, before they order anything else. It's not very expensive, it's low alcohol—it's like an amuse bouche, but in a glass. More of that, please."