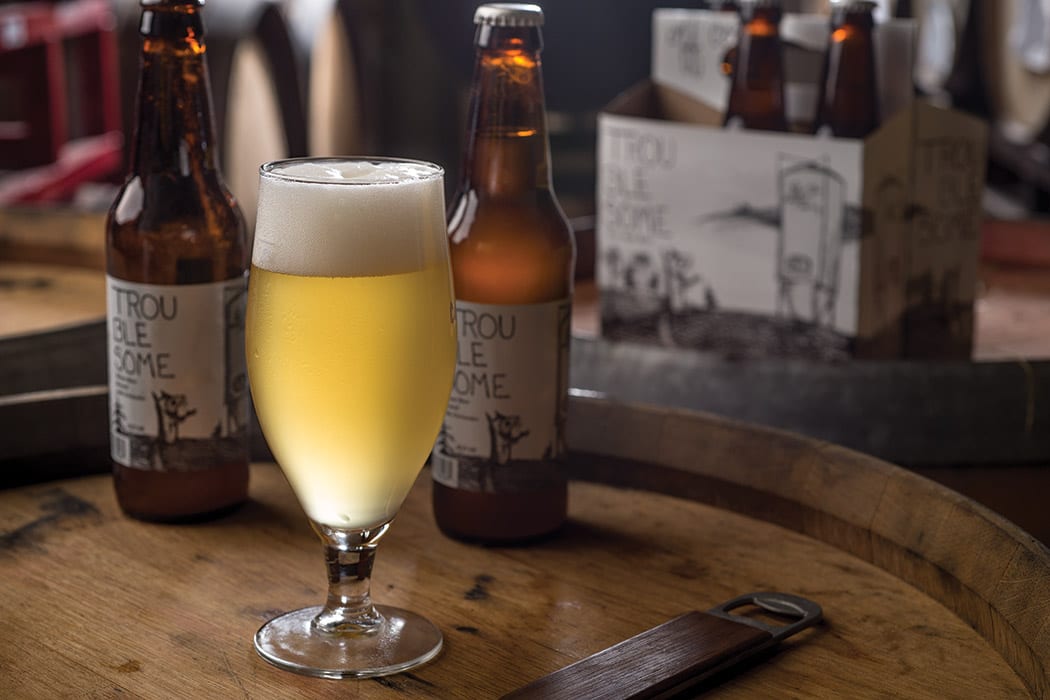 John Laffler and Dave Bleitner's business plan for Chicago's Off Color Brewing painted outside the lines. Instead of touting a bitter twist on IPAs or imperial stouts kissed with cacao nibs, the partners—formerly of Goose Island and Two Brothers, respectively—would dust off historical styles like Germany's dark and dry-drinking kottbusser, made with honey and molasses, and a lightly tart and salty gose. You know, the kind last popular in pre–World War I Leipzig.
"This was four years before anyone had heard of a gose," Laffler says, noting that when the duo started in 2013, he saw a market need for a refreshing, lightly acidic beer. (As a Goose Island "innovation brewer," he worked on barrel-aged sours such as Juliet, plus cultish Bourbon County Stout.) "When we first started brewing Troublesome"—a blend of a humdrum wheat beer and a bracingly acidic brew, seasoned with coriander and salt—"people thought we were crazy," Laffler says.
No one's calling them crazy now. Once left for dead, the gose is now a supermarket staple thanks to Sierra Nevada's prickly pear–infused Otra Vez and Anderson Valley's Blood Orange Gose, Technicolor exclamation points in a world awash with same-same IPAs. "No one cares about making a great pale ale anymore. That's not interesting," Laffler says. Exhilarating is Bare Bear, a Finnish-style sahti filled with rye and juniper, or tapping the expertise of Field Museum archaeologists to make scientifically spot-on Wari—a Peruvian-inspired chicha de molle, an ancient fermented beverage made with purple corn from Peru and molle berries, aka pink peppercorns.
"Focusing on historical styles allows us to look into what beer was, and what beer will be in the future," Laffler says.
The last 10 years have been boom times for beer. The IPA has become America's dominant brewing art, spun into session and imperial, seasoned with grapefruit and coffee, barely bitter and juicier than a glass of OJ. Barrel-aging became all the rage, be it bourbon casks for Founders KBS or the Bruery's margarita-inspired Roble Blanco, ripened in tequila barrels. Complex sours are now a sweet spot, with Rare Barrel making nothing but and New Belgium planting a forest of massive oak foudres to meet demand. Lagers and pilsners have been recontextualized and hop-charged, with Stillwater Yacht and Firestone Walker Pivo Pils making cold fermentation cool again. Beer is wilder than ever, as Brettanomyces yeast has spun fermentation for breweries such as Crooked Stave into thrillingly funky, appealingly novel directions.
Perhaps the most defining element of the last decade is brewers' voodoo-like ability to revive beers with barely a pulse. Saisons, that farmhouse ale fit for Belgian field hands, are rustic standbys at breweries both urban and agrarian. Hop-less gruits have leapt from Middle Ages to modern times, with Free Range and Earth Eagle Brewings making herb-laced ales. The rye-filled German roggenbier, like a spicy hefeweizen, is a seasonal offering for Reuben's Brews. And Germany's sharply tart Berliner weisse has become a brewing darling for de Garde and Night Shift, the style—or at least the modern interpretation—sitting squarely in that perfect Venn diagram of flavor, refreshment, and low alcohol.
The push to revive historical styles speaks to the larger need to be a special butterfly in a swarming market. "I could grab an awesome double IPA and pale ale off the shelf pretty readily, but I could not go down the street and grab an altbier," says Grant Fraley, cofounder of San Diego's ChuckAlek Independent Brewers.
It's a working experiment in liquid time travel, with 1850 Runner a nod to the served-fresh brown porters of 19th-century London, and the Hussar a smoky reimagining of Poland's all-wheat-driven grodziskie. "We realized there was an unfilled market opportunity," says Fraley, who developed a taste for Euro beers while studying abroad in Germany. "It's easy to go into a craft-beer bar and scan their tap list and say, 'You might have a 10 percent imperial stout or chocolate porter at nine percent, but you don't have a moderate- strength, no-frills porter on the list.' "
Feeling Gray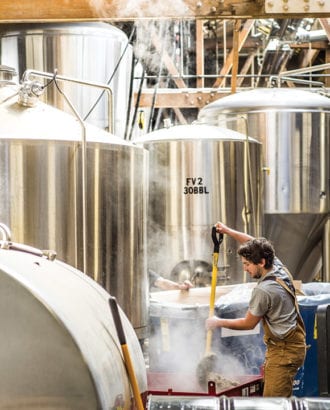 Brewing bubbles back thousands of years, a boozy slog of fermented successes and failures, divine nectars and noxious liquids, recipes and techniques largely dumped down the drain of time. Which is a pickle—making beer was never so exact, its precisely roasted grains measured to the pound or hops added according to a clock. Beer was variable, made with raw materials at hand according to a loose, forgiving template. "Style" was a construct that came later, if at all.
Such is the loosey-goosey origin of Belgian grisette, the latest beer to go full Lazarus. Southern Belgium's Hainaut province was once full of miners chipping out coal and toiling in quarries, valuable minerals the prize. "They were hacking away, kicking up a lot of dust," says Tim Adams, owner and director of brewing at Newcastle, Maine's farmhouse-inspired Oxbow.
The miners wet raw throats with dry, low-alcohol grisette ("little gray"), its name supposedly referencing the mined stone's color, or perhaps the signature gray dresses worn by the women serving workers beer. Equally fuzzy are the beer's specs: Phil Markowski's Farmhouse Ales, published in 2004 and the most referenced work on the subject, broadly describes grisettes as "light-bodied, saison-like golden ales of no great distinction," with a simple, lightly hopped recipe calling for pilsner malt and wheat.
"As brewers, we have this amazing opportunity and responsibility to define the style," Adams says. It's a task that Oxbow takes seriously. The Mainers make a trio of grisettes, following an overriding, historically informed philosophy shaped by conversations with Brasserie de la Senne's Yvan De Baets, an endless well of Belgian brewing knowledge. "It was a beer for manual laborers that needed to punch through that crap that's in your sinuses, taste buds and respiratory system," Adams says. "How can we have a beer that's effective for somebody experiencing this situation?"
Adams sees two paths: acidity or high hopping rate, both of which create cutting refreshment. Oxbow's first grisette, brewed in 2012, was the brainchild of Mike Fava, now the head brewer. "The first thing he wanted to do was brew a grisette," Adams says of what became Loretta, filled with spelt and European hops. (The beer's namesake is Loretta Lynn, famous for "Coal Miner's Daughter.") Grizzaca, citrusy with American hops, and gently funky and acidic La Griseta have since joined Loretta, all linked by a common thread: "They're our brewers' go-to beers," Adams says.
Twenty years ago, an American brewpub would've stuck a golden ale on tap as the please-everyone option. For Washington, D.C.'s farmhouse-influenced Right Proper Brewing, that role is played by the dry and brisk Ornette grisette. It's full of wheat, wee in alcohol, evocative of pepper and hay, barely hit with hops and priced to move at four bucks a glass. "It's this working class kind of beer," says head brewer Nathan Zeender. "It's highly, highly drinkable, with almost no sugar. Why wouldn't people love it?"
Like most, Zeender first met grisette in Markowski's book. The concept resonated with the then-homebrewer, who fiddled to make lower-alcohol beers with expressive characteristics from fermentation, residual sugar absent. "It was the kind of drinkable beer that I like," says Zeender, who also ferments Ornette with wild yeast in oak foudres to create Ornithology. "I've never looked at style guidelines and said it has to fall within them. When we're going for a beer inspired by that tradition, we want to brew what we think those beers would be like."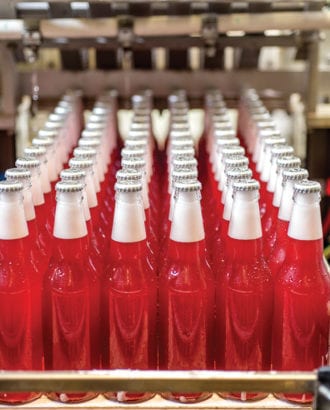 Countrywide, brewers are cottoning to grisette. Florida's Green Bench fully ferments Les Grisettes, made with spelt, rye, oats, and buckwheat, with wild yeast, while Hill Farmstead's Clara mixes wheat with American and European hops. St. Louis' Side Project Brett-ferments Grisette in neutral Chardonnay barrels. At Pennsylvania's Sly Fox, the grisette evolved from necessity and desire: to ensure that Saison Vos had enough yeast for a fast, healthy fermentation, brewmaster Brian O'Reilly recalled his time at Southampton, where his boss was Markowski. Maybe a lower-alcohol grisette was the solution, for both Saison Vos and himself. "I really liked that saison, but it was a little strong," O'Reilly says.
This was 2006. Following fairly amorphous guidelines ("The grisette would be less alcohol than a saison, but they could be similar," O'Reilly says), the brewery created a golden beer, clouded by wheat, appealingly spicy and wholly refreshing. Its name: Grisette Working Class Ale. "We found the beer so drinkable," O'Reilly says.
The beer has become a hit, canned as a summer seasonal and winning gold and silver (twice) at the Great American Beer Festival. Reviving a historical beer also means reviving a historical word, one phonically unfamiliar. "When people are uncomfortable pronouncing grisette, they call it the working-class ale," O'Reilly says, adding that the beer was re- branded as "summer ale." (The name Grisette didn't change.) "It's hard to define grisette, let alone define why yours is an American grisette."
A Historical Opportunity
With goses and Berliner weisses now everyday beers, and grisette mining the mainstream, what's old is new—but only for so long. Beer drinkers are on a restless, galloping quest for what's next, or what came before. Dogfish Head addresses this exceedingly well with its millennium-hopping Ancient Ales, featuring scientifically researched elixirs plucked from the likes of Neolithic China and ancient Egypt. Kvasir, flavored with lingonberries, yarrow and birch syrup according to historical evidence uncovered in a 3,500-year-old Danish drinking vessel, has a great backstory; equally vital is that the tart concoction is curiously, deliciously potable.
That's important, as historical beers may misfire on today's taste buds, especially when smoke is involved. Centuries back, every beer evoked blazing kindling, owing to malts dried over open fires. The advent of kilning, or drying grains over indirect heat (think: roasting coffee), largely tossed a wet blanket on smoked beer. (The rauchbier "smoked beer" tradition persists in Bamberg, in Germany's Franconia region.)
An early Off Color beer was 15 Feet, a Polish grodziskie. Filled with wheat hand-smoked over applewood, the low-alcohol ale is light and generously carbonated, the smoke sturdy but not palate-stomping. "It's what we want to drink while we're brewing," Laffler says.
The beer was initially released on draft, in half barrels, which is an awful lot of smoked beer for a bar to sell. "In retrospect, that was not a good idea," Laffler says, noting smoke's polarizing factor. (15 Feet is now sold in bottles.) Smoky Bare Bear, rife with juniper, is equally love-hate. "Just because a beer is old doesn't mean people will like it," he says.
ChuckAlek's grodziskie is also a tough sell, compounded by the reality that brewing an all-wheat beer (the gluten-rich grain creates a sticky mash) is a royal pain. "It's one of our more labor-intensive brew days," Fraley says, adding that the beer is rarely distributed—instead, it's mostly served in the tasting room for a small, dedicated clientele.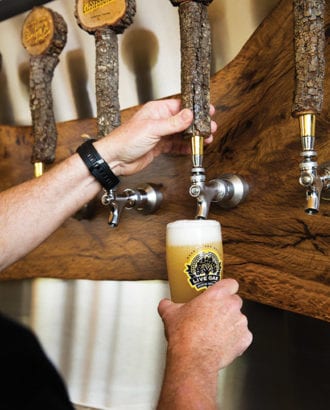 Austin's Live Oak Brewing, long beloved for its European-inspired Pilz and Hefeweizen, recently opened a new brewery where founder Chip McElroy aims to debunk misconceptions around smoked beer—namely, that at they need to be boozy. "We have a couple 3.2 percent smoked beers, and you can drink them all day long," McElroy says. "Many people think that they don't like smoked beers until they try ours."
His new taproom regularly features four or five smoked beers, including a historically accurate, tart and smoky Lichtenhainer (a German style that all but disappeared in the 1980s) and Grodziskie made with beechwood-smoked malt and a proper Polish yeast strain. They're served aside smoldering innovations such as Weisser Rauch, a hefeweizen married to a rauchbier. "We consider ourselves a Bamberg on the Colorado River," McElroy says.
Let's say smoky beers start blazing—what's next? With brewers accessing the same hops, grains and yeast strains, and recipes readily Googled, category leaders are rapidly emulated.
Staying inimitable requires another historical spelunk, following the funky footsteps of Belgian lambic brewers. For centuries they've filled coolships, essentially a shallow pan, with steaming wort that, as it cools, provides a spontaneous feast for indigenous bacteria and yeast—truly local beer, singular as a fingerprint. Coolships are now utilized at dozens of breweries nationwide, encompassing Allagash, Jester King, Russian River, Hill Farmstead, New Glarus, and Oxbow. "It's the ultimate way to capture the terroir of the brewery," Adams says.
Finding ideal microflora was so important to husband and wife Trevor and Linsey Rogers that the couple cruised coastal Oregon, collecting and analyzing yeast samples, before founding de Garde Brewing in Tillamook. "That true sense of terroir spoke to us," says Trevor Rogers, whose ferments are fueled by whatever the breeze brings to his cool- ship. His creations include a spread of goses and Berliner weisses, often fruited with regional boysenberries, blueberries and peaches, and wild ales patiently aged in oak. Though he's using time-dusted techniques, Rogers' aim isn't cloning a 19th-century beer list. "There's inauthenticity in trying to exactly replicate a historic style," says Rogers, who prefers to say his liquids are "inspired by" or "similar to" beers. "Historic styles were, so often, place dependent."
When Rogers first approached a manufacturer to make a coolship, the request met a quizzical response. A cool-what? "Now he tells me about all the breweries calling him," Roger says. By targeting microbes in their backyard, brewers can hit the double bull's-eye of innovation and individualization, creating bulletproof market differentiation.
Distinctive flavors were once a by-product of the by-any-means method of transforming available grains into beer, a beverage to brighten the corners of the day. In that pursuit, endlessly varying techniques and ingredients were doubtlessly attempted—some celebrated, some forgotten, some just waiting for the right brewer to test out a combination that maybe, just maybe will unlock the next great beer. It's the endlessly spinning brewing merry-go-round—or, as Live Oak's McElroy opines, "I believe there's nothing new under the sun."