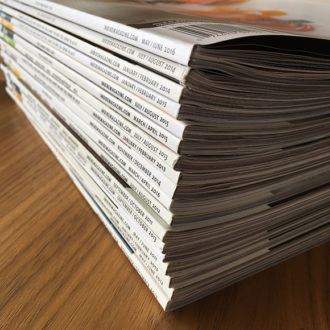 In honor of Imbibe's 10th anniversary, we're taking some time to reflect on the many and varied topics we've covered over the past decade of drinks. Here, Paul Clarke—who contributed to the premiere issue of Imbibe and is now our Executive Editor—recalls some the articles he most enjoyed writing.
Clarke: Imbibe's launch in 2006 coincided with the development of what's come to be known as the cocktail renaissance, and some of the features I wrote over the years chronicled this movement in progress. Early on, I wrote about the then-unexpected resurgence of interest in rye whiskey (Jan/Feb 2007) and the return of newly legal absinthe (Jan/Feb 2008), along with the growing influx of long-forgotten vintage cocktail ingredients (July/August 2007). The cocktail's resurgence also led to a flurry of increasingly complicated recipes—in response, and to highlight the enduring appeal of easy-to-prepare drinks, we tasked four of the nation's top bartenders with developing delicious 4-ingredient cocktails (May/June 2013), and I'm still happy with how well they succeeded.
One of the first assignments I wrote for Imbibe looked at an often-ignored cocktail ingredient, vermouth (Sept/Oct 2006). That sparked an enduring interest in (and a taste for) aperitifs, which I explored in articles on quinquinas (Jan/Feb 2009) and producers of New World vermouth (Sept/Oct 2012), as well as the feature in our 10th-anniversary issue on aperitif wines (May/June 2016).
While our focus is often on the liquids in the glass, the people behind the drinks make these stories worth telling. Over the years, I've had the great fortune to profile some of the most fascinating people in the drinks world, from cocktail-renaissance pioneers Ted "Dr. Cocktail" Haigh (May/June 2006), Dale DeGroff (March/April 2012) and Jeff "Beachbum Berry (May/June 2007) to some of the imaginative thinkers who influence the way we drink today, including Texas bar owner and advocate Bobby Heugel (March/April 2013), San Francisco bartender and entrepreneur Jennifer Colliau (July/August 2011), Brooklyn writer and bar owner St. John Frizell (Nov/Dec 2013), and two figures who bring a touch of science to the bar: Booker & Dax founder Dave Arnold (Jan/Feb 2011) and culinary scientist Harold McGee (May/June 2012).