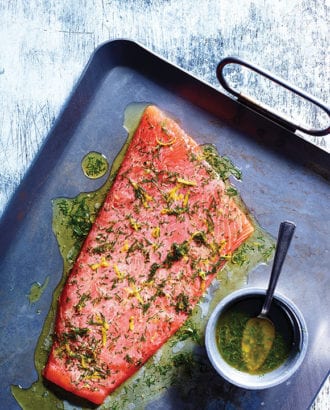 Cooking a la plancha—using a long, hot griddle—is a traditional technique for preparing fish in Spain, allowing for a nice, hot sear. Now, just in time for salmon season, cookbook author and recipe developer Diane Morgan has released her new book Salmon: Everything You Need to Know + 45 Recipes, and her salmon a la plancha, with a zippy citrus-dill-vodka marinade, will get you ready to break out the griddle.
1 whole side of salmon (about 3 lbs.), skin on and scaled, pin bones removed
¼ cup extra-virgin olive oil, & more for rubbing
2 Tbsp. vodka
Grated zest of 1 lemon, plus 2 Tbsp. juice
2 Tbsp. fresh dill, chopped
½ tsp. fine sea salt
½ tsp. fresh-ground black pepper
Remove the salmon from the refrigerator 30 minutes before grilling to bring it to room temperature, then pat dry with paper towels. Prepare a medium-hot fire in a charcoal grill or preheat a gas grill to medium-high. (Morgan uses a plancha that also fits over two burners of a gas stovetop.)
In a small bowl, combine the olive oil, vodka, lemon zest, lemon juice, dill, salt, and pepper and mix well to form a marinade. Place the salmon, flesh-side down, on a large, rimmed baking sheet. Rub the skin generously with olive oil. Turn the salmon over, flesh-side up, and pour the marinade evenly over the top. Set aside while the grill heats.
When ready to grill, place the plancha on the grill grate directly over the fire and cover the grill. After 10 minutes, the plancha should be smoking hot. (If your plancha is well-seasoned, there is no need to oil the surface. If it is new, brush it with oil to be sure the skin of the fish won't stick.) Uncover the grill, transfer the salmon, skin-side down, to the plancha and re-cover the grill. Grill the salmon, without turning it, until it is almost opaque throughout but still very moist, or an instant-read thermometer inserted into the center registers 115° to 120° F, about 15 to 20 minutes, depending on the thickness
of the fillet.
Using two long spatulas, transfer the salmon to a warmed platter. Serve the whole side of salmon on the platter family-style, or cut the salmon into individual portions and transfer to warmed dinner plates.
Reprinted with permission from Salmon: Everything You Need to Know + 45 Recipes, © 2016 by Diane Morgan, Chronicle Books.