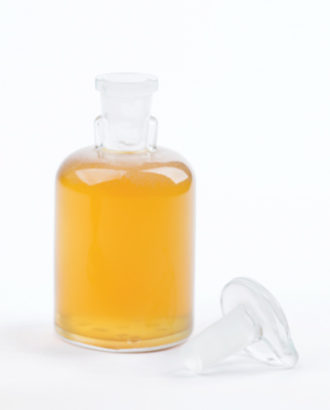 Often relegated to tea blends, chamomile occasionally crosses into the cocktail realm, where it can lend a delicate floral flavor to drinks. At Employees Only in New York City, bartender Milos Zica uses the flower in a versatile cordial that combines chamomile with apple brandy, citrus and spices. Mix it with blanco tequila, Aperol and fresh citrus in his Si Mamacita cocktail for a refreshing taste of early summer, or in the Yankee Notions for a warmer whiskey mix.
1 cup dried chamomile flowers 2 cups water
1 lb. superfine sugar
50 white peppercorns
1 cinnamon stick
1 whole lemon
1 whole orange
3 oz. apple brandy (Zica uses Laird's)
Tools: medium saucepan, vegetable peeler, wooden spoon, strainer, cheesecloth, quart-size glass jar
In a medium saucepan, combine the chamomile, water, sugar, peppercorns and cinnamon. Using a vegetable peeler, remove the colored zest from both the lemon and the orange over the saucepan (taking care to avoid the white pith) and add the removed peel to the saucepan. (Reserve the fruit for another use.) Bring the mixture to a near-boil over medium-high heat. Reduce the heat to low and let simmer for 10 minutes, stirring until the sugar dissolves. Remove from the heat and let the mixture cool to room temperature. Once cool, strain it through cheesecloth into a clean glass jar. Add the apple brandy to the jar, cover and shake to combine. Keep refrigerated for up to 1 month.
Milos Zica, Employees Only, New York City