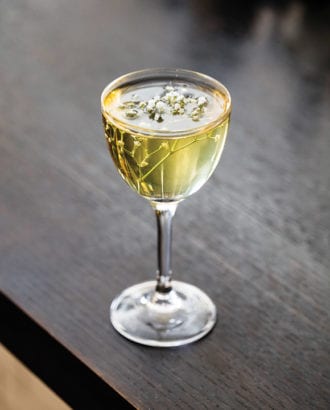 The Negroni Bianco is one of the more popular riffs on the classic formula. In this version from Dante's Naren Young, two kinds of vermouth meet quinquina, lemon bitters and gin. It may require some work to find the ingredients, but the results are worth the effort.
1 oz. gin
½ oz.  bianco vermouth (Young uses Martini & Rossi)
½ oz. dry vermouth (Young uses Noilly Prat)
1 oz. Quinquina aperitif
2 dashes of lemon bitters
1 dash of verjus (optional)
Lemon twist
Tools: barspoon, strainer
Glass: Nick & Nora
Garnish: Baby's breath flowers (optional)
Combine the ingredients in a mixing glass with ice and stir until chilled. Strain into a chilled glass. Twist a lemon peel over the top of the drink to release the oils and discard. Garnish.
Naren Young, Dante, New York City