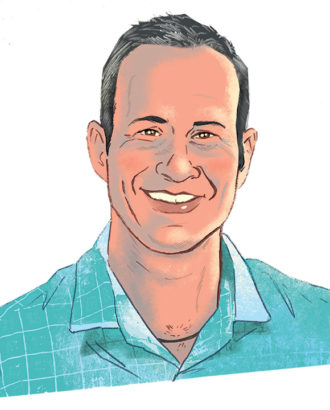 Since catching the homebrew bug in the early 1990s Dogfish Head founder and president Sam Calagione has long been one of craft beer's most compelling champions. Always at the forefront of innovation, Calagione has helped bring flavorful, intriguing small-batch brews to the public as seeds of a microbrewery movement bloomed into a full-blown craft beer renaissance. We spoke with him for the May/June 2016 issue to get his thoughts on where beer goes from here.
On growth
Sam Calagione: The craft beer industry is going to continue to grow over the coming years, because as ubiquitous as craft beer seems, we have to realize it's still only got about 12% of the overall U.S. market share. You also have to think about the people drinking the beer. From light lagers and pale ales, there's a long flavor bridge from light lager terra firms out to the island of flavorful indie craft beer. Once people jump on that path, it's very rare that they only take one step. They usually continue to move towards more flavorful and more diverse, interesting options. I don't know many people who have gone down partially across that bridge and then turned back to only drinking light lagers. So whether or not we can sustain the current pace of growth, I believe very passionately that the growth for indie craft will continue. I can't envision a day in my lifetime when indie craft beer will get over 50% market share, but I think it's reasonable to expect us to get over 20% in the next four to six years.
On staying relevant
S.C.: Moving forward, and regardless of what scale a brewery aspires to, there are three things the brewery must be equally as passionate about in order to succeed: quality, consistency and differentiating from the pack. It's not enough anymore to just make crazy beers if you can't maintain quality and reliability. And vice versa. If you're trying to rely on one well made IPA because IPAs are hot, it's going to be difficult to sustain a long career as a viable brewer because craft beer consumers love diversity and experimentation. For small brewers, it is critical to have world class quality control. Investing in the right laboratory equipment, investing in world class packaging and equipment that sustains predictable shelf life and quality for your beer. Freshness. That's the bigger technically hurdle. And then creativity and passion that in general we all share, recognizing the obligation as a small brewery to our shared identity as a family of independent craft brewers. Everyone needs to pay attention to quality and consistency.
On terminology
S.C.: Semantics will continue to be such a big issue moving forward, because the world's biggest breweries now have diverse portfolios and brands that they bought and make within their massive facilities to sell to their extremely powerful and increasingly unilateral distribution networks. All of this is done in an effort to marginalize craft brewers' access to ingredients and market share. Consumers deserve to know who owns and makes the beers that are perceived to have come from a craft brewery, and the concerning thing is that beers are still marketed as coming from indie craft breweries, when they aren't. If you look at the Brewers Association's list of Top 50 Breweries, many of the ones that once fell within the definition of a craft brewery no longer fall within that definition. It's easy to say it's irrelevant if you're a brewer that falls outside of it, but it establishes a line in the sand. You can see right now that the world's biggest breweries are trying to co-opt the word craft, and they're not going to stop trying to do that with acquisitions and deals. The definition of a "craft brewery" has always contained the concept of independence, and that concept is going to get more and more important. Five years ago, I called Dogfish Head a "craft" brewery. Now, I make sure I call us an "independent craft" brewery. Both words are equally as important now, for consumers to understand the difference.
On creativity
S.C.: One of our rally cries for the next 10 years is that the German Beer Purity Law (or Reinheitsgebot) is nothing more than a form of art censorship. It's a 500-year-old law, but humans have been making beer for 10,ooo years, using what ingredients were available in their part of the world, so an absolute erosion of the relevance of the law over the next 20 years could happen globally. Every country's craft beer world is discovering the unique and indigenous ingredients in their corner of the world, which encourages craft beer lovers to engage in beer tourism and bring beers from different regions back to their regions. Those exotic ingredients are enhancing regional beer scenes on a global level. I think it's going to accelerate the acceptance of brewing with exotic ingredients in every country and creating a more vibrant scene.