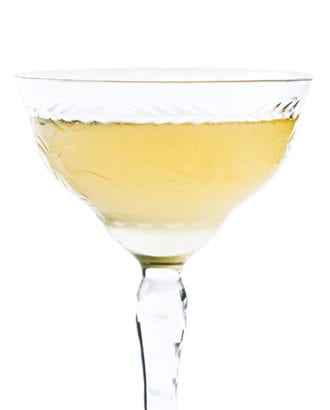 It was Harry Dacre who, in 1892, sang, "Daisy, daisy … I'm half-crazy all for the love of you," and while it could have been intended for a lady-love, the tune seems perfectly suited for the Daisy of the drinking sort, which was also making the rounds about that time. The great-grandmother to the Margarita (the word "margarita" translates from "daisy" in Spanish), the Daisy itself was born from the sour. Its original late-1800s version combines spirits (often "Holland gin," or genever) with gum syrup, orange cordial and citrus, while the "modern" variation from the 1910s includes grenadine and a splash of soda.
Gin-centric Whitechapel in San Francisco shakes up a version that sticks close to the more modern of the two takes. "Our intention was to present that this drink—even over 100 years old—is still excellent," says Whitechapel owner Martin Cate, noting that genever, orgeat and maraschino provide a backbone of maltiness and nuttiness to balance the lemon. "If all the ingredients were bright and light, it would be one-dimensional."
1¾ oz. genever
¼ oz. maraschino liqueur
½ oz. orgeat
¾ oz. fresh lemon juice
Tools: shaker, strainer
Glass: coupe
Shake all ingredients with ice, then strain into a chilled glass.
Adapted by Alex Smith for Whitechapel in San Francisco