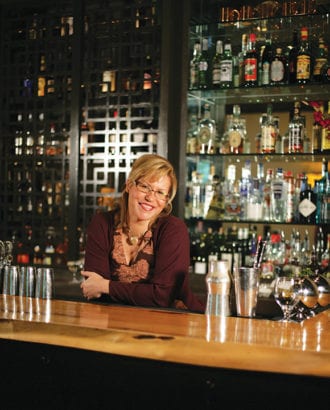 Audrey Saunders helped jump-start the cocktail renaissance when she opened her pioneering Pegu Club in New York City in 2005. The bar was an early home to many bartenders who went on to open their own influential spots, and Saunders has earned a reputation as both a mentor and supporter of those who've spent time behind the stick there. For Imbibe's 10th anniversary issue, we caught up with Saunders—now living near Seattle—and asked for her perspective on how the cocktail world has evolved over the past decade.
Imbibe: What did the cocktail landscape look like when you opened Pegu Club?
Audrey Saunders: Imagine not being able to go out and have a good cocktail. Imagine, like a bad dream, if all of the bars that you now frequent simply did not exist. Before Pegu opened, the scene was mostly dominated by vodka bars, and if you were lucky they might also offer a handful of vodka infusions as well. Angel's Share and Milk & Honey were the only other bars on the New York horizon that had a strong focus on classic cocktails and promoting forgotten ingredients, but even with that, it could be hard for the general public to experience, because they were both very intimate bars with no more than 25 seats. You might get lucky in an old-school hotel bar or a steakhouse if you wanted a Manhattan, a Martini or a Negroni. You could also find a handful of bars doing fun things with lots of fruity flavors, but even with that they lacked real depth and complexity and were nothing pivotal to speak of. It was exactly this frustration that drove me forward.
Did you have any inkling just how widespread the cocktail movement would become?
There was no "movement" back then—there were only a handful of us preaching the gospel of craft in the hopes that it would eventually stick. By and large, most people were still experiencing sweet, fruity, flaccid mediocrity in a glass. That had always bothered me, because after personally experiencing the high degree of culinary expression that a cocktail could offer, I realized it wasn't the experience of the majority of the public. And it was precisely because of my personal experiences with people like Dale [DeGroff, Saunders' longtime mentor] and [London bartender] Dick Bradsell that I chose to take on this quest. When Pegu opened, every single drink needed to be perfect and delicious … and beyond that, you also needed to be wowed. Why? Because I was Dale's kid, and folks had heard the hype. If those drinks weren't amazing, and you weren't wowed, you'd walk out the door thinking, "Nah, it wasn't all that." And that would have been the end of the movement that we were trying to bring to life.
And how have you seen that movement evolve over the past decade?
Every single aspect of the industry that you experience today has grown over the last decade. Bar tools, the return of defunct ingredients, fresh juices, glassware, artisanal products—you name it, it's evolved.
What moments or milestones from the last decade do you think most influenced the way people drink today?
Probably the most important milestone for me was the solid formation of the "craft-cocktail movement" itself. It took many years and a lot of hard work for this to build up enough momentum to actually grow legs and walk on its own. Now, cocktails have become so pervasive in our culture that the actual existence of a "craft-cocktail scene" is taken completely for granted. We're at the point now that its existence is a given. It makes me deeply happy knowing that all my work was not for naught.
As you mentioned, you apprenticed with Dale Degroff. What were some things you learned from him that made a lasting impact on the way you tend bar and do business?
Dale introduced me to the entire world of craft cocktails and also taught me the importance of fresh juice and the use of premium ingredients. In those early days, fresh juice programs at bars just didn't exist—even getting a Whiskey Sour with fresh lemon juice was almost impossible. Working with him and introducing our guests to high-quality cocktails was transformative for them and, in turn, enabled us to advance our efforts to a broader scope of clientele. Dale also instilled in me a great respect for service, and the primary importance of the needs of the guest. At the end of the day, providing good service to guests is the most important aspect of what we do, even more than delivering the perfect drink. I wouldn't be where I am today if it weren't for Dale.
You're a mentor yourself, and many bartenders who worked at Pegu Club have gone on to open their own bars. How does that make you feel?
For me, it goes way beyond gratification. It brings me a joy that is deeper than I could ever possibly express. I also get a real thrill in seeing how they've taken what they've learned, and express it in their own unique styles. I know they'll all keep that legacy going and pass it onto their own bar kids. When I read about their achievements, I feel the gleeful pride of a den mother.
Many people cite your old Cuban as a modern classic—are there any other contemporary cocktails you think deserve that title?
Most certainly the Red Hook, the Penicillin, the Trident and the Oaxaca Old Fashioned.
What are your hopes for the cocktail world moving forward?
I want to see the educational component of mixology expand beyond the craft arena. This, selfishly, is so that when I am deep into my retirement, I can walk into any bar, anywhere, and have my drink my way without having to worry about it.