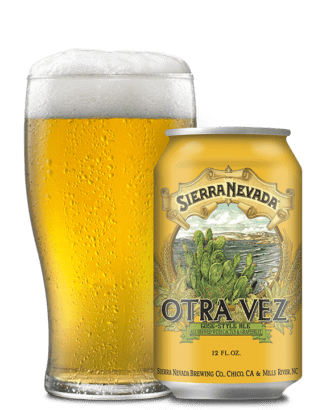 Traditionally a wheat beer, soured and flavored with salt and coriander, gose is one of the latest what's-old-is-new-again styles to work its way out of obscurity. Contributing editor Josh Bernstein explores the explosion of creativity found within the style in his story on the revival of forgotten beer styles in the May/June 2016 issue, and the gose category has expanded so much in the past few years that the Brewers Association recently updated the official definition of the beer—splitting the category into two subsets: one for traditional interpretations, and the other for the wild and exotic variations and experiments.
Notable contemporary expressions include Odell's Brombeere Gose, Devil's Backbone Cranberry Gose, and Evil Twin's collaboration with Two Roads—the Geyser Gose, which was brewed with a subtle blend of Icelandic moss, herbs and kelp. From watermelon to floral hibiscus, here are five more great examples of new-school gose that are available around the country now.
Almanac Beer Co. | Golden Gate Gose
San Francisco, CA, 5% ABV
Slightly higher proof than most options, this version is marked by lemon verbena, coriander and sea salt. The house Saison yeast gives it a subtle floral quality, backed by a distinctly vegetal edge and a bracingly bitter finish.
Anderson Valley Brewing Co. | Briny Melon Gose
Boonville, CA, 4.2% ABV
Remember the watermelon-flavored ring pops of your youth? The seasonal Briny Melon from Anderson Valley has the same nostalgic ping of candy-like watermelon flavor, with an underlying layer of wheat, so it drinks more like a fruity hefeweizen than the traditional light-bodied gose.
Boulevard Brewing Company | Hibiscus Gose
Kansas City, MO, 4.2% ABV
Unlike other hibiscus brews, this gose leaves the sugar on the back-burner, opting instead for a bracing smack of salinity. Dried hibiscus flowers are added to the end of the boil to create a bright tangy personality with an understated floral taste and bright pink hue. It's subtle, easygoing and incredibly drinkable.
Sierra Nevada Brewing Co. | Otra Vez
Chino, CA and Asheville, NC, 4.5% ABV
Possibly the most refined option of the group, this bright cactus, grapefruit and coriander gem is made with experimental bittering and finishing hops, lending an underlying crispness to the otherwise subtle beer. Bonus: Otra Vez joined Sierra Nevada's year-round lineup this past January, so you'll always be able to scratch the itch.
Victory Brewing Company | Kirsch Gose
Downington, PA, 4.7% ABV
Fans of fruit beers will find a match with this juicy brew. With a salinity that rings more of chalky citric acid than sea salt, this explosive fruit beer is flush with big, tart sour cherry flavor, thanks to the addition of fresh-pressed cherry juice. Hints of salt appear on the finish—just enough to remind that this beer falls within the new-school gose category.