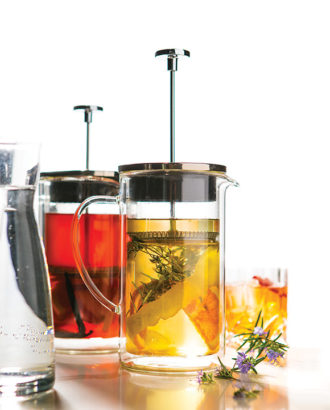 At Americano bar manager Kate Bolton matches vermouth and quinquina with fresh fruits, herbs and other ingredients in this press-pot punch meant for sharing.
4 oz. blanc vermouth
4 oz. dry vermouth
4 oz. Cocchi Aperitivo Americano
2 oz pre-infused Navy-strength gin
½ sliced grapefruit
6 slices cucumber
1 large sprig rosemary
1 small bunch thyme
1 sprig lavender
chilled soda water
Tools: press pot
Glass: small tumblers or punch cups
Garnish: lemon wheels, orange slices, herbs
In a press pot, layer the grapefruit and cucumber slices with the herbs in an alternating fashion. Add all liquid ingredients except club soda, and place the plunger on top. Let steep 4-5 minutes; press plunger, and serve in ice-filled glasses, topping each serving with an equal amount of chilled soda water, to taste. Garnish.
Pre-Infused Navy-Strength Gin: Combine 1 750 ml. bottle of Navy-strength gin (Bolton uses Hayman's Royal Dock) with the zest of two lemons, the zest of one grapefruit, ½ of a sliced cucumber, 3 rosemary sprigs, 5 thyme sprigs and 2 Tbsp. dried lavender. Let infuse for 5 hours, then strain through a fine-mesh strainer and bottle for use. Keep refrigerated; use within 2 weeks.
Kate Bolton, Americano, Portland, Oregon