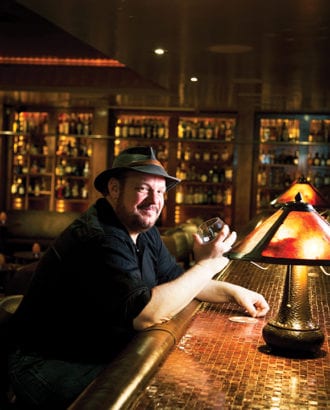 With over two decades of experience making some of the most acclaimed whiskey in America (he spent 14 years at Maker's Mark), Dave Pickerell has been a driving force in the craft distilling boom and is often credited with helping rye whiskey return to the bar with the emergence of his most recent brand, Whistlepig Rye. In honor of our 10th-anniversary issue, we caught up with the whiskey veteran to get his insights into how the craft distilling industry has grown over the past decade, and where he sees it going from here.
What did the craft distilling landscape in America look like 10 years ago?
Dave Pickerell: In 2006 there was just a tiny handful of craft distillers out there that were plowing their own way. Now, we're getting close to a thousand craft distilleries. It's been astounding. 2006 is also what I view as the beginning of cocktail culture. That's about when it really started to catch on, and that is really what changed the landscape of spirits for forever. The bartenders started saying, "hey we can make good, tasty cocktails and there's no reason why we shouldn't do that."
How did that change what was going on in craft distilling?
D.P.: I credit bartenders more than anybody with the resurgence of rye whiskey, because they started looking through old cocktail books and discovered that the first Manhattan, Old Fashioned, Julep (and on and on) all originally used rye whiskey. So 2006 was the first year rye whiskey had a growth spurt in decades. It jumped 20% in 2006. In 2007 it popped another 30%, and in 2008 I left Maker's Mark to make my own rye whiskey.
What made you feel like that was the right time to venture out on your own?
D.P.: At the time, the question of whether rye was really coming back or not was still up in the air. Was it a trend or a fad, or just a flash in the pan? We made really gutsy moves at the time, because we had the belief that rye was coming back; that it was going to be a trend; that we could form a subcategory of rye whiskey that was over six years old; and that we could come to market with the best rye that's been created. All of that has come to pass; I think we were the first brand to actually take whiskey that had been designated as flavoring whiskey and market it as its own brand. That was gutsy. I know big companies who have thought about it and turned it down because they thought people wouldn't get it. We've held our breath a few times and rolled the dice, because the early days were all about getting out early and capturing market share as quickly as we could, because we knew we had a window before the copycats and wannabes would jump in behind us. I think our bold action served us well. I'm proud of having done that, but it was wild west in the early days.
How have things changed since?
D.P.: While cocktail culture got craft distilling started, it's been the millennials that have been driving the market boom. They buy differently than anyone else I've ever seen. When I first started at Makers Mark, 22 years or so ago, you'd go on an account call and set the bottle down and people would look at it and admire the pretty label and the red wax, but no one would touch the bottle. You walk in now and set the bottle down and the first thing they do is pick up the bottle and read everything on the label. Millennials want information; they want knowledge. They want to know stories and they look for taste and quality. They'll buy it because it's local or sustainable, or because it has an awesome backstory, and they'll pay premium money for it. So the craft guys who cant afford to be in business at Makers Mark prices can afford to be in business for the price millennials are willing to pay for the product.
Do you think they'll continue to influence the industry moving forward?
D.P.: I think the only thing that will slow growth is if there's another economic downturn. Right now, millennials are fueling distilling with their buying power and willingness to pay a lot of money for a craft spirit. If we have another economic downturn like we did in 2008, I suspect a lot of folks will start re-evaluating their priorities and say, "Wait, Maker's Mark is pretty good for $32, so why would I pay more for another one that tastes just as good but that's sustainable? Maybe sustainable isn't something I care about as much." That's the only real danger.
Where do you think innovation will come from moving forward?
D.P.: You have to look very deeply into the craft spirits world, because that's where all the innovation has come from in the last six or eight years—from inside the craft contingent. Whether it's Whistlepig with its Old World finish, Solera-aged Bourbons or New World gins—a lot of that has been driven by the craft guys and their need to differentiate from the big companies. Frankly, the big guys are scouting now. If you go to a big liquor convention, almost all the big companies have scouts there. They're looking for two things: what cool ideas can we adopt, and what companies are bubbling up that we might want to buy?
As big companies buy smaller brands, do you think the craft distillers will need to fight harder to differentiate? 
D.P.: I think it was perhaps a bad idea for craft beer or craft spirits to use the word craft, because there are large-scale companies still making good products. And there are small companies making not-so-good products. Just because you're small doesn't mean you're good, and just because you're big doesn't mean you're bad. I wish with all my heart that we had called ourselves "the small and independent distillers," or something like that. If you look at the bylaws, that's what we are: small and independent. That's the unifying factor in craft. We don't have a lot of money, so we have to be more creative and more effective with what we spend, and we have to dance a lot better. Those are the unifying factors. Eventually there will be a kerfuffle over the word craft that just doesn't need to happen.
What other trends do you see happening right now that are changing the industry? 
D.P.: The great trend in the spirits world right now is that people are moving from sweet to savory. Which explains why whiskey is exploding, vodka is shrinking, and deep within the whiskey category, rye whiskey is differentially growing. More people are also getting into craft spirits as a livelihood, instead of just something to do part time. Especially women. I can't tell you how many conversations I'm having with women these days about the issues surrounding making a career out of the industry. That's a great thing.
Any more predictions?
D.P.: I suspect that in time, a new spirits company will rise from the merger of several moderate-sized craft spirits companies. I don't know when or where it might happen, but it's a gut feeling I have that eventually a number of moderate-sized, independent craft spirit companies will start to get together logistically, and realize there is synergy to be had, and then they'll partner up and make a single company.