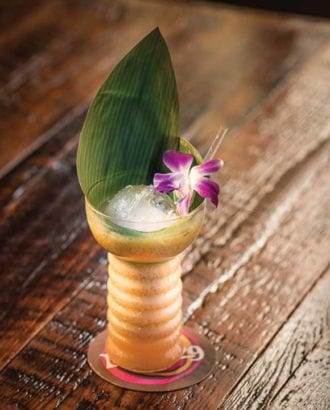 In 2007, Beachbum Berry's Sippin' Safari revealed the long-secret recipes for a number of classic tiki concoctions such as this 1950s-era drink from Polynesian-style pioneer Don the Beachcomber.
1½ oz. gold Puerto Rican rum
½ oz. demerara rum
½ oz. fresh lime juice
½ oz. fresh orange juice
½ oz. Don's gardenia mix
1 dash Angostura bitters
½ cup crushed ice
Tools: blender, fine strainer
Glass: Pearl Diver glass, or other tall, decorative glass
Garnish: banana leaf or pineapple leaf
Combine ingredients in a blender and blend on high for 20 seconds. Strain through a mesh strainer into a glass and add fresh crushed ice to fill. Garnish.
Don's Gardenia Mix: Using a spatula or an electric kitchen mixer, cream 1 oz. of honey with 1 oz. of softened, unsalted butter; add 1 tsp. of cinnamon syrup, ½ tsp. of vanilla syrup and ½ tsp. of allspice liqueur. Refrigerate the remainder for up to 1 week.
Decoded from an encrypted recipe by Jeff Berry, Beachbum Berry's Latitude 29, New Orleans