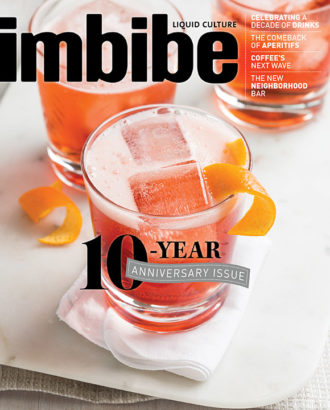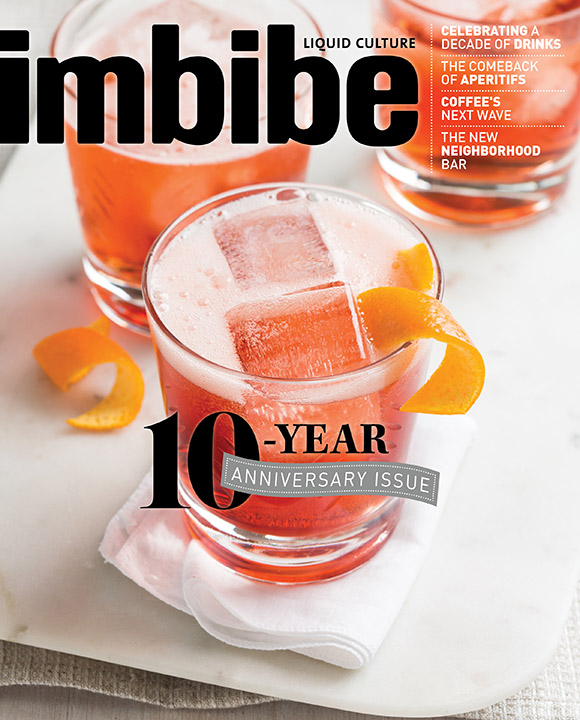 How do we celebrate the 10th anniversary issue of Imbibe? Champagne is a no-brainer, and a great bourbon or brandy would certainly fit the occasion—as would a festive cocktail, or a special beer. In 10 years of covering liquid culture, we've come up with countless possibilities along the way.
Unless you're talking glaciers or galaxies, a decade is a major milestone by just about any measure. In 2006, the cocktail renaissance was just starting to blossom, coffee's third wave was still a novel idea, and while craft brewing and wine culture were already well-established, those worlds were changing in tremendous ways, as well. Across the spread of 10 years, through 60 issues of Imbibe, we've shared the increasingly rapid evolution of drinks, while introducing you to the people and places that are giving this culinary moment a particularly illustrious shine.
And we're just getting started. Because as the worlds of wine and cocktails, beer and coffee are shifting, our larger culture is changing, as well. So for our next 10 years, we're doubling down on bringing the ever-evolving dynamics of drinks culture to the fore.
Subscribers, keep your eyes peeled on the mailbox for the issue to arrive, and everyone else can find them on newsstands starting May 1. Plus, we'll be continuing the celebration online, and we invite you to share your favorite articles and recipes from the past 10 years with the hashtag #imbibegram. Here's to another decade of memorable imbibing!