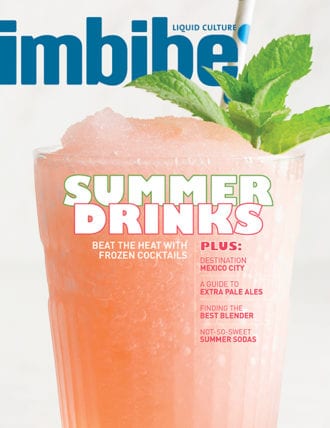 I don't know how the year started out where you live, but around my home in the Pacific Northwest, this past winter was cold and brutal. But take a look outside now—the sun's out with a vengeance, and a nonstop string of summer days is knocking those frigid memories of winter right out of mind.
We're going all-in on the summer experience in this issue. Our cover feature on frozen drinks (like the Bee's Knees and the Virgin's Sacrifice) gets right to the heart of the matter, with recipes for ice-packed blended cocktails designed to keep the heat index in check. No blender? No problem! We tested a bunch of models and pass along our recommendations—and for putting these blenders through their paces, we prepared a cleaned-up version of a frozen classic, the Piña Colada. The blender isn't simply a handy kitchen tool—it has a deeper backstory featuring a 1930s bandleader and has played an influential role in cocktail culture for generations; Wayne Curtis brings us up to speed. And blended drinks like the frozen Margarita aren't just refreshing—they're a way of life during a Texas summer, and Pableaux Johnson offers his brain-freeze perspective.
Aperol is another summer-drinking essential, and M. Carrie Allan lets us in on a few great ways to use it, plus we taste-test our way through a range of Picpoul, a long-overlooked wine style that's perfect for the summer season. Do you know what an extra pale ale is? Trick question—nobody does, and Joshua Bernstein digs into this confounding (but tasty) beer category.
We also meet Seattle soda trailblazer Sharelle Klaus, go big on the culture of boba tea, look at the tricky role that water plays in wine making and at grape growers eschewing irrigation, and head to Mexico City for a great-drinking summer vacation.
Summer doesn't last forever. But after the last few months we've had, let's pretend otherwise for a while. Head to your nearest bookstore (or use our digital store) to grab a copy of the new issue, and in the meantime, keep cool with these fun web extras.