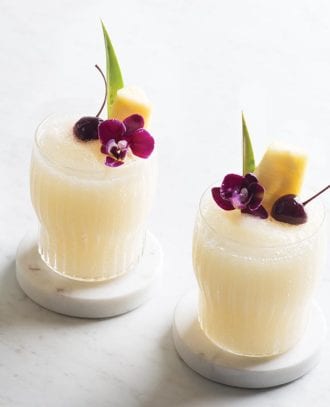 Riffing on the popular Bay Area cocktail Carter Beats the Devil, bartenders at Hawker Fare found plenty to work with using the drink's blueprint of tequila, mezcal, lime and chili. Pineapple and passion fruit syrups (Hawker Fare uses Small Hand Foods) complement the spice, and serving the mix frozen adds the final touch. "We like how crushed ice changes the drink as it melts," says manager Christ Aivaliotis. "It softens the heat and tempers the sweetness of the syrups, while diluting everything."
1½ oz. blanco tequila
½ oz. mezcal
¾ oz. pineapple gum syrup
¾ oz. fresh lime juice
¼ oz. passion fruit syrup
1 dash Thai chili tincture
1 cup crushed ice
Tools: blender
Glass: tiki cup
Garnish: cherry, pineapple spear, pineapple leaf, edible flower
Blend all the ingredients for no more than 5 seconds, then pour into a cup and garnish.
Thai chili tincture: Fill a small jar with fresh Thai chilis and cover with overproof rum. Soak for 1 week, then strain and bottle for use. Use within 4 weeks.
Christ Aivaliotis and Troy Bayless, Hawker Fare, San Francisco
---
Did you enjoy this recipe? Sign up for our newsletter and get our favorite drink recipes of the moment in your inbox every month, and find more great blender drinks here.