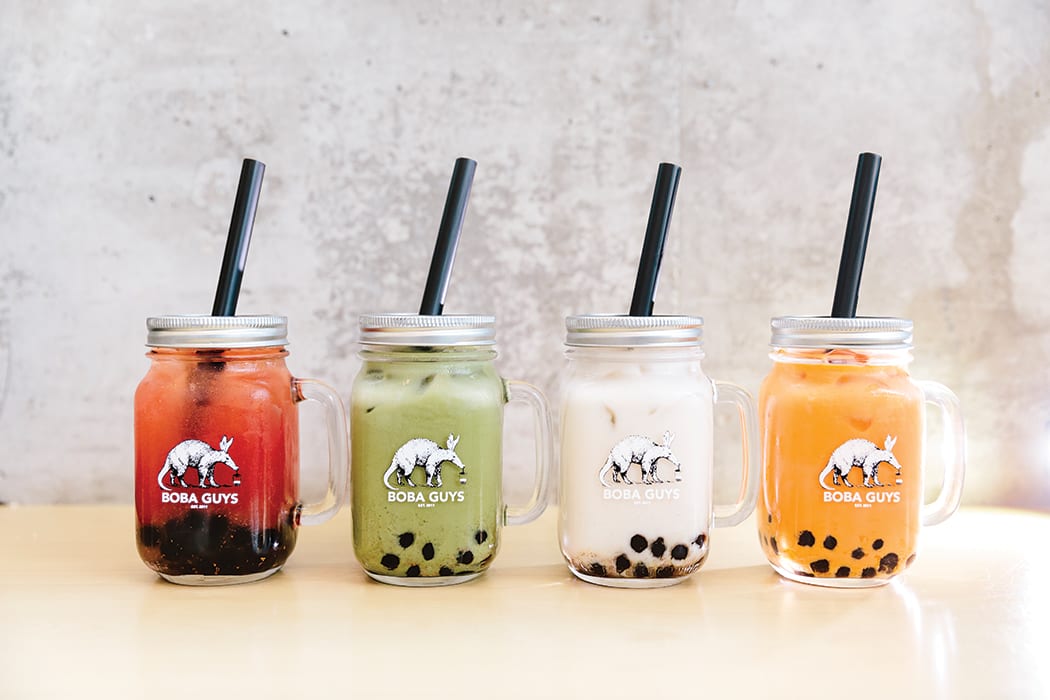 Cold and creamy and astonishingly sweet, the first sip of boba tea goes to your head like a fructose speedball, pinging pleasure receptors in quick succession. Next: surprise! A nugget of tapioca slides from the straw and thumps against your teeth and—never mind that you are a cholesterol-monitoring, mortgage-paying adult—cleaving it brings a swell of glee.
Boba is about youth. Boba is about fun. On boba time, there is no tomorrow. And while absurd, indulgent and bouncy may not be descriptors you typically look for in beverages, boba has never been a typical drink.
Something to Chew on
Who was the genius who first thought, "What this tea needs is something chewy"? As foreign as it might first seem to Western palates, that texture is a mainstay in boba's birthplace—Taiwan—and so beloved that it has its own specific name: Q. "To say something is really 'Q' is a big compliment," explains Cathy Erway, author of The Food of Taiwan. "It's about having an exciting texture, not flavor—like perfectly gummy or chewy—and you see it all over, from tapioca pearls to many fish cakes. A dish with good 'Q' should bounce off your teeth with a little spring to it."
Boba tea's origin story is as squishy as those gumdrops swimming in it, but the most widely accepted version of the tale centers on Lin Hsiu Hui, a product development manager for a teahouse in Taichung, Taiwan, who, legend goes, got bored during a meeting one day and impulsively added a few spoonfuls of the tapioca pudding she was snacking on to her drink. The novelty was an immediate hit among Taichung's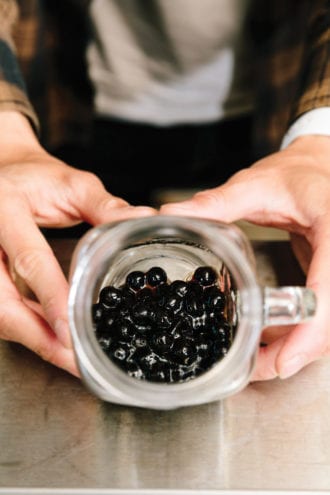 teens and snowballed from there, becoming a staple of street hawkers and rooting itself in the island's pop culture by the end of the 1980s. "Taiwanese food vendors are like notoriously mischievous pranksters, always competing with one another for the next trend that will attract the crowds," says Erway.
Sweetened iced tea and tapioca "bubbles" proved to be a perfect blank slate. Before long the combo had migrated to neighboring countries like China, South Korea and Japan—and from there, followed waves of Asian expats to the United States.
Depending on where you're from, you may know the concoction as bubble tea, pearl milk tea or tapioca tea—and while tapioca pearls are often the headliner, they're just one of the panoply of textured "toppings" most tea shops offer as add-ins, including gelatinous aloe vera, cubes of herbal grass jelly, slurpy egg custard, silky chia seeds and petite sago spheres. Curiously, the term "bubble" doesn't appear to be a derivative of boba: bubble alludes to the creamy froth that forms atop the drink during preparation, when milk and tea are vigorously combined in a cocktail shaker, while boba is the common name for the tapioca that is spooned into the bottom of the cup. Not coincidentally, boba also happens to be Taiwanese slang for big breasts.
The Boba Life
That tradition-tweaking cheekiness was undoubtedly part of the appeal when the drink first exploded onto the scene. Teahouse culture has long been central to Taiwanese social life, but until boba came along, it was dominated by the ceremonial old guard—the province of grandmas and uncles and aunties. Boba tea turned that dynamic on its head, embracing the technicolor and the trendy, unabashedly marketing itself to a newly globalized youth—and the cafés that sprang up to serve it, in every corner of the world where Asians emigrated, became de facto clubhouses. "It's what literally everyone did," says Elton Keung, the young owner of Labobatory, a nouveau boba shop in the heart of the San Gabriel Valley—home to a large and growing Asian-American community east of Los Angeles that in the past 20 years has established itself as ground zero for boba culture in the United States. "Growing up Asian-American here, my friends and I would go to the boba shop, order a $4 drink, and sit around all day, talking and hanging and playing games. We call it living the 'boba life,' " says Keung.
Indeed, it was in a food court in Arcadia, another SGV town, that the first boba café opened in the LA area in the late '90s. Unlike the nuanced loose-leaf teas brewed fresh at traditional tea houses, most boba drinks are made from a mathematical formula of ice, fruit syrups, powdered mixes and nondairy creamer—a process that is so easily scalable that over the next decade boba shops multiplied like gremlins, until they were literally on every block.
Some of the big names—Quickly, Lollicup and Ten Ren Tea—are still going strong. Ten Ren distinguished itself as a high-quality tea purveyor in New York, California and Canada, and now counts more than 70 locations in seven countries. Quickly cornered the fast-food boba market with more than 2,000 stores spread across four continents; and the Chino, California–based company Lollicup not only distributes more than 70 percent of all boba supplies used throughout the United States but also runs a "boba school" for Lollicup clients that has trained more than 5,000 people in the craft.
Yet despite the business model's breakneck growth and the beloved place it occupies within Asian-American enclaves, as a beverage, boba itself has remained a bit stunted—a kaleidoscopic childlike treat, great for an occasional indulgence, but unlikely to replace most folks' afternoon cup of coffee or evening cocktail. Which begs the big question for boba's future: Can it ever slip those sticky-sweet teenage stereotypes and become a grown-up drink?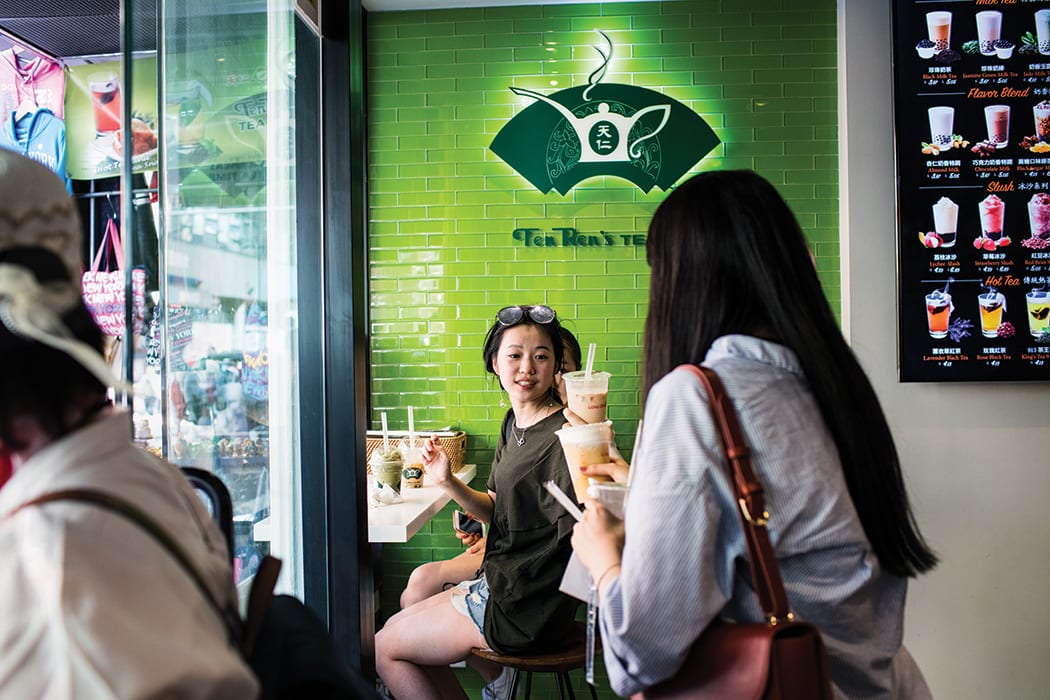 Building a Better Boba
Elton Keung is betting it can, and in one of the most literal ways possible: by turning boba boozy. The 28-year-old entrepreneur says he had an aha moment in the summer of 2011 when, after graduating from USC, he found himself hanging out in the same old boba shops with the same old friends. "One day we just looked at each other and said, 'Dude, we're 21 now, what are we doing here?' " he laughs. "No one had thought of combining boba tea and cocktails yet, so I just took the idea and ran with it."
Keung enrolled in bartending classes and learned to make boba tea before he started tinkering with primitive beer- and soju-based boba recipes. By 2012, ready to take things primetime, he unveiled Boba 7 as a speakeasy-style spot in the back of Soi 7, an Asian fusion restaurant in downtown LA. His gonzo creations—including a combo of blueberry soju and honey boba dubbed the BarackBobama, and a blended mango and soju Margarita with lychee jelly, called the Mango Fett—caused a stir, garnering crowds and a steady stream of favorable press. In the end, the experiment ran for four successful years before shuttering in the fall of 2016 when Soi 7 closed its doors. But determined to keep the project alive, Keung launched a successful Kickstarter campaign, and—coming full circle—reopened as Labobatory earlier this year in a small space in San Gabriel.
Keung remains invested in updating boba's image and still breaks out his jigger for cocktail pop-up nights at Los Angeles' Seven Bar Lounge, but these days Labobatory's primary business is less about booze and more about better ingredients. "Alcoholic boba isn't the only way to appeal to adults," says Keung. "As you get older, you start thinking more about what you're putting into your body—so just being transparent about what goes into our drinks is a way to win over new people."
That philosophy is the entire raison d'être behind Boba Guys, the San Francisco–based startup that has come to epitomize the new wave of American boba cafés. Launched in 2011 by friends Andrew Chau and Bin Chen while both were holding down day jobs at the Bay Area bag brand Timbuk2, the project was spurred by the duo's nostalgia for the boba of their youth, but tempered by the realization that artificial tea powders and nondairy creamers just weren't something they could stomach anymore. "It was a lightbulb moment," says Chen. "Like, why hasn't anyone done a high-quality version of this drink so many people love? We literally went home that day and tried to make some at my house."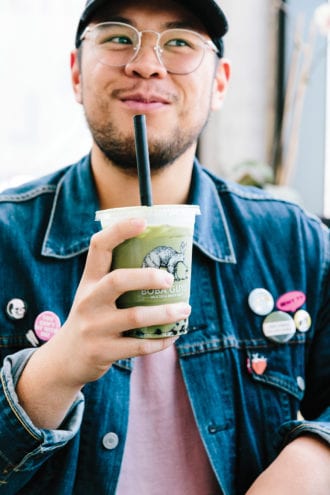 Eventually those experiments led to dramatic upgrades. Call it Boba 2.0: at all seven Boba Guys locations, whole milk from premium local dairies (Battenkill Valley Creamery in New York and Straus Family Creamery in San Francisco) trumped the more commonly used nondairy creamers; cane-sugar syrup is the house standard instead of artificial sweeteners and high-fructose syrups; and each drink is brewed using ethically sourced loose-leaf teas. (One of their hashtags: #fightthepowder.) Almost all drinks feature custom-calibrated sweetness according to customer preference, and toppings, like grass jelly and almond jelly, are made in-house. When Chau and Chen opened their first café, in San Francisco's Mission District, one of the earliest menu innovations was horchata boba, a deliriously rich and creamy, cinnamon-spiced riff on the taqueria classic. Need a pick-me-up? Ask for a "dirty" horchata and your boba barista will add a double shot of espresso to the cup, developed for Boba Guys by Four Barrel Coffee.
If the operation sounds less like a Chinatown teahouse than a third-wave coffee shop, it's no accident: the Boba Guys are unabashed about their desire to break out and recruit customers who might otherwise take their afternoon break at Blue Bottle. "We're not interested in opening in neighborhoods that have a lot of boba shops already," says Chen. "So many of the old boba places have this 'by us, for us' feeling. But by design, our approach is more inclusive. We want to reach across cultures and change perceptions about what boba can be."
And sure enough, slowly, from coast to coast, that seems to be happening. This spring, when Terry and A.J. Hung unveiled their relocated boba café, Tapio 2.0, on a small side street in Charleston, South Carolina, they were floored to find customers queuing up around the block. "It's not like this is New York or LA—down here, no one knows anything about boba," says Terry Hung. "It was humbling to see the excited faces of everyone—old, young, black, white, Asian—just having a good time."
Because of that, the Hungs have come to think of themselves as educators as much as entrepreneurs. "People think of boba as fast food, but it is actually very delicate. You have to keep an eye on the pearls during cooking, and you have to use them within a few hours. But so many places don't treat it that way—and when you get a bad batch the first time, you're going to be turned off."
At Tea & Milk, in Astoria, Queens, the clientele may be better acquainted with boba, but founders Mathew Wong, Wilson Ng and Kendy Ng take their roles as tea ambassadors no less seriously. By using only high-quality organic dairy, brewing each cup to order (aside from their Grandma's Masala Chai), and focusing on a small menu of carefully paired teas and toppings—think: boba sommeliers!—the childhood friends hope to upend the conventions about boba tea. "Most people come in here and reflexively order tapioca, but we don't always recommend it—between chia seeds and grass jelly and aloe, there are so many other possibilities, and we want to have that conversation," says Wong.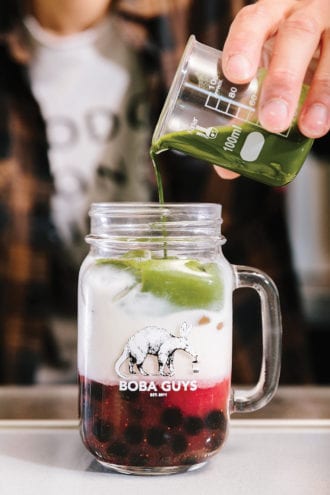 For instance, for their thick, nutty taro milk tea—made from the real root, not the electric-purple powder that's standard at most boba shops—taro puree is blended with Nilgiri black tea for a rich, smoothie-like concoction that's made even silkier by the subtle addition of plump chia seeds. And, in a remarkably rejuvenating twist on agua fresca, crunchy, refreshing cubes of real aloe vera are the perfect partner for a custom-blended peach and hibiscus tea.
As elementary as it may seem, one of the most revolutionary ways these new entrepreneurs are helping to reinvent boba culture is simply by shifting the emphasis away from boba and onto the tea. In Portland, Oregon, Erica Indira Swanson is furthering the cause at her trio of Tea Bars, chic, Scandinavian-styled tea shops where a handful of organic teas in flavors like peppermint and vanilla rose are paired with grade A boba. While old-school boba shops might be infamous for their labyrinthine menus with dozens upon dozens of electric-hued flavors and fillings, Swanson says, "We're all about fewer, better things." Or, as Wong puts it: "We're not interested in boba as a trend. Tea has been around for thousands of years, and we want to have fun, but also keep it in perspective."
Would Lin Hsiu Hui recognize the Labobatory's Fuego Mango, with mango green tea, chili flakes and lychee jelly? Or the Boba Guys' Sea Salt Chocochata, a champurrado-style boba spiked with salted TCHO drinking chocolate? Who can say—but then again, with boba and everything else, authenticity is in the eye of the beholder. "We've had critics knock us for not being 'real' boba," says Bin Chen. "But it's a new generation, and it's authentic to us."
---
Like what you see? Get more of the best of liquid culture when you sign up for our bi-monthly magazine. Subscribe now and save up to 59%—it's just $21.95 for one year or $32.95 for two years. Click here for details.