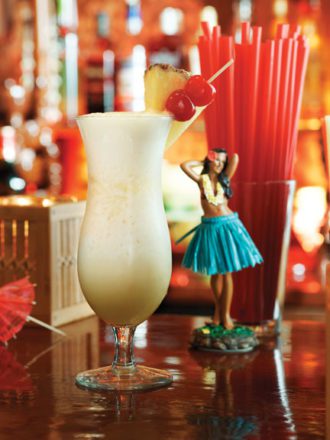 The epitome of poolside drinking, the Piña Colada has been a signifier of summer for more than half a century. We explore the Puerto Rican roots of the classic cocktail and its evolution in our July/August issue with Giuseppe González, who prefers a traditionalist approach to his Piña Colada, complete with Coco López cream of coconut. But the tropical flavors of this classic beach drink beg to be tinkered with, and bartenders have been more than willing to experiment, from adding unexpected flavors to swapping out base elements. Get out the blender and play along.
Switch Out Spirits
The rich creaminess of coconut and the tart-sweet flavor of pineapple make the Piña Colada a welcoming palette to a variety of spirits beyond the traditional rum. Swap in vodka and you've got a Chi Chi, or up the ante with a flavored or infused vodka. At BOA Steakhouse in Los Angeles, pisco stands in for the rum and a mango-coconut purée elevates the fruity flavors. During his time at Brooklyn's Fort Defiance, Zac Overman created a colada riff that brought a secondary ingredient to center stage with the Angostura Colada. The drink combines the bitter complexity from a full ounce and a half of Angostura bitters with some overproof Jamaican rum, pineapple juice, cream of coconut and fresh lime (full recipe below). And though Giuseppe González may be a Piña Colada purist, his City Island Piña Colada at New York's Suffolk Arms swaps out rum for Cognac.
Add A Twist
A little change can make a big difference. At Washington, DC's Colada Shop, the La Negra Tiene Tumbao gets a burst of bitterness thanks to a float of Fernet atop a traditional Piña Colada. Meanwhile, at Chicago's Three Dots and a Dash, Thai basil adds a savory edge to the Aloha Felicia cocktail made with Venezuelan and dark Jamaican rums, pineapple and coconut. And San Francisco Thai eatery Kin Khao adds the sweet, spiced flavors of classic Thai tea to the Pattaya Shake, which starts with charred pineapple-infused rum, coconut purée, condensed milk and fresh lime topped with the housemade tea.
Go Unexpected
Tackling the riff from the opposite direction, bar manager Aaron Ranf from Tallula's in Santa Monica, California, swaps out coconut for avocado. His Avocado-lada combines white rum and Velvet Falernum with fresh pineapple and lime juice and a scoop of avocado purée shaken with an egg white for a rich and frothy, but coconut-free, colada. And at Eric Nelson's Portland, Oregon, pop-up Shipwreck, the Piña Colada takes an everything-and-the-kitchen-sink approach. Starting with Plantation Pineapple Rum and the traditional Coco López and pineapple juice, Nelson then goes rogue with the addition of Ancho Reyes chile liqueur, mezcal, ground coffee and a pinch of salt. The surprisingly harmonious result is sweet and smoky, with the earthy notes of the coffee and chile liqueur playing nicely off the pineapple.
Angostura Colada 
1½ oz. Angostura bitters
½ oz. overproof Jamaican rum
2 oz. fresh pineapple juice
1½ oz. cream of coconut
1 oz. fresh lime juice
Tools: shaker
Glass: large snifter
Garnish: grated nutmeg, pineapple leaves and an orange slice
Shake the ingredients with ice and pour into a large snifter; add crushed ice to fill and garnish.
Zac Overman, Fort Defiance, Brooklyn