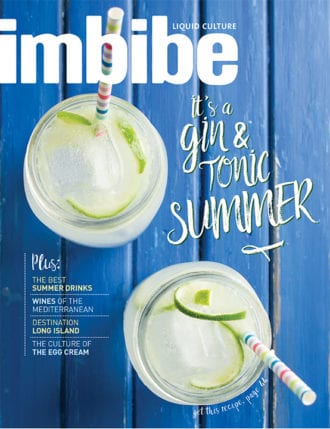 Summer isn't the season for life's complexities. The rest of the year is a tumult of carpools and homework, of dressing in layers against the weather, and the drudgery of the day-to-day. But this all falls away in summer—even if the calendar is filled with errands and reminders, there's the undercurrent of summer vacation, and the promise of sunny weekends spent outside and of evenings that go on forever. Summer was made for simplicity.
This extends to the season's drinks, as well. While planning our summer-drinks feature, a simple answer presented itself: the Gin & Tonic. The G&T is getting a lot of love nowadays from Barcelona to Vancouver—we bring you 8 of our favorite spins on the classic (including this one from New York bartender Toby Cecchini and this one from Chicago). The egg cream, too, is a simple and refreshing summer staple, with the added value of a somewhat confusing name (hint: the egg cream traditionally contains neither) and a rich heritage.  And we also chat with One Flew South's Tiffanie Barriere to hear what it's like to work in the world's busiest airport bar. 
To read the rest of our summer features—like Jennifer Fiedler's story on wines from Mediterranean islands, Amy Zavatto's tour of eastern Long Island's expanding universe of breweries, distilleries and bars and a look at Caribbean-styled falernum—you'll need to pick up an issue, out on stands now. In the meantime, here are a few of our web extras to tease the palate:
Life is busy; summer should be simple. Have a great one.