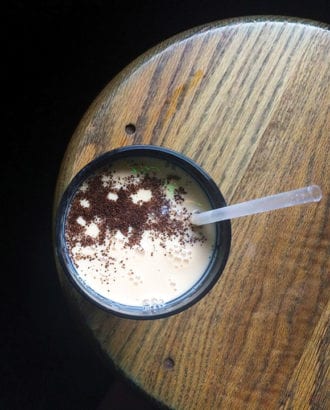 Every July, bartenders from around the world converge in New Orleans for the annual Tales of the Cocktail festival to discuss cocktail-making tips and techniques, debate the details of history and basically get nerdy about drinks.
At some point during the week, most people make a point of visiting French Quarter den Erin Rose to order the house specialty: Frozen Irish Coffee. Since the first daiquiri machine was installed at the neighborhood bar in 2000, the drink—a rich, creamy dairy-and-coffee blend spiked with a proprietary mix of alcohol—has become a box to check for bartenders attending the fest. "It's become the unofficial refresher of the Cocktail Apprentice Program," says Mike Ryan, director of bars at Kimpton Hotels and CAP Manager for TOTC. "When you're working crazy hours at a crazy pace in crazy heat and humidity, it hits the spot, combining a caffeine kick, ice-cold refreshment, and a rich, fatty sense of self-indulgence sorely needed during a CAP's work week."
As with many New Orleans concoctions, the recipe isn't a new invention. First mixed in the 1980s by Erin Rose proprietor Jim Monaghan, the blend initially debuted at his flagship bar Molly's at the Market (read more about Molly's in the July/August 2016 issue) as a warm-weather alternative to the hot classic. Many of Monaghan's family bars adopted the drink over the years, including Erin Rose. Since Monaghan's death in the early 2000s, his long-time general manager Troy Koehlar has kept the drink on special at the bar—a 12 oz. cup goes for $3.50 from 10-2 p.m., and $4.50 after; the 16 oz. souvenir cup is always $6.
Tierney Monaghan, Jim's granddaughter, still works behind the bar at Molly's at the Market. She says that while they sell the drink year-round, it's most popular during hurricane season when the city is blanketed by peak heat and humidity. "We sell literally hundreds of them on the weekends and during festivals," she says. "They also sold them at a booth during the 1984 World's Fair."
Erin Rose bar manager Rhiannon Enlil (formerly of Cure) says the drink is so popular, people often covet the souvenir black logo cups, too. "I've even had people ask us to ship cups to different states so they can have New Orleans-style parties and attempt to recreate our recipe at home (cups cost $1 each)," she says. 
Both Monagahan and Enlil say the original recipe will remain a family secret, though many iterations can be found around the city and beyond—popping up on menus from Los Angeles to Charleston, South Carolina. Enlil does divulge that it's made with local dairy, local coffee, brandy and coffee liqueur, poured from a Taylor soft-serve machine and sprinkled with coffee grounds. "If you approach it like a boozy milkshake using your home blender, you'll be headed in the right direction," she says. "Trial and error can be fun, too." 
Yet there's nothing like the original. It's a chameleon of a drink, suited perfectly well as a creamy breakfast accompaniment, a mid-day pick-me-up, or boozy nightcap, meaning it will likely remain a beloved staple during the fest for years to come. "During the Spirited Awards a couple of years ago, emcee Simon Ford made a joke that even though Tales brings in the best bartenders from all over the world, the best cocktail he can find is the Erin Rose Frozen Irish Coffee," Enlil says. "Apparently the audience erupted in laughter and applause. I wish I could have been there to hear the joke myself, but I was probably four-deep at the bar serving said cocktails to the crowds."