Walk around the interior perimeter of Yankee Stadium, toward the back of the right-field bleachers, and at the rear of section 202 you'll find a small egg-cream stand. No big deal, right? Of course, the home of the Bronx Bombers would have an egg-cream hawker somewhere. Such an iconic New York drink, how could they not?
Except, they haven't. Until now. Linda's Brooklyn Style Egg Creams is the first egg-cream concession in the history of the 103-year-old ball club. Linda's is named after the mother of Bensonhurst-born founder Christopher Gallo, a Manhattan Criminal Court officer who recently took his waitress mom's home recipe for egg creams and began selling them at street fairs and festivals. The Yankees gig was a major get.
"What's old is now new," says Gallo, explaining the new-found cultural currency now being enjoyed by the old-school egg cream. "People like things that have tradition.
"They like the old-style soda fountains and you've started to see reproductions of them pop up. I didn't reinvent the wheel," he adds. "I'm just rolling it again."
Few culinary items are as associated with New York as the egg cream. It is the alcohol-free Manhattan of the Gotham beverage pantheon, iconic and revered and misunderstood. And, like the Manhattan, it fell out of favor for a long time but has come roaring back in the past several years. And it is no longer just the jurisdiction of stubborn New York standard-bearers like Gem Spa, Yonah Schimmel Knish Bakery and Eddie's Sweet Shop. It is the centerpiece offering at retro-modern soda fountains like Brooklyn Farmacy in Brooklyn, The Franklin Fountain in Philadelphia, The Ice Cream Bar in San Francisco and Parlor Deluxe in Charleston. It pops up with increased frequency on the menus of notable restaurants like fine-dining destination Eleven Madison Park, Danny Meyer's Untitled at the Whitney Museum, and Russ & Daughters Café, which opened on the Lower East Side in 2014.
Russ & Daughters has every right to sling egg creams. The family has been selling the frothy delights at its famous store on Houston Street for a long time, possibly since the shop opened in 1914.
When Josh Russ Tupper, one of the fourth-generation owners, was a kid, a typical customer refrain at the store went, "A real New York egg cream! Nobody does that anymore." Today, diners at the café are unfazed, even as they are confronted with egg-cream flavors that include not just the traditional chocolate, but also malt and carob. You can also get a spiked egg cream, with a shot of booze tossed in.
To develop the egg creams—as well as the rest of the beverage program, which includes housemade shrubs, sodas and cocktails—Tupper tapped Yana Volfson, a respected New York bartender who has worked at Freemans and Peels and is now beverage director at Cosme. "I read up for every project I work on, but this one was very close to my heart," says Volfson, who worked on the menu as a consultant. "My grandfather had a candy store on 103rd and Lexington, so, growing up, soda-fountain cocktails were no stranger to me. My grandmother always made our sodas the old-fashioned way with seltzer and different flavored syrups. It was very nostalgic to work with the Russ & Daughters team to develop the beverage recipes."
The effort has paid off. "Our sodas and egg creams sell as much as our alcoholic beverages," says Tupper.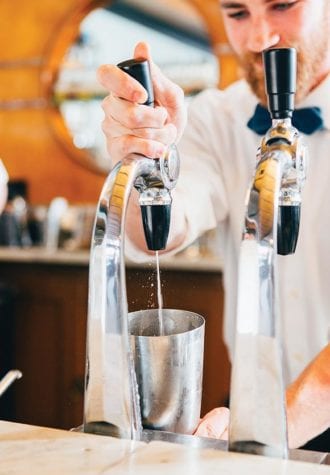 Skip the Eggs, Hold the Cream
Despite the egg cream's renewed popularity among younger generations—both kids and millennials— most people still understand little about the drink, beginning with the name. "Egg cream" is the misnomer to end all misnomers. There's no egg and no cream. Instead, it's composed of milk, syrup and seltzer. The origin of the odd handle is hidden somewhere in the same mists of time that conceal the etymology of "Martini" and "hot dog." (Some think the word "egg" may not have been part of the name to begin with, but is a corruption of the Yiddish word echt, as in "real," or et, as in an order for "chocolat et crème.")
The story of the drink's birthplace is a little clearer, but not much. Most agree that New York can claim parentage, though Manhattan and Brooklyn will be fighting over custody until the Dodgers come back to Ebbets Field. In Manhattan's favor is the history of Louis Auster, the head of a secretive family who sold fizzy concoctions he called egg creams hand over fist at his candy store on Second Avenue beginning in the 1890s. Lending Brooklyn's argument some weight is the fact that it is home to Fox's U-bet, the chocolate syrup that purists say must be used to make a proper egg cream. Certainly, down-to-earth Brooklynites took the drink more to heart in the post-WWII years, even if the greatest concentration of traditional egg creams can still be found along the onetime "Yiddish Broadway" of Second Avenue from Houston to 14th Street.
One thing is for sure: Brooklyn helped spark renewed interest in the drink. Brooklyn Farmacy, housed in a picturesque old pharmacy on a pretty corner in Carroll Gardens, was one of the first of the country's new breed of hip-to-be-square soda fountains. Its reverent and unironic embrace of mid-century Norman Rockwell wholesomeness has been copied in cities across the U.S. And the resurgence of the egg cream has been part of that.
Peter Freeman, an owner of Brooklyn Farmacy, partly credits the recent recession in helping to boost the egg cream's fortunes at his fountain. "You could do it all for five dollars plus a dollar tip," he says.
"Everybody could afford an egg cream. It was that timing, coupled with the megaphone that is Brooklyn."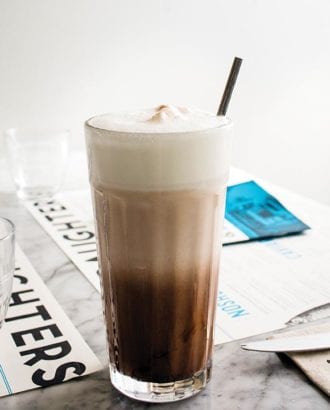 Freeman is amazed when he surveys today's coast-to-coast fountain family. "When we opened this place, there were no soda fountains, there were no egg creams," he says. "I learned about egg creams when I was six. My dad took me to Ray's in Manhattan, and that was an experience. It was 33 years ago, but I remember it clearly—that was a moment. But if those places don't exist, there are no moments. I took it personally. If this was so special, and it didn't exist, then that's my fault. So I did this."
His personal mission continues today. People opening soda fountains call him for advice all the time; he dispenses it happily. is summer, in Knoxville, Tennessee, he will partner on Citizens Creamery, which will bring together under one roof the once-classic combination of pharmacy and soda fountain.
James Groetzinger, owner of the grandly named and compactly built Parlor Deluxe—which opened in Charleston last fall, and traffics in traditional fountain treats like ice cream, shakes, floats, hot dogs, and tater tots—felt a similar sense of purpose.
"I'm very proud of some of the things our country has done in terms of cuisine," he says. "I think a lot of people feel the same way now, about celebrating American culture in food and drinks."
Building on Tradition
As at most modern egg-cream purveyors, Parlor Deluxe's patrons fall largely into two categories: the older folks who remember the drink and are excited to see it back, and the younger folks who have never heard of it but are curious to try. The latter group gets hooked as quickly as their grandparents once did. At Brooklyn Farmacy, toddlers, tweens and teens now order egg creams like it's second nature—something that delights Peter Freeman's evangelistic sensibilities. He has sold more than 300,000 egg creams since opening in 2010; one twenty-something (perhaps an aspiring competitive eater) drank nine in a row. "That was impressive," says Freeman.
Such devotion can be a problem sometimes. Juliet Pries had an egg cream on the debut menu at The Ice Cream Bar, her soda fountain–cocktail bar mashup in San Francisco, which opened in 2012. But she soon took it off. "The first thing a person would order would be an egg cream," she says. "They'd be like, 'Well, that's what I order at a soda fountain, right?' We had so many other things on the menu, that we wanted people to look at the menu and not just order that."
Pries' egg cream formula is unorthodox. In addition to seltzer and syrup, it has an actual egg yolk and real cream in it. "We tried every way we could, and we preferred that one, the texture of it," she says. To further boil the blood of egg-cream watchdogs, Pries makes her own in-house chocolate syrup in place of Fox's U-bet.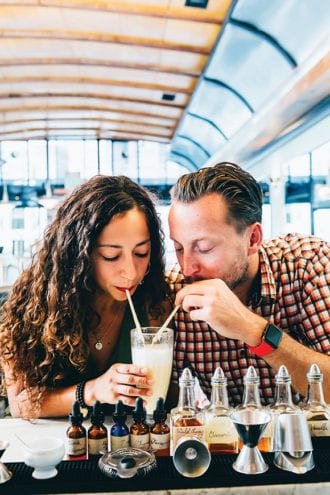 Freeman is at peace with such experimentation. He makes maple egg creams in the fall, and strawberry and blueberry egg creams in the summer, when local fruits come to market. He's also made the occasional boozy egg cream at special events, throwing a little coffee liqueur and vodka into the mix.
Still, for the classic chocolate and vanilla versions, his standards are pretty rock-ribbed and fall in line with what many agree constitutes an A-1 egg cream: good-quality seltzer, kept very cold and drawn from a fountain, not a bottle; good-quality milk, kept equally as cold; and proper proportions. Too much milk and it gets heavy; too much syrup and it's too sweet. "Egg creams are easy to make," says Freeman. "But the devil's in the details."
Freeman refuses to serve his egg creams with a straw; he wants your nose down in that fresh froth. "If you serve it with a straw, you don't taste the milk head. The beauty of an egg cream is it starts kind of neutral, then you get that first bit of sweet, and as you get down it gets sweeter and sweeter. And that last bit is the sweetest—it builds up to that last little bit. If you use a straw, you get that last bit of sweet first and it's, like, 'ugh.'"
Volfson has equally strong opinions about what makes a good egg cream, but she practices humility nonetheless. Like the cocktail crowd she serves at bars, the egg-cream enthusiast can be a tough nut. "No matter how good you think your egg cream is, there's always going to be a connoisseur with a critical palate," she says.
As befits a simple, yet mysteriously complex drink, the key to a perfect egg cream experience may be its momentary pleasure. It should last as long as the smile it provokes. "It's almost like espresso in Europe," says Freeman. "You step up, you order it, you knock it back."