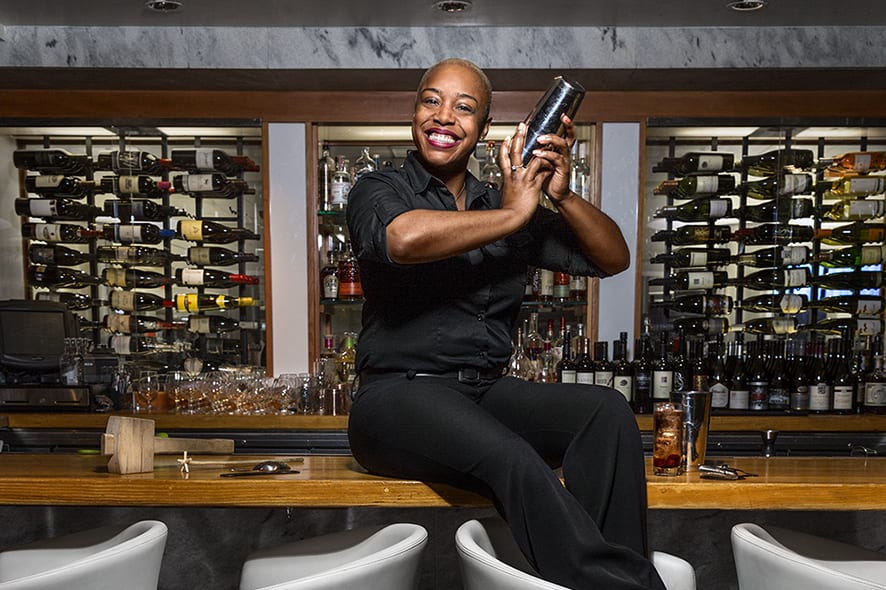 Concourse E in Atlanta's Hartsfield-Jackson International Airport might be the only place in the country where a flight delay is a good thing. The terminal is home to One Flew South, an upscale restaurant and bar that's become a beloved cocktail destination. Tiffanie Barriere has greeted customers at the bar for almost eight years, taking the stress out of travel with her southern hospitality and world-class bartending skills. Since it's summer travel season, we caught up with Barriere to find out what it's like to work as a bartender in the world's busiest airport.
Imbibe: How did you come to work at One Flew South?
Tiffanie Barriere: I bartended at Longhorn Steakhouse for five years. It wasn't called a "bar program" back then—we were just bartenders, but I dabbled deeper whenever I could, making my own syrups and cocktails and goofing off with random ingredients. Then a buddy of mine read a story that said One Flew South was opening. My friend went to interview for a job at the bar and she needed a ride, so I took her and decided to poke my head into the interview. I walked in and made myself comfortable, pretending I was there for an interview, just for fun. We quickly became friends with [then general manager] Jerry Slater. Now here we are, almost eight years later. It was all very organic, and the answer to my prayers at the time.
Was there a plan in place to do high-end cocktails, or did it emerge organically?
It was the plan. Jerry Slater is a writer and an amazing bartender. He and chef Duane Nutter used to work at
the Seelbach Hotel in Louisville, so they came to Atlanta to show everyone what they could do. Jerry introduced me to Bar Smarts, history and etiquette, and the fact that bartending can have an art to it. He showed me that what I was doing was right. We were going to make this cocktail scene happen in the airport, which was unheard of at the time. He planted the seed, and I kept watering it.
How was the bar received when it opened?
We opened during the recession of 2008. No one wanted to be in an airport at the time, so we wanted to create a place for people to have quality drinks and show people that we know how to tend to our bar. Now, people text me, they call, they inbox me, asking when I'll be at work. Some people call months in advance when they're buying plane tickets, asking me what my schedule is going to be. People are re-routing their flights to come through Atlanta. It's crazy.
So you have regulars?
We have about 75 percent regular customers at the bar. You'd be surprised how many people y to work. I see some people every day; some people twice a week, when they have round-trips. It's really funny wish I had a punch card to calculate how many people come through regularly. I know so many of them by name, and if I don't, they know me by name. It's pretty cool.
What is your average day like?
We're a high-volume restaurant in the busiest airport in the world. Every day—holidays, weekends, mornings, nights—we are peak at all times. We have the means to make drinks 365 days, seven days a week. People who are flying to the World Cup come by, folks going to the Masters come by, it's always a holiday in here, so that's exciting.
Do you check out other airport bars?
I do! I travel often, and I go to other bars in airports because I want to see what they're doing. Whenever I get to the city I'm going to, I try to stay in the airport for an hour or two to scout out what's going on. I can see why people get happy to come see us; most other airport bars are really blah.
Do you think you're setting an example that might eventually catch on in other airports?
My dream job would be to assist or aid other airport bars to not be afraid to go craft or change things up a little bit. I would love that.