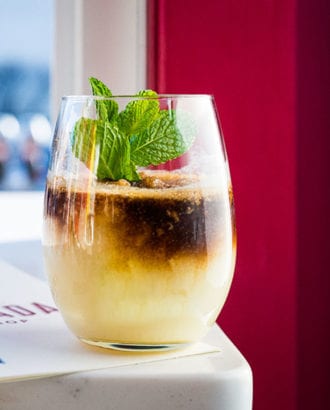 What's better than a frozen Piña Colada? One made with a float of Fernet.
1½ oz. white rum
1 oz. coconut milk
1 oz. coconut cream
2 oz. pineapple juice
¼ oz. fernet (Colada Shop uses Fernet Vallet, but Fernet-Branca would work great too.)
Tools: blender
Glass: cobbler
Garnish: mint leaves
Add 2 cups of ice, coconut milk, pineapple juice, coconut cream and rum to a blender. Blend until frozen. Serve in a cobbler glass with a float of fernet.
Juan Coronado, Colada Shop, Washington, D.C.
---
Like what you see? Get more of the best of liquid culture when you sign up for our bi-monthly magazine. Subscribe now and save up to 59%—it's just $21.95 for one year or $32.95 for two years. Click here for details.