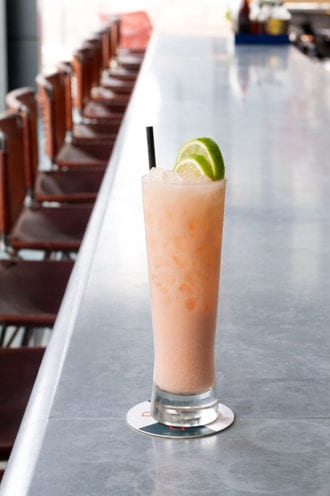 Noelle bar manager Rain Miller calls this beauty "a Piña Colada for tequila drinkers."
1½ oz. reposado tequila
½ oz. mezcal
½ oz. cinnamon syrup
½ oz. velvet falernum
¾ oz. fresh lime juice
2 oz. house coconut purée
1 dash Angostura bitters
Tools:  shaker, strainer
Glass: Pilsner
Garnish: shaved nutmeg and a lime wheel
Combine all the ingredients in a shaker with ice and shake to chill. Strain into a glass over crushed ice and garnish.
Coconut Purée: Combine 3⅓ oz. of Coco Lopez (or other coconut milk) with 3⅓ oz. of coconut purée and 1⅓ oz. of white rum. Stir to combine. Store in the refrigerator.
Rare Bird at Noelle, Nashville
---
Did you enjoy this recipe? Sign up for our newsletter and get weekly recipes and articles in your inbox.