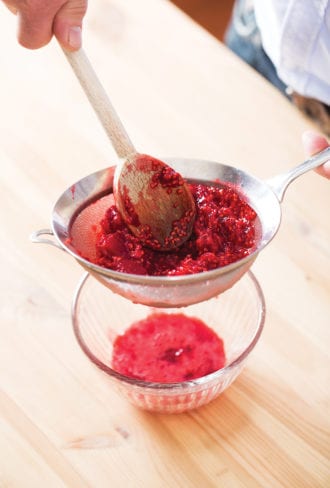 Sweetness. It's one of our four main tastes (yes, five if you count umami), and it's a key component to any good drink, helping balance acid, bitterness and even booze. But have you ever tried to add sugar by the spoonful to a glass of iced coffee or a squeeze of honey directly into a cocktail shaker? Not so easy. To maximize mixing potential, sweeteners ideally need to be dissolved into syrup form, and from there, the flavoring options are endless.
Need a basic simple syrup to mix up a Mint Julep? Want to spice up a soda with a little cardamom or clove? From simple-syrup basics to formulas flavored with fruits, nuts and spices, we're sweetening our glasses with these favorite syrup recipes.
THE BASICS
Simple Syrup
This sweetener lives up to its name—it's equal parts granulated sugar and water heated simply until the sugar crystals dissolve. You can even skip the heating step and shake sugar and water vigorously in a jar. Try it in cocktails like the Mint Julep or Monkey Gland or to sweeten iced coffee or tea.
Rich Simple Syrup
Sweeter than basic simple syrup, rich simple syrup doubles the amount of sugar for a 2:1 ratio of granulated sugar to water. Try it in an Old Fashioned, a Carrot Daiquiri or the Long Goodbye.
Demerara Syrup (or Turbinado Syrup)
The same proportions as basic simple syrup (1:1), this syrup swaps in golden-hued demerara or turbinado sugar for a deeper, almost caramel-like flavor popular in tropical drinks. Try it in The Dreamer, the Last-Minute Gift, the Barbadian Gin Punch Swizzle or the Prescription Julep.
Honey Syrup
Combine honey with ice and you get a clumpy mess in the mixing tin, but thin the honey out with hot water and you get this sultry syrup. Try it in an Airmail or the Tequila-Sage Smash.
Agave Syrup
Don't confuse agave nectar with agave syrup—the nectar is the agave-based sweetener in its concentrated, right-from-the-bottle form, while the syrup dilutes the nectar into this cocktail-friendly mixer. Try it in the Trinidadian Punch or this Avocado Margarita.
Brown Sugar Syrup
Brown sugar syrup adds a molasses-like richness to cocktails like the Plum Dang It and the Weekend's Prize.
FLAVORED SYRUPS
Allspice Syrup
These little sun-dried berries add a potent pop of spice to tiki drinks like this Gold Coast Punch.
Apricot Syrup
Fresh or dried, apricots add subtle stone-fruit flavor to cocktails like the Armenian Apple, or try it splashed into a glass of iced tea.
Balsamic Vinegar Syrup
Forget salad—balsamic vinegar adds a tangy depth to cocktails like the Buffala Negra when simmered down into syrup form.
Basil Syrup
Got a garden full of fresh basil? Infuse the leaves into this syrup and mix up this Enchanted Dry Daiquiri.
Beet Syrup
Jewel-toned beets add an earthy sweetness to cocktails like the Ox Blood.
Blueberry Syrup
Harness fresh blueberry flavors in cocktails like The Blues with this summery syrup.
Burnt Orange-Peppercorn Syrup
Caramelized orange zest, allspice and peppercorns form the base of this syrup that flavors cocktails like the Campari-centric Bitter End.
Cardamom Syrup
Spice up drinks like this zero-proof Serenity Fizz.
Celery Syrup
This celery syrup adds a subtle, savory edge to cocktails like the Kalamazoo Julep.
Chamomile Syrup
Sunny chamomile adds a soft tea-like quality to cocktails like the Tom Nichol.
Cherry Syrup
Fresh cherry season goes by in a flash, but thankfully this syrup only relies on the juice, which is readily available year-round in bottle form. Try in the zero-proof Lux Princess.
Chocolate Syrup
A soda fountain favorite, mix this chocolate syrup in a classic egg cream.
Cinnamon Syrup
Add a splash of sweet heat to cocktails like the Boukman Daiquiri and The Cinnsation with this simple cinnamon syrup.
Clove Syrup
Teeny cloves pack a powerful punch when infused into a fizzy Sparkling Pear Float or a steaming cuppa tea.
Dijon Syrup
While it may sound better suited to a brat than a cocktail beaker, this mustard- and sweet paprika-infused syrup adds an unexpected layer of complexity to corn whiskey cocktails like the Joe Buck.
Donn's Mix Syrup
Who's Donn? Only one of the most important figures of tropical cocktail culture, and the man behind this syrup that's requisite in a Zombie.
Fennel Syrup
This this herbaceous syrup in the refreshing GMP Collins.
Fernet-Branca Syrup
We love Fernet-Branca in any form, and this syrup simmers down its rooty goodness into a flavoring for cocktails like the Blue Jay.
Fig Syrup
Get figgy with this syrup that's perfect drizzling over ice cream and mixed into cocktails like the Figgy Pudding.
Five-Spice Syrup
Not one, not two, but five favorite spices flavor this syrup. Try it in the espresso-fueled St. Elizabeth or our bubbly Five-Spice Fizz.
Ginger Syrup
Just add seltzer and a squeeze of lime for a fresh and zippy homemade ginger ale, or splash into cocktails like the Sleepyhead for a bright, gingery zing.
Gingerbread Syrup
Simmering wintertime spices down into syrup form, this gingerbread syrup adds a concentration of holiday spice to cocktails like The Ginger Rogers.
Gomme Syrup
A basic simple syrup thickened with gum arabic, gomme syrup adds a silky richness to cocktails like the Bourbon Renewal.
Grenadine Syrup
Homemade grenadine is a cinch to whip up at home and is worth the effort for pomegranate-rich Shirley Temples and cocktails like the Jack Rose and St. Regis Julep.
Lavender Syrup
Lavender syrup is lovely in everything from fresh-squeezed lemonade to cocktails like the California Bubble Bath.
Lemon Syrup
Add a sweet citrusy splash to an Angostura Phosphate or a glass of iced tea with this lemony syrup.
Mint Syrup
We love to fresh mint syrup in everything from iced tea to cocktails like a pitcher of Mojitos.
Molasses Syrup
Bolster cocktails like the Henry & John with a little molasses syrup.
Orgeat (Almond)
Nothing says tiki time like a classic Mai Tai—just be sure to have a fresh batch of this almondy syrup on hand for mixing.
Orgeat (Pistachio)
Pistachios add extra richness to this orgeat recipe.
Peppercorn Syrup
Peppercorns add some savory spice to cocktails like The Slow Loris.
Pine Syrup
Homemade pine syrup can lend a smack of fresh, herbaceous flavor to cocktails like this Rye and Pine Old Fashioned.
Pineapple Syrup
If you want to sip cocktails like the classic Brandy Fix and this Sherry Cobbler, you'll first need to whip up a batch of this tangy pineapple syrup.
Pumpkin Spice Syrup
Try a splash in your next hot toddy or mulled cider.
Raspberry Syrup
This vine-fresh syrup flavors classics like the Blinker and Clover Club cocktails.
Red Wine Syrup
From the wine glass to the cocktail coupe, this red wine syrup adds a vinified punch to cocktails like The Wet Grave.
Rose Syrup
Delicate rose petals add a splash of floral sweetness to cocktails like the Veronica Rose.
Saffron Syrup
It may be expensive, but saffron shows its worth in livening up cocktails like the Saffron-Limoncello Shandy.
Sage-Juniper Syrup
Flavors of the high desert add nuance to cocktails like the New England Buck.
Sage-Peppercorn Syrup
Splash some savory spice into cocktails like the Lowcountry or add to a glass of seltzer for a sophisticated herbal soda.
Strawberry Syrup
This strawberry syrup packs fresh berry flavors right into crowd pleasers like the Champagne Whiskey Punch.
Strawberry Thyme Syrup
Pairing the sweetness of fresh strawberries with the aromatics of fresh thyme, this strawberry-thyme syrup from Chiltern Firehouse is a delicious addition to cocktails, like the Strawberry Sigh.
Tarragon Syrup
One of the culinary world's most versatile spices, this tarragon syrup flavors cocktails like the WC and Soda.
Thyme Syrup
Woodsy thyme finds a home in cocktails like the Rhubarb Smash with this syrup.
Vanilla Syrup
Vanilla adds its own distinctive taste to everything from cakes to cocktails, and this vanilla syrup recipe has become our go-to formula for drinks like the Luau Daiquiri and this Orange Sweet Cream Cold-Brew.