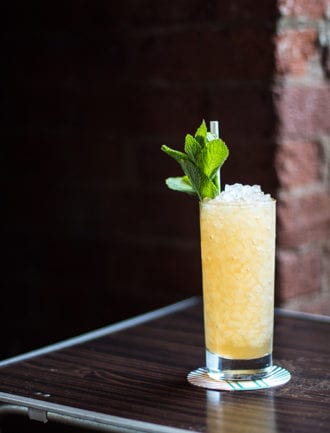 Fresh lime juice and pineapple syrup brighten this sherry cobbler riff from Porchlight in New York City.
1½ oz. fino sherry
¾ oz. oloroso sherry
½ oz. fresh lime juice
½ oz. pineapple syrup
1 dash Regan's orange bitters
1 dash Peychaud's bitters
Tools: shaker, strainer
Glass: Collins
Garnish: mint
Combine all the ingredients in a shaker with ice. Shake until chilled. Add crushed ice to a highball glass and strain the mix into the glass, then top with fresh ice and garnish.
Pineapple Syrup: Place 2 cups of pineapple juice in a pot over low heat and bring to a simmer. Add 1¾ cups of raw cane syrup (1:1) and mix until dissolved. Allow to simmer until the liquid has reduced in total volume by a quarter. Keep the mixture refrigerated for up to 2 weeks.
Sam Mattenson, Porchlight, New York City
---
Did you enjoy this recipe? Sign up for our newsletter and get our favorite drink recipes of the moment in your inbox every month.