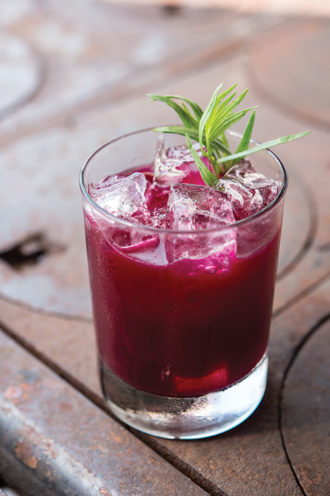 A fitting moniker for a drink from Argentinian restaurant Ox in Portland, Ore., the Ox Blood cocktail gets its vibrant color from fresh beet juice. That sweet, earthy flavor mixes beautifully with bourbon, and a fresh sprig of tarragon adds just a hint of herbal bitterness.
1½ oz. bourbon
1 oz. beet syrup
¾ oz. fresh lemon juice
Kosher salt
Tools: shaker, strainer, fine strainer
Glass: Old Fashioned
Garnish: 1 sprig fresh tarragon
In a shaker, combine the bourbon, beet syrup, lemon juice and a pinch of salt; fill with ice and shake to chill. Double strain into an ice-filled rocks glass. Garnish.
Beet Syrup: In a small, nonreactive pot over medium heat, combine 1 cup of red beet juice (store-bought, or from about 2 medium beets) and ⅓ cup of cane sugar, stirring constantly, until the sugar dissolves, 4 to 5 minutes. Let cool completely. Store in a sealed container in the refrigerator for up to 1 week (though the syrup is best when used right away). Makes about 10 oz.
Recipe and photo reprinted from Around the Fire. Copyright 2016 by Greg Denton and Gabrielle Quiñónez Denton with Stacy Adimando. Published by Ten Speed Press, an imprint of Random House LLC. Photo by Evan Sung.