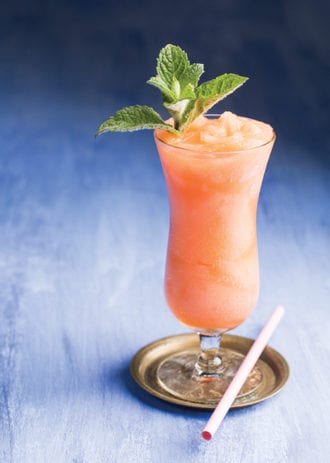 Strawberries, bananas and all manner of fresh fruit have found their way into Daiquiris over time, but T.J. Palmieri saw other options available. "The idea behind the Carrot Daiquiri was to expand the horizons of the cocktail," he says. "Produce like carrots and beets are virtually unused, despite providing extraordinary flavors and colors." He admits guests are sometimes skeptical when seeing the drink on the menu, but the bright color and playful appearance turns them around. "I make a deal that if they try it and dislike it, we'll replace it with anything else on the menu—to date, nobody's taken me up on that."
1¾ oz. white rum
1 oz. carrot juice
¾ oz. falernum
½ oz. fresh lime juice
¼ oz. rich simple syrup (2:1), or to taste
One cup crushed ice
Tools: blender
Glass: hurricane
Garnish: mint sprigs dusted with turmeric
Combine all the ingredients in a blender with crushed ice and blend until creamy. Pour into a glass and garnish.
T.J. Palmieri, Madrina's, Gainesville, Florida
---
Did you enjoy this recipe? Sign up for our newsletter and get our favorite drink recipes of the moment in your inbox every month.