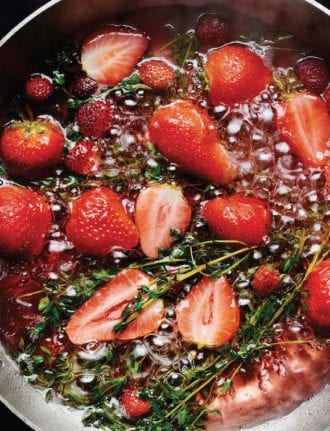 Pairing the sweetness of fresh strawberries with the aromatics of fresh thyme, this strawberry-thyme syrup from Chiltern Firehouse is a delicious addition to cocktails, like the Strawberry Sigh.
5 cups superfine sugar
1 quart water
1 lb. fresh strawberries
⅓ oz. fresh thyme
Put all the ingredients in a wide saucepan over medium heat. Bring to a boil, then reduce the heat and simmer for 10 to 15 minutes, uncovered, until the fruit is soft and falling apart. Do not stir. Remove from the heat and pass the mixture through a fine-mesh strainer into a clean, heatproof container. Leave to cool, then chill or freeze. The syrup keeps well for 4 days in the fridge, or up to 6 months in the freezer.
Strawberry Sigh
½ oz. vodka
½ oz. sweet vermouth
⅔ oz. strawberry-thyme syrup
2 drops grapefruit bitters
2 ⅓ oz. Champagne
Tools: shaker, strainer
Glass: flute
Garnish: fresh strawberry or sprig of thyme
Add all ingredients except the Champagne in a shaker. Fill the shaker with ice and shake for 4 seconds. Strain into a chilled flute. Top with the champagne and garnish.
Reprinted with permission from Chiltern Firehouse by Nuno Mendes and André Balazs, copyright 2017 by Chiltern Street Hotel Ltd. Published in the United States by Ten Speed Press, an imprint of Penguin Random House LLC.
---
Get more great cocktail recipes when you sign up for our bi-monthly magazine. Subscribe now and save up to 59%—it's just $21.95 for one year or $32.95 for two years. Click here for details.