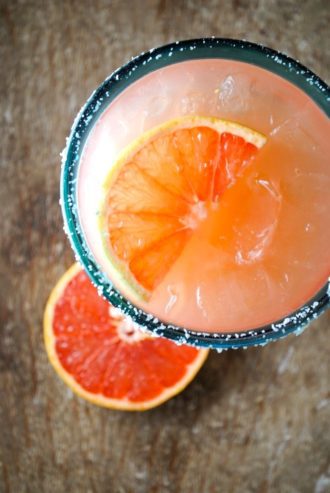 Mexico's native agave spirit is more versatile in cocktails than ever before. We've rounded up some of our favorite tequila cocktails, and you can find even more tequila recipe inspiration by heading over to our Pinterest page. 
Blood Orange Cinnamon Margarita
The Margarita gets a "bittersweet" cold-weather twist with the additions of cinnamon and blood orange.
Cisco Kid
Raspberry-infused agave syrup meets some jalapeño spice in this beer-capped tequila cocktail.
Culinaria
The classic Margarita gets a savory twist with the addition of fresh-pressed celery juice and a pinch of salt.
El Diablo
One of the most delicious (yet often under-the-radar) cocktails in the tequila canon features crème de cassis, lime and ginger beer.
Grapefruit Margarita (pictured)
Grapefruit amps up the flavor in this refreshing Margarita recipe.
Jalisco Maid
Combining fresh mint and cucumbers with citrus, a generous pour of tequila and a pinch of salt, this cocktail offers a savory flavor of summer.
Jalisco Stroll
Bartender Eric Gigers uses a simple saline solution to elevate and balance the bold flavors of this simple tequila Negroni riff.
Oaxaca Old Fashioned
This Mexican-accented riff on the classic Old Fashioned mixes reposado tequila with mezcal and the chocolate-spice notes of mole bitters to create a magnificent riff on the familiar classic.
Paloma
If you're looking for something that's a little different than a Margarita but just as refreshing, this grapefruit-fueled Mexican cooler has you covered.
Rosita
This slightly bitter drink shows how complex a cocktail can be, even when it's made with fairly basic ingredients.
Spicy Watermelon Margarita
With the crisp sweetness of watermelon and the spicy kick of serrano chile, this is a delicious way to dress up a classic Margarita recipe for summertime.