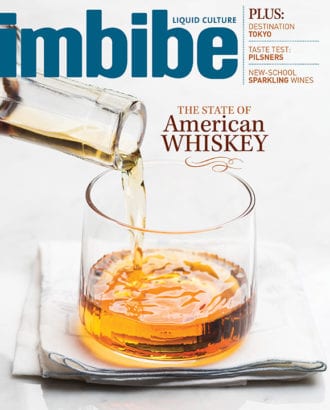 Change can be tough, but it's also unavoidable. This applies to the world at large, as well as to the world of drinks. Long-established institutions can alter without warning, and truths we long considered black-and-white absolutes—whether we're talking business, politics or bourbon—can suddenly reveal shifting shades of gray. But though change can be disruptive it can also open the door to opportunity, and while we can't make any promises about the rest of the world, when it comes to drinks, opportunity abounds.
Look at American whiskey, for example. At the turn of the millennium, a handful of distilleries (mostly in Kentucky and Tennessee) produced all of the nation's whiskey. But in less than 20 years, hundreds of fresh faces (and fresh approaches) have joined the American whiskey conversation, and change is now sweeping the category on a massive scale. In this issue, we survey the state of American whiskey, talking with a few of the people involved in this shift and considering the directions whiskey is headed in the future. Change has also come to the way we think about sparkling wine, as Jennifer Fiedler explores, with a look at the growing number of alternatives to long-familiar bubbles. Beer has seen its share of shake-ups in recent years, with successful small breweries being swallowed by larger companies; Joshua Bernstein talks with some of the brewers who've built such businesses and then moved on to different ventures. And proving that change is nothing new, Wayne Curtis looks at the history of the spoon-shaped julep strainer and how it's changed (and hasn't changed) the way bartenders mix drinks.
We're also in the mood to travel, and in each issue this year, we're exploring some of our favorite drinking spots around the world. This issue takes us to Tokyo, where photographers Dylan + Jeni check in with some of Japan's most impressive baristas and cafés. We also have a glass of wine with Rome-based culinary writer Katie Parla, who takes us along to a favorite wine bar in her neighborhood. And for some people, being on the road is a lifestyle—such is the case with musician and cocktail enthusiast Brother Cleve, who brought decades of traveling bar experiences to bear when helping to chart a course for Boston's cocktail bars.
There've been tremendous changes in the world in recent months—you don't need us to tell you that. But with drinks, at least, many of the changes we're witnessing are bringing some great new experiences to the glass. Of this, we're thankful.
Pick up a copy of the print edition, and check out some of these related articles:
---
Like what you see? Get more of the best of liquid culture when you sign up for our bi-monthly magazine. Subscribe now and save up to 59%—it's just $21.95 for one year or $32.95 for two years. Click here for details.