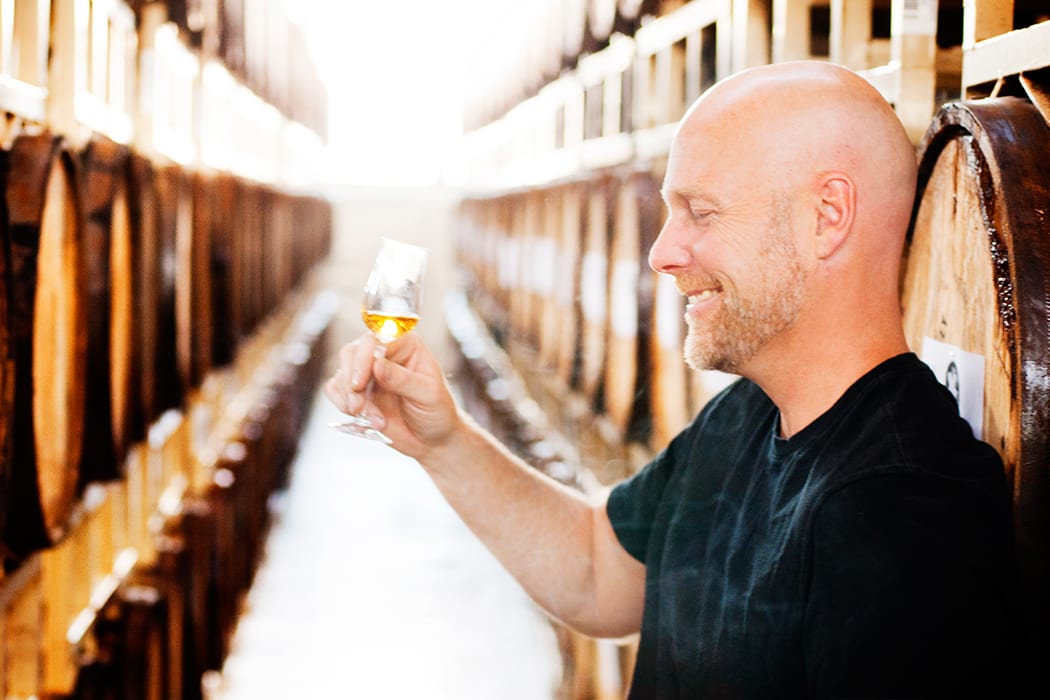 For Lance Winters, the good old days of making American single-malt whiskey weren't all that good. "The first few years we put our whiskey out, we were shunned at whiskey events," says Winters, owner and distiller of St. George Spirits in Alameda, California. St. George began making whiskey in 1996, soon after distillery founder Jörg Rupf hired Winters based in part on Winters' liquid résumé (a bottle of homemade whiskey), and St. George's single malt was first released in 2000. "It was too young or too confusing—nobody wanted to drink it," he says.
Oh, but things change. Sales of American whiskey surged by 6.8 percent by volume (and revenues by 7.7 percent) in the U.S. in 2016, topping $3.1 billion, according to the Distilled Spirits Council. And while bourbon, rye and Tennessee whiskey accounted for the biggest slices of that pie, American single malts are steadily increasing their share. When St. George first entered the whiskey arena 17 years ago, they were among a very small handful of distillers making single malts—but today, as the number of craft distilleries in the U.S. crosses into quadruple digits, more distillers are investigating ways to make this spirit feel at home in America.
The staple style of spirit from Scotland and, more recently, Japan, single malts are based on barley, rather than the corn and rye that long established the standard for American whiskies. For Paul Hletko, owner and distiller at Few Spirits near Chicago, and president of the American Craft Spirits Association, single malts make perfect sense for American distillers. "When you combine good quality with tradition and distinction, that's really helped build the American whiskey category over the past 15 years," says Hletko, who includes single malt in Few's whiskey portfolio. "There are pockets that have helped drive that—bourbon's renaissance, the rediscovery of rye—and over the past 24 to 36 months, American single malt has come up as well."
As with Japanese whisky, many American distillers aimed at making replicas of scotch whisky in single malt's earliest days. But producers including St. George are exploring ways to make American single malt very much its own thing. "We weren't the first American single malt, but the one thing we can lay claim to is making the first American single malt that's not derivative of scotch whisky," Winters says.
"Everyone was making something similar to a whisky they'd seen, but Jörg's instruction to me was to make something original to the conversation about whiskey."
It's a goal that more distillers are pursuing, including Matt Hofmann, master distiller at Seattle-based Westland Distillery. Unlike many craft distillers, Westland makes only one spirit—single malt whiskey. Since its founding in 2010, Westland has placed a Pacific Northwest imprint on the style, using Washington-grown barley, peat from the nearby Olympic Peninsula for smoking some of its malt, and barrels made of Oregon-harvested Garryana oak (a species native to the Northwest) as part of its Native Oak series. Hofmann says that from the start, finding a new path for single-malt whiskey was central to the whole idea. "When we started, there were a few single malts in the U.S., but I don't think there was a big vision for what the concept of American single malt could be," he says. "When we got into the business, we had a really clear understanding of what Americans could bring to the table when it comes to single-malt whiskey. We were able from the beginning to etch out that argument, and it's become more obvious over time that American single-malt whiskey has real potential—not just as a novelty, but as a really compelling category."
But as more distillers turn to single malt, some of the more established producers have expressed concerns about maintaining quality and integrity. In 2016 more than 35 distilleries—including St. George, Westland and Few, along with single-malt pioneers such as Colorado's Stranahan's and New York's Tuthilltown Spirits, and relative newcomers like Seattle's Copperworks (an Imbibe 75 pick for 2017)—formed the American Single Malt Whiskey Commission, tasked with defining, protecting and promoting the burgeoning category. "That was a great education to see how many distillers came out of the woodwork for that, and we haven't even remotely reached everyone yet," Hofmann says. "Seeing the examples of single malts around the country, it's exciting when you put it into the context of what American single malt can be. We're seeing all kinds of local culture—Eastern single malts tend to be more traditional, and West Coast single malts appear more innovative—and the use of local terroir-oriented ideas, like the guys in the Southwest who are using mesquite-smoked malt, because that's more natural for them to do."
Even as the group defines standards, the door is still left open for creativity and innovation. For distillers like Winters and Hofmann, that door leads the way to the future of American single-malt whiskey. "[St. George vice president and distiller] Dave [Smith] and I went to Scotland in June," Winters says. "My big takeaway was it's a temple to all things whisky—but the biggest opportunity we have is that we can be a part of every step of making our whiskey, from distillation to bottle. We have a god's-eye view of what this whiskey is about, whereas they're so specialized and compartmentalized. In Scotland, the guy who malts the grain has nothing to do with the barrels—and in all likelihood, that whisky won't be bottled until after he's dead. The fact that we have a deeper connection to our whiskey means we're not tethered to any tradition—we can do whatever we want."
---
Like what you see? Get more of the best of liquid culture when you sign up for our bi-monthly magazine. Subscribe now and save up to 59%—it's just $21.95 for one year or $32.95 for two years. Click here for details.