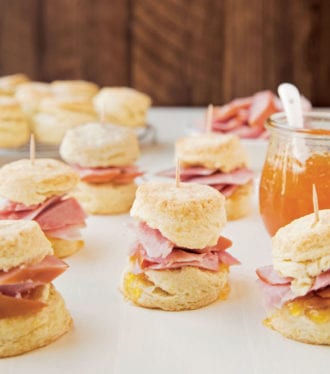 These mini ham biscuits get a flavor boost from a slathering of sweet, boozy peach preserves. Joy Wilson, aka Joy the Baker, declares them "the Southern belle of any brunch table."
Biscuits
1 large egg, lightly beaten
¾ cup cold buttermilk
3 cups all-purpose flour, plus more for rolling
2 Tbsp. sugar
2½ tsp. baking powder
½ tsp. baking soda
¾ tsp. salt
¾ cup cold butter, cut into cubes
Bourbon-Peach Jam
8 oz. peach preserves
1 Tbsp. bourbon
1 Tbsp. honey
½ tsp. lemon zest
1 tsp. fresh lemon juice
10 slices country ham
For the biscuits: Preheat oven to 400 degrees F and line a rimmed baking sheet with parchment paper.
In a small bowl or liquid measuring cup, beat together the egg and buttermilk. In a medium bowl, sift together the flour, sugar, baking powder, baking soda and salt. With a pastry cutter or your fingers, quickly incorporate the cold butter into the mixture until it reaches the size of oat flakes or small peas. Create a well in the center of the mixture and add the egg and buttermilk. Stir until just incorporated.
Turn mixture onto a floured surface and gently roll or press the dough into a 1-inch thick oval. Fold the ends of the dough toward the center and roll out again, repeating twice more.  Using a 1½-inch biscuit or cookie cutter, cut out the biscuits and then re-roll the scraps until all the dough is used. Place them on the baking sheet and brush the tops with melted butter. Bake for 15-18 minutes until golden brown on top.
For the jam: In a small bowl, stir together the peach preserves, bourbon, honey, lemon juice and zest until well combined.
To assemble the sandwiches, split the warm biscuits in half, slather one side with the jam and top with a piece of ham.
Reprinted from Joy the Baker Over Easy. Copyright © 2017 by Joy the Baker, Inc. Published by Clarkson Potter/Publishers, an imprint of Penguin Random House LLC.
---
Like what you see? Get more of the best of liquid culture when you sign up for our bi-monthly magazine. Subscribe now and save up to 59%—it's just $21.95 for one year or $32.95 for two years. Click here for details.