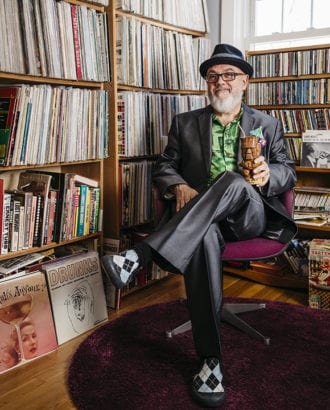 Some cocktail experts learn their skills from years spent working behind the bar while others pore over books and newspapers published decades or even centuries before. But for Brother Cleve—one of the most influential figures in Boston's cocktail scene—developing an expertise in cocktails came via years spent as a touring musician, as a DJ, keyboardist and composer with bands including the Del Fuegos in the '80s, and '90s lounge-act pioneers, Combustible Edison. Robert Simonson profiled Brother Cleve for our March/April 2017 issue, and we recently asked Cleve about how life as a touring musician put him on the cocktail path.
On musicians and cocktails:
As a musician, I work in bars. You've got easy access from the start. Back in the '70s, I drank Manhattans, Old Fashioneds and Martinis, and I was the guy pogoing to the Ramones while trying not to spill my Manhattan. When I went on my first U.S. tour with the Del Fuegos [in the late 1980s], I was in Cleveland and saw this drink menu and got intrigued by the fact that they had 100 cocktails or so listed on the menu—I thought there were only 20. I knew the Manhattan and stuff like that, but what the hell were all these things? It piqued my interest. When I realized there were many, many more out there, I decided to investigate. We were on the road 10 months out of the year, with usually two major U.S. tours and European tours. I'd be in France wondering what all these weird French things were in the bar, so I'd try them—some of my bandmates would just laugh at me. One time we were flying to London on British Air, and [when the drinks cart came] I said I'd take a gin and asked for sweet vermouth and Campari. "Why do you want all three?" the guy asked. "I'm going to make a Negroni," I said. "You're going to mix them all together and drink it? Eww!" That was the response I'd get in the '80s and '90s.
On bar books and cocktail ingredients:
When we were on tour, I'd spend the day before a show or days off going to used bookstores and record stores, and finding old cocktail guides. (My first was an old Mr. Boston bartending guide that I got in Cleveland in 1985.) I'd also try to find some of these old ingredients when I was traveling. It took me five years to find orange bitters—[around 1990] I was in a bar in Columbus, Ohio, and the table tent said their signature Martini had a dash of orange bitters in it. I went running up to the bar—"You have orange bitters here? Can I get them in Ohio?" The bartender said, "Nah, you've gotta go to Indiana. They have everything in Indiana." And sure enough, right across the state line, there was a liquor store. I made the tour bus pull over, and I bought 10 bottles of orange bitters.
Combustible Edison and the rise of cocktail culture:
In the 1990s, I'd been going to see the guys in Combustible Edison before I started working with them. They did a revue called the Tiki Wonder Hour—the band was in the orchestra pit, and it was like a Vegas revue, with [band members] The Millionaire and Miss Lily Banquette recreating the days of Rat Pack Las Vegas. The host of the revue was Satan, and one of the guests they had on was the Suffering Bastard, in a big papier mache tiki mug.
When they asked me to go on the road with them, their booking agent was also booking shows for Nirvana and Sonic Youth, and we were going out to play on that kind of alt-rock club circuit. We had no idea what to expect, and we started seeing these people at the shows—women wearing thrift-store finery and really into the whole Audrey Hepburn Breakfast at Tiffany's look, and they loved the idea of holding (and drinking) a cocktail. And there were these guys with the women who totally got it—they had their thrift-store finery as well, along with a cocktail in their hand.
At most places, that group was maybe one or two percent of the crowd, and there'd be a few other guys who were trying to get it—maybe they'd have blue jeans and a suit coat, but they had a cocktail, as well. Everybody else was there because we were on SubPop, and getting a lot of press. We started in the East, and there were some spots along the way where those figures were higher—Minneapolis was one, they were waiting for us. The shows were completely sold out, and the percentage of people dressed up and drinking cocktails was more like 25 percent—same thing in Portland, same thing in Seattle, same thing in San Francisco, and LA was just insane, like 60 percent of the crowd there had their cocktails and were ready for it. LA was incredible—that's when we realized there was this whole thing out there, and that's when I met [former Imbibe columnist] Ted Haigh, and later on I met Beachbum Berry and Otto von Strohem and the guys who were doing the whole tiki thing, and doing the same style of music.
Our first tour was in early 1994, and we went right back out in the fall and toured with Bryan Ferry, and that really opened things up. Our audience and his audience had a shared sensibility—he came out of Roxy Music, which had a very suave, British style. He could have been James Bond, he looked so sophisticated, with a cocktail in his hand. It just kept building up, and when we went back out on our third tour, in 1995, it was pretty much 90 percent of the crowd who were into the cocktail culture thing, especially out West.
We had our own cocktail, the Combustible Edison [made with brandy, lemon juice and Campari]—we'd have it on stage. We heard that Campari got a note that their sales were surging in places like Madison and Minneapolis, and they found out about us. Our manager sent a copy of the album to Campari's offices, and it had the drink recipe right there on the back cover. It was selling in rock clubs and college towns.
On returning to Boston's bars:
I tried bartending in 1988, after the Del Fuegos broke up—that didn't go too well. But around 1995 or so, the popularity of [Combustible Edison] got me a front-page story in the Boston Globe arts section, about the return of the cocktail and cocktail music. That, in turn, led to bars here. I met Patrick Sullivan, who opened B Side Lounge, and I started doing the DJ nights at a weekly cocktail party at the Lizard Lounge, where Jackson [Cannon] was the booking agent with Misty Kalkofen as the bartender, and that got me involved in the spirits world. The music begat the cocktails, which begat the work in the industry.
---
Like what you see? Get more of the best of liquid culture when you sign up for our bi-monthly magazine. Subscribe now and save up to 59%—it's just $21.95 for one year or $32.95 for two years. Click here for details.