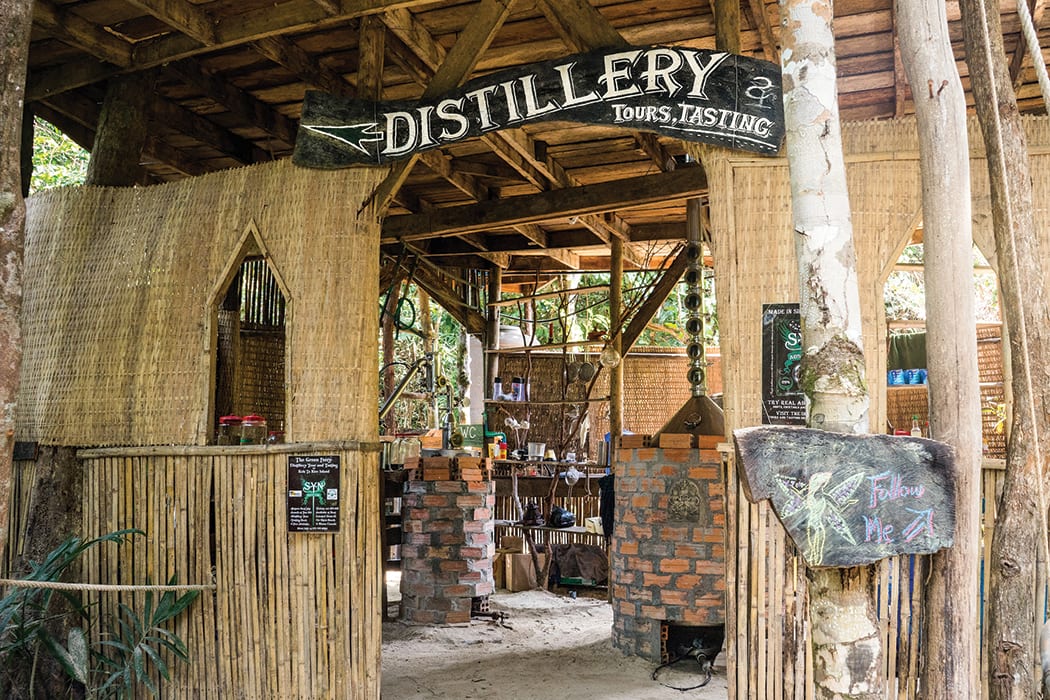 "Welcome to Koh Ta Kiev island and the Last Point Resort," Vicki says from behind the bar. "We've seen four vipers in the last five days—watch where you walk. They are very poisonous. Oh, and there's an absinthe distillery in a tree house about 45 minutes that way," she says, pointing at the dense jungle just behind the bar as she pours glasses of the local product, labeled "Syn" in a large, Gothic font.
I'm on vacation in Southeast Asia, taking a break from my job as a drinks writer, but I've found my way to a remote island with an absinthe distillery. The irony was not lost on me as Vicki splashes that first ounce into a glass; it offers an instantly cooling wave of anise, light wormwood and sweet fennel on my tongue. Welcome to Koh Ta Kiev, indeed.
Koh Ta Kiev is a 10-square-mile island off the Southwest coast of Cambodia, in the Bay of Thailand. It's an hour by slow boat from the last main port town of Sihanoukville, but a lifetime away from modern civilization. There's no electricity, and blessedly no Wi-Fi. There are 100 species of birds, deserted beaches and a few rough bungalow accommodations—including The Last Point Resort, opened by my friends in 2014.
The island's most famous resident is Johan, the distillery's founder and distiller. "Does he have a last name?" I ask. "Just Johan," Vicki says.
Though the beach beckons, visiting the jungle distillery suggests adventure, and my friends and I set off to locate this Johan, his mysterious tree house and the source of his absinthe. The walk to the distillery is the least relaxing hike of my life. The sunlight cuts through the tree canopy in hot slices, illuminating clouds of insects that float through the dank air. Sweat pours off my forehead, running little rivers of sunblock into my eyes, and I try to stay silent as we trudge along, because speaking means potentially inhaling a protein-packed gulp of gnats.
Silence is impossible. Every rustle from the bushes sends us into screeching, "death-is-coming" panic attacks. Even with the knowledge that snakes are nocturnal feeders (and that unlike starving mountain lions, snakes assuredly don't hunt humans), we remain certain that the vipers are stalking us through the undergrowth. But when you're trudging through a hot Cambodian jungle and you're an hour by boat from the nearest shot of anti-venom, it's reasonable to be terrified, and to treat all snakes like legless Velociraptors. After a sweaty hour, through the blur of tears from sweat-infused sunblock, I see a wooden sign with sun-faded lettering: Distillery! We've arrived alive.
The distillery is absolutely worth the hike. The place was built entirely by hand, and the rudimentary brick pot still sits on sand, loosely enclosed by thatched palm fronds and bamboo walls. The top of the still rises up through a hole cut in a massive, wooden, circular platform, which serves as the floor of the tree-house bar upstairs. You climb a two-story bamboo ladder to a room full of green cushions for lounging, and absinthe for sipping.
Johan is away, but his assistant Kara explains that their unusual absinthe is made with a local rice wine (rather than brandy) and organic herbs sourced internationally, and is packaged in recycled Mekong Whiskey bottles. They produce a white, a red and a green absinthe, as well as a black label, all for sale at the distillery and at various bars around Cambodia.
We taste through the lineup—the first three are delicious. The black label, though, is a weapons-grade 85 percent alcohol, and finishes with a nuclear-fallout after-burn. But after we purchase a bottle of the green to go and stand to descend the ladder, Kara reveals what's perhaps the black label's true value, calling out, "Any open cuts or scrapes you want doctored?" as she proffers a squirt gun filled with the absinthe.
The next day, after three strong spritzes, the cuts my legs received from the jungle march do look better. I can't attest to the absinthe's medicinal magic, but one thing's for sure: If I ever venture back for another long trek through that jungle, I'm packing along the squirt gun of potent absinthe to drive away the lurking vipers.
This article first appeared in the September/October 2015 issue of Imbibe. 
---
Did you enjoy this article? Get more of the best of liquid culture when you sign up for a print or digital subscription to Imbibe Magazine. Click here for special savings!