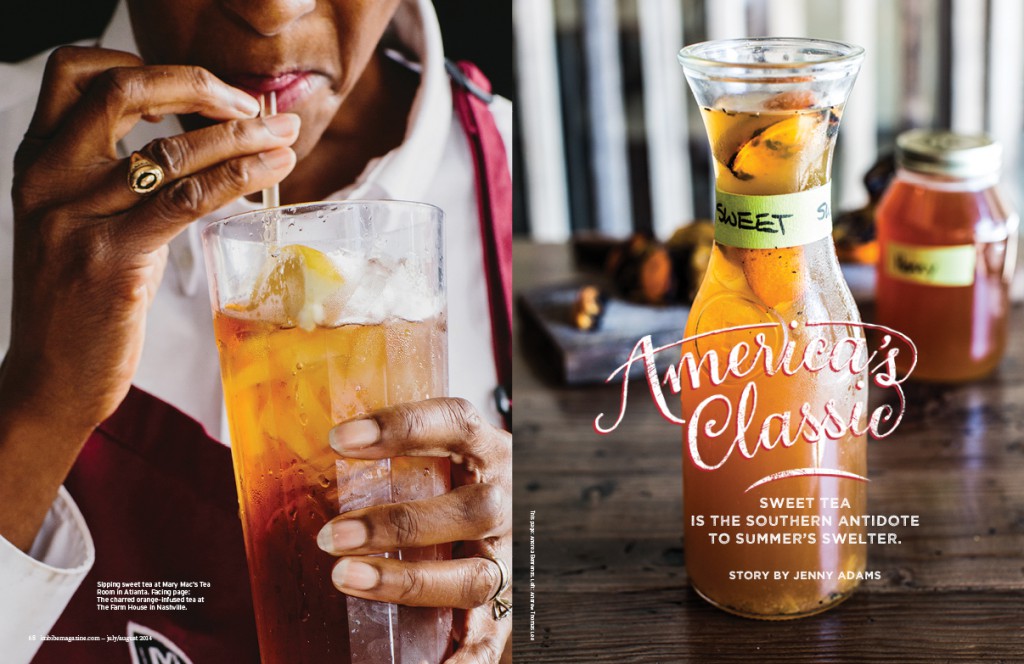 When I was growing up in Alabama and spending most summers at my grandmother's house in the sweltering Mississippi Delta, we drank iced tea every day, all day, sweetened with sugar. We'd go through a gallon jug of Red Diamond sweet tea every week, easy.
There's no simple answer to why Southerners have such an affinity for sweet tea—or, as Dolly Parton put it in Steel Magnolias, "the house wine of the South." Sure, there's the taste—the balance between sugar's sweetness and tea's tannic bitterness (and, optionally, the bright, sour spark of lemon or the cool fragrance of fresh mint) is perfect, especially when accompanied by a plate of pulled pork, fried chicken or deep-fried pickles. And yes, sweet tea cools scorching summer temperatures like no other.
But sweet tea has been a Southern staple for nearly 150 years, and there's something deeper than simple refreshment in its appeal. To those who've grown up with it, sweet tea is pure cold comfort, the condensation cooling your fingers while the sugar melts in your mouth. "Sean Brock told me once that he judges every Southern restaurant, first-and-foremost, on their sweet tea," says Kenny Lyons, general manager of Husk in Nashville. Brock is the chef/partner of Husk, with locations in Nashville and Charleston, and in 2010 was the recipient of a James Beard Award for Best Chef Southeast, recognition of his work to celebrate and somewhat redefine classic Southern cuisine.
At Husk's Nashville location, Brock and Lyons spent months tasting tea blends and experimenting with sugar ratios before settling on what they felt was an original-yet-familiar formula for sweet tea. That recipe differs from the one at the Charleston location, because, as Lyons points out, each Southern state differs slightly on how sweet people want their iced tea. "It's vital that you offer it, though," he says. "Not everyone's ordering everything on the menu … but everyone's ordering iced tea."
How Sweet It Is
Every day, throughout the South, "Sweet or unsweet?" may be politely asked of diners ordering iced tea, but the regional palate puts plenty of responses in the sugar column. Across the broad swath of land stretching from Virginia to Tennessee and Louisiana, and along the Gulf and Atlantic coasts, you might find Karo syrup in pecan pie, molasses in BBQ sauce and honey-butter on cornbread—and as Lyons pointed out, you'll always find sweet tea.
Sweet tea is so integral to Southern culture that you'll even find dueling stories about its origins. Summerville, South Carolina, proclaims itself as "the Birthplace of Sweet Tea," and the local Chamber of Commerce launched a Sweet Tea Trail in 2013. At stops along the trail, visitors can get a sweet-tea facial, lunch on a sandwich made with a sweet tea–marinated pork chop, or hit a few balls on a golf course at the Summerville Country Club, the site of a former tea farm.
But Summerville's claim to being sweet tea's birthplace hasn't been adopted by everyone. "Lord, no," says Damon Lee Fowler when asked if Summerville's origin story is true, adding that there are plenty of other competing theories. "There's a story about iced tea being invented at the 1904 World's Fair, which isn't true either," says Fowler, a Georgia-based culinary historian and author of works including Essentials of Southern Cooking. "It's probably safe to say the World's Fair helped make iced tea more mainstream, but iced tea as we know it goes back to the late 1800s, and probably even to the late Antebellum period. By 1904, it would have been old hat."
In his research, Fowler discovered the oldest recipe he has encountered, published in 1879 in a cookbook titled Housekeeping in Old Virginia, edited by Marion Cabell Tyree. "Iced tea was made with green tea originally, because green tea was more common than black tea," Fowler says. "By the 1890s and the British colonization of India, black tea became much less expensive."
The British Raj wasn't the only influence on sweet tea's evolution. During Prohibition (and continuing after Repeal, as many Southern counties and towns remained "dry"), restaurant owners needed something to serve diners other than water. Given the heat and the Southern preference for all things sweet, restaurants began offering chilled tea with bowls of sugar on the side. This practice shifted starting in 1942, when fighting with Japan cut off trade routes in the Pacific. Cargo vessels to Hawaii—a chief source for domestic sugar—were redirected for military use, and sugar became the first food designated for wartime rationing. Even after the end of the war, the price of sugar remained tempestuous, forcing restaurant owners to rethink their approach to iced tea.
"In 1946, my grandfather Milo returned from World War II with $50," says Patricia Wallwork, CEO and part-owner of Milo's Tea—a producer of bottled tea (available in both sweet and unsweetened versions) that celebrates its 68th anniversary this year and is expanding into its 38th state. "He opened a hamburger joint with quick-serve food for working folks, near the factories in Birmingham, Alabama," Wallwork says. "Because of the sugar shortage, he couldn't afford to bake pies and leave sugar out for sweet tea. So, he began pre-sweetening the tea in the back before service. No one did this back then."
Milo Carlton was one of the first, but others were catching on. Soon, tea was arriving at tables presweetened as a standard—prompting the rise of the now-regular question, "Sweet or unsweet?" For famously sweet-toothed Southerners, the answer is often obvious. "That's really the best way to make it," says Bill Bowron, president and CEO of Red Diamond, a Birmingham, Alabama–based coffee and tea purveyor that opened in 1906. "You have to brew tea at least at 196 degrees in order to open the pores of the tea leaf and to kill residue from the field. Once you brew it, you stir in pure cane sugar while it's warm, then chill it. We never use simple syrup."
This kind of simplicity works for Milo's Tea, as well. Such is sweet tea's appeal that both companies have stretched far beyond their Alabama base. In the early 1980s, Wallwork's parents had inherited Milo's Hamburgers and began franchising locations. They soon realized that sweet tea was outselling the food and sold their stake in the restaurant to focus solely on a retail tea company. Today, Milo's Famous Sweet Tea remains a bestseller. "We can make up to 300,000 gallons of it a day, and that number is expanding," Wallwork says. "People like it because it's made the way Milo made it, with three things: fresh brew from custom-blended leaves, cane sugar and filtered water. That's it."
Red Diamond's tea blend was originally developed by Bowron's grandfather, and it remains unchanged—but for the gallon jugs of premixed sweet tea, the sugar level varies based on the results of annual state-by-state surveys and studies. "We sell a sweeter sweet tea in Alabama than in Texas, for example, because it's hotter in Texas," Bowron says. "The Carolinas don't take it quite as sweet as Louisiana or Mississippi. Over the years, the Alabamians have had a sweet tooth that's never changed. They'd swim in sugar if they could."
Meat and Three (and Tea)
Mary McKenzie lost her husband in World War II. At the time, it was still relatively taboo for a woman to open a restaurant—but in McKenzie's hometown of Atlanta, there was an alternative. "Opening a 'tea room' became a sort of code for 'I'm a war widow,' and people would support these ladies," says Richard Golden, assistant general manager of Mary Mac's Tea Room, which McKenzie opened in 1945. "There were 16 tea rooms in Atlanta at one point. We are the last one."
True to its name, Mary Mac's sells an average of 5,000 glasses of sweet tea per week—a figure that's been steady since its debut, the tea served alongside portions of meatloaf, chicken and dumplings or roast turkey with cornbread dressing. The restaurant is so popular and such a part of Atlanta's character that the Georgia House of Representatives declared it 'Atlanta's Dining Room' in 2011.
"Our famous sweet tea has a lot to do with that designation," says Golden, who explains they make it as they always have—black tea, cane sugar and water—with the only change over the years being the custom-made larger tea bags that they source from Royal Cup.
In today's South, as it has been for decades, sweet tea is a restaurant staple. Perhaps its most natural habitat is in familiar restaurants like Mary Mac's, and in the countless barbecue shacks, roadside diners and small-town meat-and-threes (for the uninitiated, that's a meat and three sides) stretching from Richmond to Baton Rouge. "On a really busy day, we might sell more than 10 gallons worth [of sweet tea] through our drive-thru," says Stacy Morgan, owner of Southern Fried Rabbit in Columbia, Mississippi. The restaurant has no seating, save a bench outside. People pull up for rabbit—fried just like chickens—and Styrofoam cups of sweet tea. "We do it the old-fashioned way," Morgan says. "We brew our teabags in the morning, let them sit and we make the sweet tea—with a lot of sugar. Almost every person who comes here gets a sweet tea. It goes great with fried rabbit."
Such loyalty to familiar recipes and a fondness for pairing sweet tea with everything is a regular refrain among Southern restaurateurs, even those who may push the culinary envelope. "It's not something we tend to get fancy about at home," says Vivian Howard, chef and owner of Chef & The Farmer as well as Boiler Room in Kinston, North Carolina, and star of the PBS show A Chef's Life, which explores regional food traditions. A kitchen veteran of such trend-setting New York restaurants as Wylie Dufresne's wd~50 and Jean-Georges Vongerichten's Spice Market, Howard returned to her native North Carolina and opened Chef & The Farmer in 2006. Sweet tea can factor into everything from the basic beverage menu to her kitchen's creative Southern cuisine. "We've done sweet-tea brine on pork chops, a sweet-tea cheesecake with candied lemon peel, and our tea pickles are really popular," Howard says.
But while few seafood shacks and chicken joints have changed their sweet-tea formula, the upgrading of Southern classics like collard greens and grits that's taking place in some of the region's creative kitchens has included tinkering with the house table wine, too. "You certainly have to be careful when you offer something outside of the norm in terms of sweet tea in the South," says Trey Cioccia, chef and owner of Farm House in Nashville. Cioccia went through multiple sweet-tea iterations before he found one that received a thumbs-up from customers. "My first sweet-tea recipe attempt had charred lemons, but it didn't taste right," Cioccia says.
Farm House's current recipe calls for oranges that have been charred on a grill, brewed with tea and a honey-sugar mix that's then served over ice. "The honey gives it a more mellow, smooth sweetness, and a flavor that coats your tongue a bit," Cioccia says.
Down the road at Husk, Sean Brock's sweet tea puts the focus entirely on the leaves. Brock asked Tiffany Malapanes of Positiffitea, in nearby Murfreesboro, to make an organic custom blend for the restaurant. "We went through probably five to seven trial runs until we got to something that felt right," Lyons says. The restaurant's blend is 70 percent Assam, with the remainder split between Ceylon and Darjeeling, which Lyons says has "that classic iced-tea, tannic taste, but also a few lighter nuances."
The thirst for sweet tea remains strong throughout the South, including South Carolina—where every April, Charleston Tea Plantation owner Bill Hall sends employees to buy wholesale-size bags of sugar to sweeten the 900 gallons of tea they serve at the annual First Flush Festival—and down the road in Savannah, Georgia, where Damon Lee Fowler enjoys the sweet tea at Mrs. Wilkes Dining Room. "Whenever I go to Mrs. Wilkes, I always tell the people with me, 'You need to get sweet tea with this food.' " Fowler says.
He describes the fare of fried chicken, beef stew and meatloaf—accompanied by sides of okra and tomatoes, butter beans and candied yams—as classic boarding house–style cooking. And, of course, there's no better match for this food than glasses of tea, cold and sweet. "At most straightforward, simple places in the South, you probably still have to specify if you want unsweet tea," Fowler says. "Otherwise—all these years later—they often still assume you want it sweet. That's how things are down South."