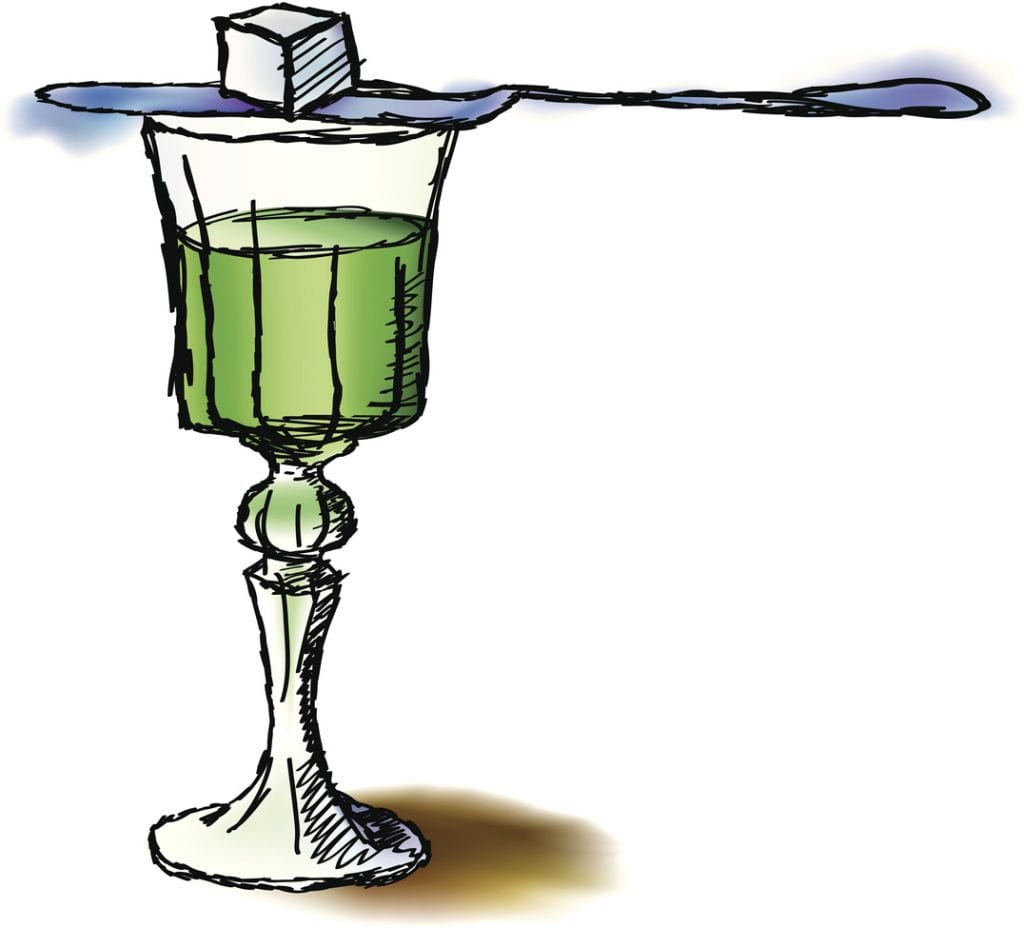 Sunflowers stood tall on the table, Edith Piaf sang softly in the background; we feasted on crusty baguettes, Brie de Meaux, and pâté de foie gras. And we sipped absinthe. For the very first time, we sipped absinthe.
The year was 1995 and absinthe was still illegal in the U.S., but I had a source. And he was the real deal. My source is now a very legitimate absinthe producer by the name of Ted Breaux—he makes Lucid Absinthe—and if memory serves he had contacted me via telephone. Land line, of course. Ted had been experimenting with absinthe production, and he sent me a 12-ounce bottle of his very first batch. It posed a problem.
I needed to share this experience with someone, and my wife didn't much care for anise, so I had to find someone who was as excited as I at the prospect of sipping real absinthe. It didn't take long. Roy Finnamore, a close friend, and the man who ended up as my editor for The Joy of Mixology, helped me drain that bottle dry.
When I mentioned that I had absinthe, Roy's eyes lit up. "Really?" he asked. "Really," I told him. And we planned the evening. We knew we could sip some absinthe in the traditional manner, avec sucre, since I had absinthe spoons. Merci, Pernod. The company had also loaned me a copy of Barnaby Conrad's Absinthe: History in a Bottle, and that was the book that sparked my interest in the spirit in the first place. But there were other drinks to be had.
Tremblement de Terre (Earthquake), a mixture of Cognac and absinthe, was a drink that the French painter Henri de Toulouse-Lautrec is said to have favored, so that cocktail was on our menu. And back in the late 19th century, Martinis with a "spot" (of absinthe) were in vogue, so gin made its way into our evening, too. It was a pretty glorious evening, but we didn't experience any startling effects from the liquor. The absinthe itself was nothing short of spectacular. It was, and it remains, the most complex spirit I've ever tasted.
I've a notion that, had Ted sent a little more absinthe, our experience might have been a little different, and the reason I say that is that I sipped absinthe again, this time in France. My dreams were affected. The dreams occurred on two nights, about three days apart, and those were the only nights on which I consumed a goodly amount of absinthe, so I'm pretty sure that the Green Fairy was the culprit.
One was a bartender dream. And Yaphet Kotto, the actor who I know best from the TV series Homicide: Life on the Street, joined me behind the stick that night. Yaphet and I had a blast behind the bar. It was a scruffy neighborhood joint, my favorite type. We shook drink after drink, laughing, doing the bar ballet in time to the loud rock music, and we generally whooped it up as we worked our little hearts out. And yes, there were sunflowers behind the bar. Strange stuff is absinthe.
Here are a couple of my favorite absinthe cocktails:
Faro Dealer
There's no gamble with this sturdy absinthe cocktail.
2 oz. straight rye whiskey
3/4 oz. Cointreau
1/2 oz. fresh lemon juice
2 dashes absinthe
Tools: shaker, strainer
Glass: cocktail
Combine the ingredients and shake with ice until chilled. Strain into a chilled cocktail glass.
Gaz Regan
Joy Division
Absinthe-laced martinis were the rage a century ago, and this version turns up the volume with additional herbs and citrus.
2 oz. London dry gin
1 oz. dry vermouth
1/2 oz. Cointreau
4 dashes absinthe
Tools: mixing glass, barspoon, strainer
Glass: coupe
Combine the ingredients and stir with ice until chilled. Strain into a chilled coupe.
Adapted from a recipe by Philip Ward for Mayahuel, New York City