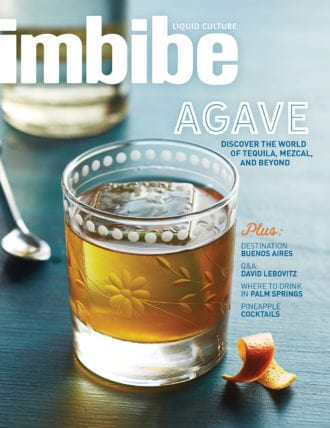 Like birds, butterflies, and the enduring popularity of the Star Wars franchise, the cocktail glass ignores the constraints of national boundaries. And as anyone who's shaken a Margarita or sipped a copita of mezcal in the past decade can tell you, tequila, mezcal, and other agave-based spirits from Mexico have found a perfect home in American bars.
We take a deep dive into the world of agave in this issue, talking to some of the people who have been instrumental in the rise of these spirits, and taking you to some of the best bars in the world for exploring tequila and mezcal. We also delve into questions about agave's sustainability, and clarify some of the confusion that surrounds the history, production, and sale of these spirits.
While we're crossing borders, we've also got stories in this issue on how the Mexican-made liqueur Ancho Reyes is being used in cocktails, and we explore the drinks scene of Buenos Aires, where a robust culinary culture is flourishing despite Argentina's economic woes. And though wine is typically thought of as a grapes-only affair, Amy Zavatto brings us inside the border-blurring world of co-ferments, where apples, plums, and other fruits join grapes in the glass.
Also in this issue, contributing editor Josh Bernstein reveals how brewers are bringing in help from the science lab in their quest to make creative, flavorful beers. And Jessica Voelker finds out how instant coffee is gaining ground in the world of premium coffee. We've also got Wayne Curtis' look at how The Big Lebowski gave the White Russian an unexpected revival, Max Falkowitz's reflection on the healing powers of seltzer, and Robert Simonson's profile of Hanna Lee, a New York–based publicist behind some of the biggest names in bars.
Start your adventures with these stories below, and buy a copy of the print issue to enjoy the entire experience at your fingertips.