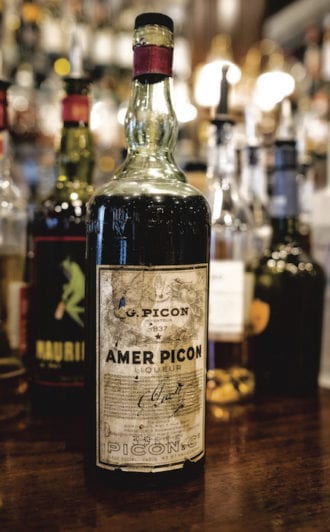 Since 2004, chef and author David Lebovitz has made his home in Paris, delighting in the local gastronomy and sharing stories and recipes on his long-running food blog. We chatted with Lebovitz for our March/April 2020 Q&A about his ninth and newest book, Drinking French (out this March from Ten Speed Press), in which he explores the ingredients and traditions of the country's drinks culture. In this excerpt, Lebovitz delves into the history of the popular, yet elusive, French aperitif Amer Picon. 
When I tried to unravel the mystery of Picon amer, I didn't plan on taking as deep a dive as I eventually did. There's scant informa­tion about modern-day Picon, including the varieties available, and none at all from the manufacturer, whose identity is well cloaked.
Amer Africain, as Picon was originally called, was invented in 1837 by Gaéton Picon, a Frenchman who had distilling experience prior to doing his military service. While stationed in Algeria, Picon contracted malaria and developed the quinine-based tonic to help himself and others fight the disease, adding the flavor of oranges, and sweetening it up to make it more palatable. It was also 78 proof, or 39 percent alcohol, which surely made it more enjoyable for the troops to drink as well.
Soon enough, the beverage began to draw attention outside of Africa. Though Gaéton Picon wasn't interested in entering his drink in any competitions, French government officials entered it anyway, and it was awarded a bronze medal at the 1862 London World's Fair. With that recognition, sales took off, and it became so successful that production was eventually moved to Marseille, where Picon is still made today (as part of the Diageo portfolio of spirits)—although the alcohol percentage has been reduced considerably.
The name of the spirit has changed over the years, from Amer Picon to Picon amer to today's versions, Picon Bière, a bitter apéritif meant to be added to beer, and Picon Club, an orange-based apéritif that can be consumed on its own but is often added to white wine. Picon is the best-known amer in France; amer is the French version of amaro, although French amers are far more subdued in bitterness than their Italian and Swiss counterparts. Unlike amaro, Picon Bière isn't consumed on its own; in addition to adding it to beer, it shows up in several classic cocktails, most notably the Brooklyn. Picon Bière is especially popular in the north of France, where beer is the beverage of choice—no surprise, given the proximity to Belgium.
Picon is not exported to the United States. Over drinks in Paris, Peter Schaf of Tempus Fugit Spirits told me it's because the spirit contains calamus, a flowering plant that's used for medicinal purposes but is banned by the FDA. So it may come as a surprise, then, that a drink called the Picon Punch (recipe below) is still very popular in, of all places, Nevada. Invented by Basque Americans when Picon was still available in the United States, Picon Punch is a potent blend of grenadine, brandy, sparkling water, and Picon, and was initially made with the higher-proof version of Amer Picon. Due to the enduring popularity of Picon Punch, a few American-made alternatives to Picon exist. Amer dit Picon, made by Golden Moon Distillery, boasts 78 proof, similar to the original. The Depot, a craft brewery and distillery in Nevada, produces Amer Depot. Torani Amer is another American-made option. The American Picon-style amers are somewhat rough around the edges, especially when sipped on their own, but are fine used in cocktails.
In France, one can buy Picon, as well as knockoffs labeled "amer" or "amer bière,"  in any supermarket. And occasionally you'll come across a regional variation, such as the cleverly named Birabelle, an amer flavored with tiny yellow Mirabelle plums that's meant to be added to beer. While Picon Bière (as it's currently called in France) isn't available in the United States, Bigallet China-China, a similar bitter made in France, is an excellent substitute, as is French newcomer Sepia Amer, made by Audemus Spirits, which founder Miko Abouaf calls a modern take on the "old spirit" of Picon, with distinct flavors of angelica, oranges, and chicory.
In cocktails, you can also use a less-aggressive Italian amaro, such as Montenegro, CioCiaro, or Ramazzotti. They don't have the same deep orange profile, but adding a dash of orange bitters brings in some orange flavor. Zwack is a Hungarian herbal liqueur that's said to be similar to Picon, although I haven't found a bottle of it in France, but it's worth tracking down … if just for the name!
I am holding out hope that, like other French apéritifs, Amer Picon will someday become more widely available outside of France. In the meantime, think of it as another reason to come visit.
Picon Punch
Picon is just as popular in France as it is in Nevada. To temper the roughness for Americans, I imagine a spoonful of grenadine was added to soften the blow. Later, bartenders also added a pour of cognac, turning this into a proper, and very respectable, cocktail.
1½ oz. Amer Picon or another amer
1 tsp. grenadine syrup
2 oz. cold sparkling water
½ oz. cognac or brandy
Tools: barspoon
Glass: Irish coffee or other short-stemmed glass
Garnish: lemon twist
Mix the Amer Picon, grenadine, sparkling water, and cognac in a short-stemmed glass. Add ice, then garnish with the lemon twist.
Reprinted with permission from Drinking French: The Iconic Cocktails, Aperitifs, and Café Traditions of France, with 160 recipes by David Lebovitz, copyright 2020. Photographs copyright 2020 by Ed Anderson. Published by Ten Speed Press, an imprint of Penguin Random House.
---
Did you enjoy this article? Get more of the best of liquid culture when you sign up for a print or digital subscription to Imbibe Magazine. Click here for special savings!