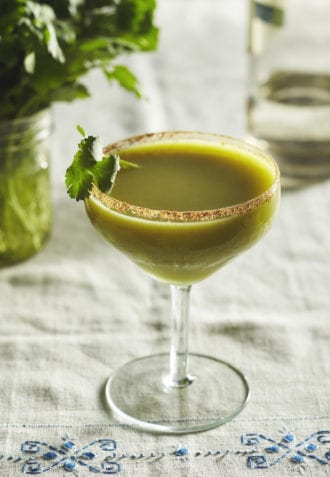 A fresh, verdant purée of avocado and cilantro highlights the earthy qualities of mezcal, while a splash of Ancho Reyes adds a little kick to this cocktail from Mama Rabbit in Las Vegas.
2 oz. espadín mezcal
½ oz. Ancho Reyes Chile Liqueur
1 ½ oz. avocado-cilantro purée
1 oz. fresh lime juice
¾ oz. agave nectar
2 dashes saline solution (1 part salt to 5 parts water)
Tools: shaker, strainer
Glass: coupe
Garnish: sal de gusano, cilantro sprig
Vigorously shake all of ingredients with ice, then strain into a glass rimmed with sal de gusano, and garnish with a sprig of cilantro.
Avocado-Cilantro Purée: In a blender, combine 1 cup of chopped avocado, ½ oz. of fresh lime juice, and ⅛ to ¼ cup cilantro leaves (to taste), and blend until puréed. Store refrigerated for up to one week.
Craig Schoettler and Marshall Altier, Mama Rabbit, Las Vegas
---
Did you enjoy this recipe? Sign up for our newsletter and get weekly recipes and articles in your inbox.