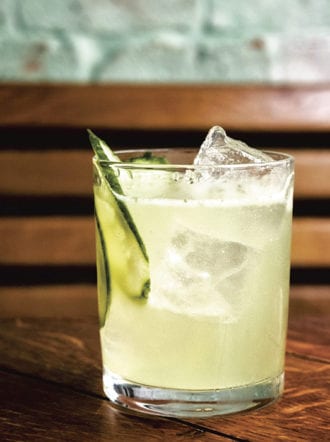 The signature cocktail at Paris mezcaleria Candelaria, the Guêpe Verte, contrasts spicy tequila with cooling cucumber. Featured in his new book Drinking French, author David Lebovitz confesses that he likes the tequila to be relatively spicy "so it holds its own with the other ingredients," but you can steep it more or less time, to suit your taste.
1¾ ounces chile-infused tequila
5 cucumber slices
15 cilantro leaves
1 Tbsp. fresh lime juice
1 Tbsp. agave nectar
Tools: muddler, shaker, strainer
Glass: rocks
Garnish: cucumber slices
Muddle 3 of the cucumber slices and the cilantro leaves with the lime juice in a cocktail shaker until the cucumbers are broken down. Add the infused tequila and agave nectar, fill the shaker with ice, then shake until well chilled. Fine strain the cocktail into an ice-filled rocks glass, then garnish with the remaining cucumber slices.
Chile-Infused Tequila: Pour 1½ cups of tequila (100% agave blanco or reposado) into a jar and add 1 jalapeño, quartered lengthwise, or bird's-eye chile, split lengthwise. Cover and shake. Let stand for 8 hours. Taste, and if the tequila isn't spicy enough for your taste, let it steep longer, up to overnight. When the tequila is well infused, remove the chile. Pour the tequila into a bottle or jar, cover, and chill until ready to use. Makes enough infused tequila for about 7 drinks and keeps for up to a year.
Reprinted with permission from Drinking French: The Iconic Cocktails, Aperitifs, and Café Traditions of France, with 160 recipes by David Lebovitz. Published by Ten Speed Press, an imprint of Penguin Random House.
---
Did you enjoy this recipe? Sign up for our newsletter and get weekly recipes and articles in your inbox.