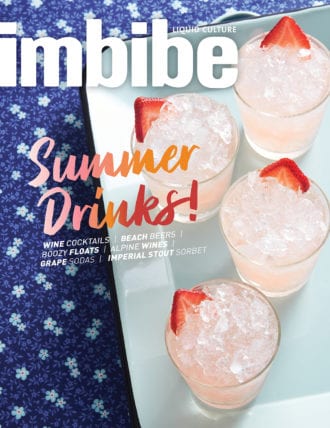 There's a special kind of decision-making paralysis that sets in on summer days. There you are, standing on a friend's deck or at a rooftop party or in your own backyard, needing something cool and refreshing but with so many options from which to choose. Will it be an ice-cold can of beer? A cup of summery punch? Or is today made for rosé?
Let's blur those boundaries. The summers of frosé and friesling have reminded us of wine's cooling power, but amazing cocktails can also be built on the power of the grape. For this issue's summer drinks feature, we recruited bartenders across the country to share their favorite ways to work wine into refreshing cocktails.
With wine in mind, we're also looking to cool-climate regions for summer options, and European winemakers in the Alps are making exceptional wines that are perfect for the season; Jennifer Fiedler brings us that story. Is an ice-filled beer bucket calling for your attention? Then stock it with cans and bottles from some of the beach breweries highlighted in Joshua Bernstein's feature.
Summer is also a time to indulge old favorites or to explore fresh curiosities. For generations, New England has had a particular fondness for all things coffee-flavored, and the drink known simply as "coffee milk" is practically a state symbol in Rhode Island; Sarah Karnasiewicz digs into the drink's rich history. Louisiana has its own passions, too, and among them is the icy cocktail referred to under the catch-all term "frozen Daiquiri"—Pableaux Johnson takes us inside slushy culture. And it's almost impossible to step into a cocktail bar nowadays without spying a bottle of a particular pineapple rum on the shelf; Tyler Zielinski talks cocktails with the summery Stiggins' Fancy.
We're also sharing must-try lawnmower beers and the San Francisco–based story of Tiki Bob. And if travel is in your summer plans, then ride along with me as we take a tour of some of Berlin's best cocktail bars.
Kick off your summer drinks reading with the web extras we have compiled for you below, and be sure to grab a copy of the print edition for the full gamut of goodies.
---
Did you enjoy this article? Get more of the best of liquid culture when you sign up for a print or digital subscription to Imbibe Magazine. Click here for special savings!