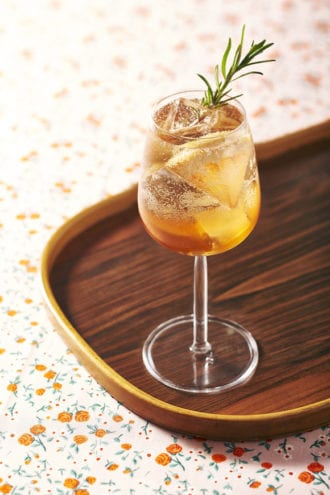 Racine's is known for their expansive selection of organic and biodynamic wines, and this low-proof wine cocktail highlights just how versatile a good rosé can be, with a grapefruit-rosemary oleo emphasizing the wine's fruity, herbal notes.
1 oz. sweet vermouth (such as Cocchi Torino)
2 barspoons grapefruit-rosemary oleo
4 oz. dry rosé (Racine's uses Terres Promises "L'Apostrophe")
2 dashes Peychaud's bitters
½ oz. soda water
Tools: barspoon
Glass: wine
Garnish: grapefruit slice and rosemary
In a wine glass with ice, add the first four ingredients. Stir and top with soda, then garnish.
Grapefruit-Rosemary Oleo: In a bowl combine the zest peeled from 2 pink grapefruits, ½ cup of sugar and 6 rosemary sprigs. Toss mixture together, then cover and let sit at room temperature for two nights. The sugar will dissolve as it pulls the moisture from the grapefruit peels, creating a vibrantly flavored syrup. Strain out the liquid to bottle for use within one week.
Alisa Savina, Racine's, New York City
---
Did you enjoy this recipe? Sign up for our newsletter and get our favorite drink recipes of the moment in your inbox every month.