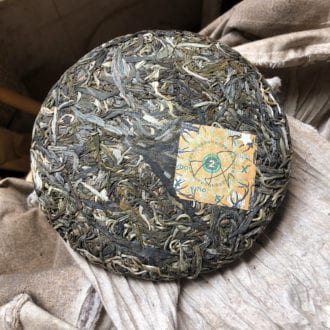 When it comes to pu-erh tea, the question isn't as simple as, "Is this good pu-erh?" says writer Max Falkowitz, who profiles tea seller Linda Louie in Imbibe's July/August 2019 issue. In order to understand what makes for good pu-erh, the quality of the agriculture and the skill of the leaf processing both come into play. Then there's the age of the tea and where it was aged. "The climate that it's aged in can have a pretty drastic effect on the tea's flavor and character," Falkowitz says. "There's also that question of body feeling that's a lot more prevalent in pu-erh and other aged teas."
These factors can make the renowned tea seem less immediately friendly to newcomers—and that's not to mention the booming market of counterfeit pu-erhs with misleading labeling and inflated prices—which is why Falkowitz has worked hard to cultivate a reliable network of specialty shops from which he sources tea. "The advantage of these more boutique shops that have emerged in the last 10 years is that you can get really specific and really develop a relationship with your vendor who's sourcing these teas for you," Falkowitz says. "If there are particular qualities you want from a tea, you might have an idea of who might be the one to supply it."
Here are five Falkowitz-approved shops that sell quality pu-erh.
Bana Tea Company
Falkowitz looks to Linda Louie's shop for raw pu-erh. "I think she has some really good introductory teas that give you a sense of what the tea can do." What distinguishes Louie's tea selections in Falkowitz's mind is the recognizable taste profile she's built. "All of her teas have this incredibly balanced, layered element to them where there's a lot going on but it's never overwhelming."
What to try
Purple Tip Cake: "Imagine a black tea but with more of an antique old book character and it has a bit of oompf," says Falkowitz.
Speechless Euphoria: Aged in humid Hong Kong, this raw tea possesses a dark, fruity nature. "It's one of those teas that you drink it and it makes you feel good."
T Shop
While not exclusively focused on pu-erh, New York City-based T Shop has a tightly curated selection mostly sold by the ounce. "The owner of T Shop really likes teas that are kind of like iron fist in a velvet glove: They've got a lot of strength but they seem deceptively cuddly and delicate," says Falkowitz.
What to try
1998 Shou Pu-erh: Falkowitz describes this ripe, or shou, pu-erh as slightly medicinal and very earthy, with notes of fermentation present.
2009 Bulang Raw Pu-erh: Teas from Bulang are known for developing woody flavors as they age. This raw pu-erh is "intense and it's not for beginners, but it's very smooth and palatable."
White2Tea
Owner Paul Murray sources some aged tea from elsewhere but largely collects young raw pu-erh he then blends himself, designing each label. "He tries to create a lot of different characteristics at different price levels for people," Falkowitz says.
What to try
2018 Pussy: Densely perfume-y with a character that changes dramatically over the course of brewing, Falkowitz describes this as an exemplary well-processed young raw pu-erh.
Sample Set: While the teas featured in these sets aren't particularly noteworthy, they serve as study aids. "You can really get to know the tea well and understand it before you move onto something that's better quality."
Tea Urchin
"Tea Urchin is another great source for young raw pu-erhs," says Falkowitz. "There's kind of a similar thing happening in pu-erh that's happening in mezcal. Now, single origin is like, the whole thing, and Tea Urchin specializes in single origin raw pu-erh tea."
What to try
Lao Man E Spring 2014: Lao Man E is a village known for aggressively bitter tea that transforms in your mouth over the course of brewing. This 2014 spring Lao Man E is "in a really good place right now."
Jing Mai 2015 Spring Reserve: "Jingmai teas often have this nice honey characteristic to them, kind of like you're huffing a buttercup. As they age they'll get more structured, like grandma's perfume taste to them but in a nice way," he says.
Camellia Sinensis
This boutique located in Montreal showcases pu-erhs from across the spectrum: young and fresh raw, mellow ripe and aged raw, says Falkowitz. Recommending two aged teas he adds, "Camellia Sinensis is one of the few online shops I'd buy from blind."
What to try
Pu Er 1998 Menghai 7542: Clean and well-aged with a resonant character that you can steep for days, the 1998 7542 is a great example of the old-fashioned factory cakes that dominated the market before pu-erh got popular, Falkowitz says.
Pu Er 2003 Orange Label: With aromatics of leather and damp wood, this pu-erh is "calming and rich with none of the mustiness you sometimes get with aged ripe productions."
---
Did you enjoy this article? Get more of the best of liquid culture when you sign up for a print or digital subscription to Imbibe Magazine. Click here for special savings!