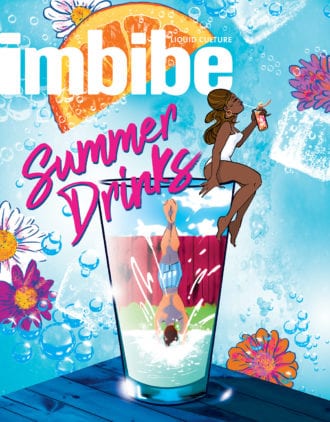 As we were finalizing this issue, Matty Newton—the incredibly talented artist who created all the illustrations you'll find in this magazine, including our cover—pointed out that this is issue 86 of Imbibe and noted how the number is suitably ironic. "I suppose we have all been collectively 86'd at the moment," he said, referring to the mass closures, stay-at-home orders, and limitations that are part of our world in this era of COVID-19.
This crisis, and its aftermath, are touching our lives in unexpected ways. Take this issue, for example: We began working on it as the world began collectively shutting down, and we scrambled to find solutions to challenges we'd never expected. How do we talk about great bars, cafés, and destinations at a time when the world is closed for business? How do we bring you interesting cocktails when bartenders are out of work? And how do we visually capture the drinks world at a time when it's unsafe to schedule photo shoots? From these lemons, we made the proverbial lemonade.
What you won't see in this issue are the photographs we typically bring you of the people and places within our pages— instead, we decided to make this a special illustrations-only issue for our cover and most of what's inside, handing our art needs over to Matty and letting his creativity run wild.
Check out what he came up with for our annual summer drinks feature, which focuses on simple classic cocktails that are perfect for the season. He also aimed his artwork at the future of summer beer, accompanying Josh Bernstein's feature; dove into the rich world of Spanish vermouth for François Monti's article; and portrayed Dave Dafoe, for Wayne Curtis' profile of the accomplished flavor expert.
Though we're happily welcoming summer, COVID-19 still looms large. Jessica Voelker explores the still-unfolding impacts of the pandemic on the hospitality community, and St. John Frizell shares his own story of owning a restaurant in Brooklyn at a time when bars and restaurants are struggling to survive.
Despite the challenges we're all facing, warm weather is calling, so we've also got refreshing raspberry cocktails, tiki tools for your home bar, and Robert Simonson's deep dive into a quintessential summer quencher: the Arnold Palmer.
Get started with these web extras below, and pick up a copy of the issue. Here's to sunnier days ahead.