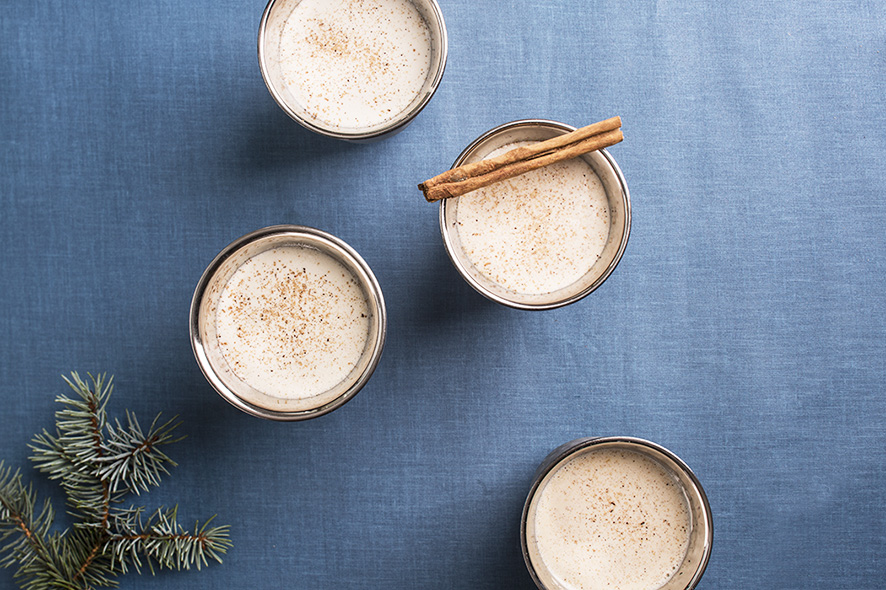 No holiday drinks canon would be complete without egg nog recipes. Egg nog's history can be traced back to the medieval English drink posset, which was a hot egg-based wine or ale mixture, but variations can now be found around the world. In colonial America, it was often spiked with rum or whiskey; Germans have been known to include white wine in recipes; and France's lait de poule (hen's milk) incorporates orange flower water and Cognac. Here are a few of our favorite takes.
Classic Nog
Every year, Gary Butch, co-owner of James Beard Award-winning restaurant Elizabeth on 37th in Savannah, Georgia, whips up a big batch of homemade eggnog for the holidays. The powdered sugar adds to the creamy consistency, while fruit brandies lend extra depth of flavor.
Worldly Nogs
With a name translating to "little coconut" as a nod to the coconut cream in the recipe, Coquito is a tropical version of egg nog spiked with rum, sweetened condensed milk, eggs and coconut milk. Many point to Puerto Rico as its birthplace, and iterations can be found throughout the Caribbean. Author Vianney Rodriguez of Sweet Life has a family recipe here.
You might have seen the vivid custard-yellow bottle tucked away in the holiday section of your local liquor store, but homemade Rompope—the Mexican version of egg nog—will taste much better than store-bought brands. It has roots in the Spanish ponche de huevo, or egg punch, and it was tweaked by nuns in the city of Puebla to include cinnamon, almonds and rum. Check out Winter Cocktails author María del Mar Sacasa's recipe here.
Moose Milk is a holiday drink traces its roots through the Canadian military. The eggnog-like concoction combines Canadian whiskey, rum, eggs, milk and other ingredients. Read more about the history of the drink here, and then get the recipe for Adam McDowell's family moose milk here.
Modern Nogs
Bartenders are always looking for new ways to put creative twists on classic recipes, and among the more memorable of those variations is Jeffrey Morgenthaler's tequila and sherry egg nog, Anu Apte's porter-and Cognac-based beer nog, and Chris Spear's Fernet-fueled Noggin Knocker. The chipotle-spiced Good Noggin' from Las Vegas is another solid pick, and Nico de Soto's Jingle Balls Nog, a fruitcake-like riff created for this year's Miracle pop-up, is a surefire crowd-pleaser.
Dairy-Free Nog
Bartenders are increasingly finding ways to make menus more inclusive, and one way they're catering to the vegan and lactose-free crowds is via dairy-free eggnogs. Erick Castro devised a special one for Raised by Wolves, and Kindred's Necrinominog is a delicious version made with oat milk.
Nog-Inspired Desserts
If you prefer your eggnog in solid form, try the cranberry eggnog cake from Tiffany Howard of the Oh Honey Bakes blog. This vanilla cake rolled with spiced cranberry curd and eggnog buttercream frosting combines all of the best flavors of the season. The Eggnog pudding from Butter & Scotch, founders Keavy Landreth and Allison Kave is another decadent way to work the drink into dessert form.