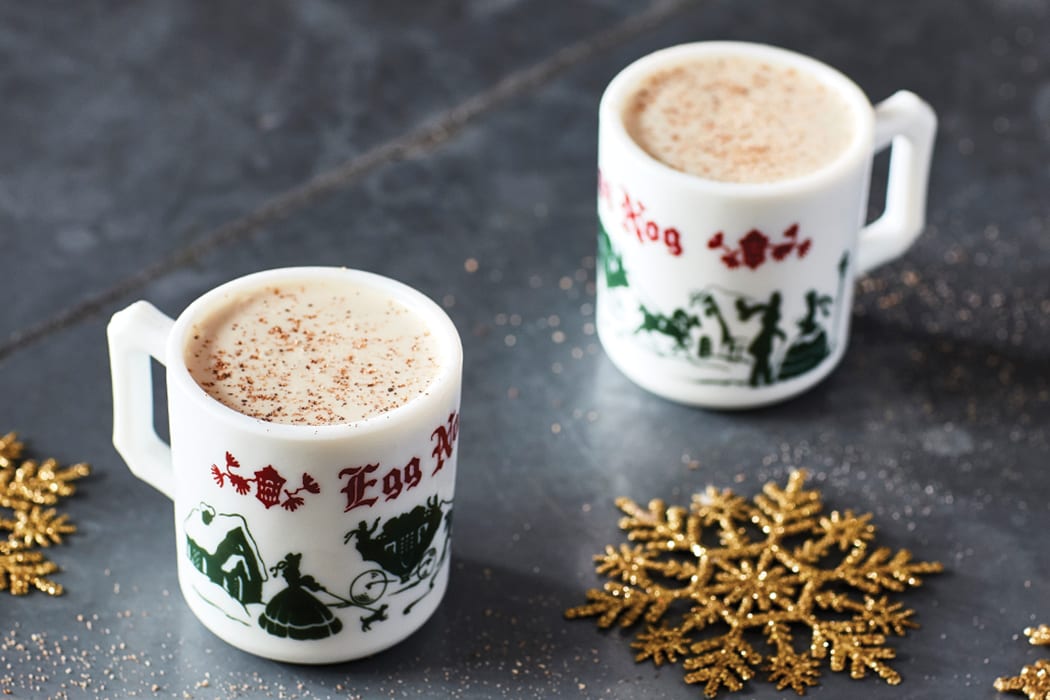 While most recent Miracle recipes are developed by bartender Joann Spiegel, this rich recipe comes from Nico de Soto of Mace. "The man knows his nog—[his versions] surpass expectations of what an eggnog can be," Spiegel says, noting that other variations have included such nontraditional ingredients as peanut butter and pandan. "This one's like a fruitcake, with bits of cherry, vanilla, brown butter and cinnamon." The recipe is sized for a crowd, making 30 six-ounce servings—for a smaller party, simply scale back the measurements accordingly.
2¾ cups Brown Butter Cognac
2½ cups PX sherry
5 oz. maraschino liqueur
7 cups almond milk
5½ cups heavy cream
1½ cups brown sugar
10 drops cherry extract
15 drops vanilla extract
20 drops orange blossom water
20 whole eggs
5 tsp. fresh-grated nutmeg
Tools: blender or stand mixer
Glass: mug
Garnish: fresh-grated nutmeg
In a blender or stand mixer on low speed, beat the eggs until smooth. Slowly add the nutmeg and sugar, then blend until incorporated. Add the remaining ingredients and blend until thoroughly mixed. Pour into a large, lidded container and refrigerate overnight. Before serving, briefly blend again until the mixture is frothy; serve in eggnog mugs with a grating of fresh nutmeg on top.
Brown Butter Cognac: Over medium heat, cook 3 Tbsp. of butter with 1 cinnamon stick until brown, stirring constantly and taking special care not to let the butter burn (if it turns black, discard and start over). In a large, lidded container, combine the butter mixture with 1 750 ml. bottle of Cognac and let it infuse at room temperature for 1 hour, shaking vigorously several times over the course of the hour. Place the container in the freezer for at least 4 hours or overnight, then pour through a fine strainer to remove the solids. Return the cinnamon stick to the infusion, then bottle for use. Keep remainder refrigerated and use within 2 weeks.
Adapted from a recipe by Nico de Soto, the Miracle Pop-up at Mace, New York City