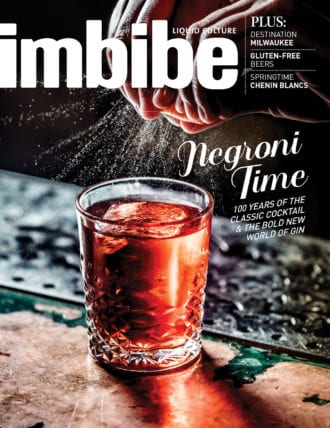 Several years ago, after a particularly trying day, I posted on Facebook: "Days like today make me glad gin was invented." A few minutes later, a bartender friend replied: "That great, huh?"
We were both right. Gin's the perfect spirit for both good times and bad, for when celebration's called for, and for more somber, reflective moments. It's also perhaps the most creatively expressive spirit in the bar, and it's now being interpreted in thousands of different ways by distillers worldwide. That's why we're going down gin's rabbit hole in this issue, exploring everything from the spirit's botanical diversity and its growing global diaspora, to the people driving today's gin conversation and some great bars where you can join in.
Gin may be experiencing tremendous change, but it's not alone. Beer has been a part of drinks culture for as long as there's been, well, culture—but those with gluten intolerance and celiac disease have largely been excluded from the party. Joshua Bernstein looks at how brewers are increasingly bringing gluten-free beer into the mainstream.
Meanwhile, being a winemaker has traditionally involved owning vineyards and expensive facilities, but Jennifer Fiedler talks to a few who are taking a more nomadic approach to their craft, giving themselves creative opportunities in the process. And have you noticed three letters that seem to be everywhere nowadays? Hemp-derived CBD is flowing into cafés and bars across the country, but it's still a mystery to many—John Kessler answers some of the questions surrounding CBD's surge.
Elsewhere in this issue, Wisconsin native Robert Simonson brings us a fresh appreciation of Milwaukee's cocktail culture, and Max Falkowitz introduces us to Alice Jun, who's giving the Korean rice-based brew called makgeolli a new home in Brooklyn.
Caroline Pardilla shows us how bartenders are reappraising gin's ancestral spirit, genever, and to commemorate the 100th anniversary of the creation of the Negroni (and to coincide with this year's Negroni Week, June 24-30), Katie Parla takes us to the cocktail's Italian homeland for a look at how it's prepared and interpreted today. Hmm, a Negroni … Days like today make me glad gin was invented.
Start your May/June reading with these recipes and stories put together by our team, and make sure to grab a copy of the print edition for all the goodies.