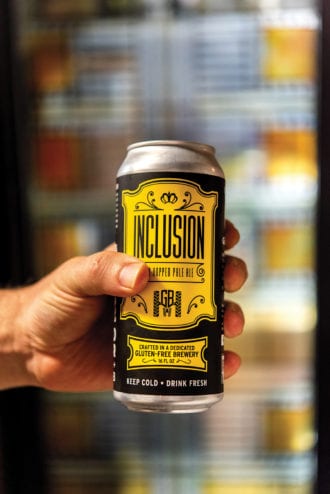 The category of gluten-free beers has come a long way since the Great American Beer Festival started to honor excellent beers within the style. While historically, the flavor of gluten-free beers hasn't quite compared to the real thing, we recently sampled an array of options and found that the current state of gluten-free beer is brighter than ever.
100% Gluten-Free
Made in breweries that specialize in 100% gluten-free beer, these options are safe for anyone looking for a delicious beer without the gluten.
Ghostfish Brewing | Double IPA 
Seattle, WA, 9.5%
Hopheads, rejoice! This double IPA promises a big, bold body layered with bitter hops and caramel-like sweetness. Brewed with malted millet and buckwheat, brown rice and malted rice, an aggressive combination of Quinox, Azacca, Centennial and Summit hops adds complexity, while raw cane sugar lends a touch of sweetness.
Ground Breaker Brewing | Inclusion Dry-Hopped Pale Ale
Portland, OR, 5.7% ABV
Striking a balance between experimentation and high-quality production, Ground Breaker's beers are standouts in the gluten-free category. Inclusion, the first beer the brewery nabbed a GABF medal for in 2012, is a dry-hopped pale ale that'll appeal to anyone looking for a clean, crisp refresher.
Holidaily Brewing | Favorite Blonde
Golden, CO, 5% ABV
Built with a subtle hop character (Bravo, Cascade and Centennial) and mellow malt flavor (millet and buckwheat malts), this blonde ale was named after founder Karen Hertz's Grandfather. The 100% gluten-free release is the flagship beer for the Golden, Colorado brewery.
New Planet | Pale Ale
Denver, CO, 5.3% ABV
Brewed with gluten-free oats, millet and non-gmo blue corn, this pale ale is a tad sweet thanks to the addition of cane sugar, but with rich citrus notes from a blend of Cascade and Sterling hops and a touch of toastiness on the finish to help balance things out.
Gluten-Reduced
Gluten-reduced beers can't be certified by the FDA to be 100% gluten-free since they're made as traditional beers first, then processed in a manner that extracts the gluten after the fact. But they're still a viable option for folks who choose to live a gluten-free lifestyle but don't have serious gluten allergies. More on the distinction here.
New Belgium | Glütiny Pale Ale
Fort Collins, CO, 6% ABV
In a blind taste test, we couldn't tell this Pale Ale was tinkered with to remove gluten. A hefty dose of Equinox hops contribute tropical stone fruit flavors that shine over a base of toasty malts. One of the best non-gluten representations of the Pale Ale style.
Omission Beer | Lager
4.6% ABV
If you're looking for a clean, crisp, no-frills beer, Omission is one to reach for. A blend of Millennium and Cascade hops adds layers of dryness to this balanced brew, which has won three medals in the gluten-free category at the International Beer and Cider Competition, plus others at GABF and beyond.
---
Did you enjoy this article? Get more of the best of liquid culture when you sign up for a print or digital subscription to Imbibe Magazine. Click here for special savings!